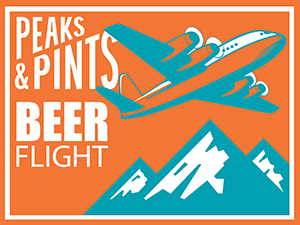 As the cat days of autumn crest upon the beer world, a familiar collective roar gathers volume. That's right, it's once again time for the seemingly perpetual beer complaint of mid autumn: Beers such as winter warmers and Christmas-themed beers are being released earlier than many believe they should, even though we're still a couple months before the official start of winter. Yes, we've entered wet, often windy part of the year frequently devoid of sunshine, but without any of the charms that our customary 1-inch of snow can bring. Peaks and Pints will hang on to autumn, at least one day longer, with a beer flight we call Craft Beer Crosscut 10.16.19: A Flight of Fall.
Craft Beer Crosscut 10.16.19: A Flight of Fall
Trap Door Minifigs
7.9% ABV
Trap Door Brewing sits in downtown Vancouver, across from the city's busiest dispensary, and right next door to a food-cart pod. Know for brewing delicious hazy IPAs and a terrific pilsner, their Minifigs is a mixed culture Belgian-style dark strong ale aged in bourbon barrels for 10 months on figs and plums. The result is slightly tart with aromas of dark dried fruit with some caramel and maltiness for a well balanced barrel aged autumn sour.
Elysian Night Owl Pumpkin Ale
5.9% ABV
Peaks and Pints doesn't think that lovers of pumpkin pie love 'pumpkinness,' per se, but rather the warm autumnal spices that season it. Elysian Brewing Night Owl, brewed with more than 7 pounds of pumpkin per barrel, also contains seven different malt varieties, green and roasted pumpkin seeds, Magnum hops and spiced in conditioning with nutmeg, clove, cinnamon, ginger and allspice, is their most lauded. It leans more toward Christmas than Halloween. Maraschino, banana-nut, cinnamon, pecan and graham cracker hit the tongue. Cinnamon dominates with some caramel and a touch of biscuit malt sweetness to support.
Backwoods Pecan Pie Porter
5.9% ABV, 20 IBU
Nestled on the edge of lumber country along the Columbia Gorge, Backwoods Brewing Co.'s Pecan Pie Porter satisfies the sweet tooth. This mahogany-colored porter, brewed with whole PECANS, showcases the nut's earthiness in the aroma. Made with five different grains, including chocolate and caramel malt, this seasonal porter gives off subtle chocolate notes, complimented with hints of vanilla and pecan. It put Thanksgiving has arrived.
Kulshan Kitten Mittens Winter Ale
7.4% ABV, 39 IBU
Kulshan Brewing adds four different malts — 2-row, Chocolate, roasted barley and Munich — to Kitten Mittens Winter Ale giving it the rich, medium-bodied winter warmer we adore with a nose of milk chocolate and a touch of brown malt. The body strikes a nice mix of easy malty notes and medium sweet chocolate balanced by earthy hop notes, thanks to the Apollo, Willamette and Fuggle hops. We dig the touch of chocolate liquor on the finish.
No Boat Red Dawn Ryesing
5.8% ABV, 35 IBU
No Boat Brewing began serving beer to the thirsty community of Snoqualmie Ridge in 2016. Owner David Skiba didn't have a boat to sell; he had to raise funding by other means, thus the name. Red Dawn Ryesing is fresh hopped with a blend of hops off Foggy Ridge Farm in Woodinville. Packed with rye and honey malt, this rustic amber is No Boat's nod to autumn's arrival.
---