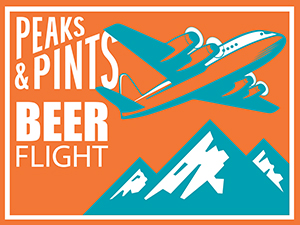 For the most part, sour beers are divided (roughly) into two camps: beers that are long-fermented and aged in wood barrels, using a yeast strain called Brettanomyces and acidifying bacteria, such as Lactobacillus and Pediococcus; and beers called "kettle sours" that are acidified with bacteria prior to fermentation and spend their time in warm stainless tanks rather than oak barrels. Taking the barrel route normally demands at least six months of fermentation before bottling, and the beers often go through another fermentation process, while in bottle, which adds a few months (at least) before they get sold. Kettle-sours, on the other hand, require just about a month of fermentation before bottling. Barrel-aged sour beers, the ones that make barflys question whether their drink isn't quite done fermenting yet, take a stand today at Peaks and Pints in our beer flight, Craft Beer Crosscut 10.16.18: A Flight of Barrel-Aged Sours.
Craft Beer Crosscut 10.16.18: A Flight of Barrel-Aged Sours
Breakside Ziggurat
6.9% ABV, 15 IBU
Breakside Brewery selected 13 casks from its wood cellar, with the goal of producing a Brett-forward beer with vivid herbal undertones. The majority of the barrels contained a spontaneously-fermented wheat beer that spent its entire "life cycle" in wood with the remainder former gin and Pinot Noir casks — many that have been in the Portland brewery's barrel program for more than 5 years. The result is quite complex, with white wine barrels, oak, some acidity and tart stone fruits.
Modern Times Flamenco Sketches
6.5% ABV
Hypnotic and meditative, "Flamenco Sketches," the last track on Miles Davis' Kind of Blue, drifts free of its original key and the band floats along together on a raft of melody. It's based upon five scales or modes, and each musician improvises in turn upon all five in order. First, Miles is just playing by himself. Soon Trane takes over, then Cannonball plays a solo, then Evans, then Miles takes it out. It's almost free-jazz, and once you know what's going on, it's a fascinating listen. Modern Times Beer's Flamenco Sketches, a Berliner weisse, is a symphony of citrus and tropical flavor with blood orange, guava, dragon fruit, and vanilla beans floating along, delighting the senses.
Breakside Bellwether
8.4% ABV, 25 IBU
Bellwether harkens back to the days when Breakside Brewery's barrel-aging program had only a few barrels in it, and one of those beers was a blend of a sour wheat beer with a double wit in a single second-use gin barrel. The result was delicious: tropical, botanical, tart, malty and very refreshing for a barrel-aged beer. Breakside recreated this beer adding some kaffir lime leaves for additional complexity and fun herbal notes. It smells funky, woody and orange-y. The pucker is immediately followed by a sugary, almost grainy sweetness. Then the gin and oak hit, adding some earthiness and some pretty strong juniper notes. Breakside added some kaffir lime (basically, just an ugly looking lime) to the mix, and the citrus plays nicely with the juniper/gin notes. As it warms, the sweeter it becomes.
Firestone Walker Agrestic Ale
6.6% ABV, 30 IBU
Fittingly, Agrestic Ale begins its journey as DBA; the foundational beer first offered when Firestone Walker Brewing opened its doors in 1996. Oak barrels along with our proprietary collection of microflora act like a chrysalis process, transforming DBA into Agrestic Ale over the course of several months. The result is a synergistic blend of beer matured in French and American oak with signature flavors and aromas: wood-derived toast, lemon pith, and rosewood swirl on the nose and palate, followed by an amazing harmony of vanilla, coconut and Earl Grey tea. Dark cherries, caramel malt and spice round out its complexity and drinkability. The finish is crisp with a mouthwatering acidity and chewy tannins.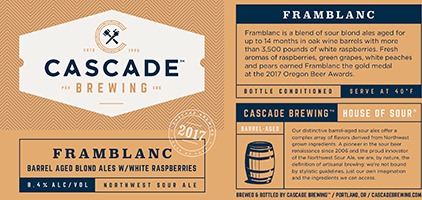 Cascade Framblanc
7.6% ABV
Brewed in 2017, Cascade Brewing Barrel House Framblanc is a blend of sour blond ales aged for up to 14 months in oak wine barrels with more than 3,500 pounds of white raspberries, which earned the gold medal in the Wood & Barrel Aged Sour & Brett category at the 2017 Oregon Beer Awards. It's definitely sour, with fresh flavors of raspberries, green grapes, white peaches, pears, gooseberry and a hint of sour apple and oak.
---