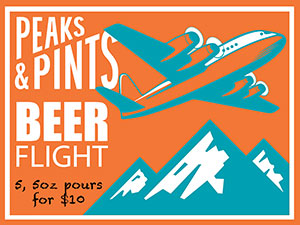 Based on the original India pale ale (IPA) style that was revived by the American craft brewing movement in the 1980s, the "double IPA" (also known as "imperial IPA") seeks to take both alcoholic strength and hop intensity to new levels. These big, bold IPAs are known for a strong hop profile with resiny, piney and/or citrus tones, depending upon the type of hops in the recipe. There should be some maltiness that lends balance and flavor complexity. Strength may range from 7.5 percent to 10 percent ABV. Many hop-centric brews seem to be in a race to out-bitter each other. Peaks and Pints is more reserved in what we like in a hoppy beer — we look for something solidly hopped with a bit of malt sweetness for balance, which we highlight today with our Craft Beer Crosscut 10.15.17: A Flight of Double IPAs, ignoring the last double IPA on the list, which is just craziness.
Lagunitas Sakitumi
9% ABV, 42 IBU
Lagunitas Brewing Co. released another OneHitter Series ale, Sakitumi, an ale brewed with sake yeast and rice. No, it's true. This Raging Bull'uva double-ish IPA is punched with sake yeast and rice, then hopped-up for a "cold-clip of counter-balanced bitterness." Wait! Lagunitas has more boxing puns for this craft beer: "Be it the Beast from the East, Raging Bull, the Count of Monte Fisto, an Italian Stallion, The Bonecrusher, The Executioner, The Body Snatcher, The Greatest, the Cincinnati Flash, the Dogtown Dynamo or Nonpareil … it just don't mean a thing if it ain't got that swing (sorry about the, Floyd). Knock this back with a friend. Cheers!" We're knock out by its sweet, earthy, nutty malt flavor with a bit of vanilla and citrus. Yes, it has sake notes, but all bitter spicy hops in the finish.
Ninkasi Tricerahops Double IPA
8% ABV, 84 IBU
Ninkasi, the mythical god of beer, would be afraid of Ninkasi Brewing's double IPA. Hops explode in the nose, cascading pithy grapefruit, sticky pinesap and floral notes atop a caramel foundation. It hits the tongue hard with sweet caramel before a blend of Chinook, Cascade, Summit, Centennial and Palisade hops offer floral, fruity, and earthy notes, yet with a malt background. It's hop-forward, full-bodied and strong. Yet the balance with the malt lends enough depth and a spicy complexity to make it very interesting. Resinous, citrusy, woody, and powerfully bitter, the hop flavors slowly unfold and last well into the aftertaste.
Stone Enjoy By 10.31.17
9.4% ABV, 90 IBU
Founded by Greg Koch and Steve Wagner, Stone Brewing has come a long way since opening up in San Diego, California in 1996. The ninth-largest craft brewery in the U.S. has been dubbed "All-time Top Brewery on Planet Earth" by BeerAdvocate magazine twice. Stone launched its Enjoy By series in 2012, releasing IPAs brewed specifically NOT to last — meaning drink up the freshness before the expiration date. Enjoy By 10.31.17 starts hoppy and tropical, followed by a wave of dank, slight malt and finishes with citrus peel.
Avery Hog Heaven Imperial Red IPA
9.2% ABV, 104 IBU
Would you trade an elementary school teaching gig for brewing? That's exactly what Left Hand Brewing's Matt Thrall did when his home brewing hobby became a career path that landed him at Avery Brewing in 2003 and currently director of brewing at Left Hand. We're giving nod to Thrall's Hog Heaven. This beer grabbed two silver medal wins at the Great American Beer Festival in 2004 and 2007, and subsequently set the stage for the bold beers that would follow such as The Maharaja in 2005, Rumpkin in 2011, Tweak in 2014. After all this time, it is still a beloved beer by Avery Brewing employees and is frequently consumed during celebratory times at the brewery. The intense dry-hop nose and the alcohol content are perfectly balanced with a caramel malt backbone. This is a serious beer for serious beer aficionados.
Port Brewing Hop-15 Ale
11% ABV, 182 IBU
First brewed in 2002 to celebrate the 15th Anniversary of the Pizza Port in Solana Beach, California, Port Brewing's Hop 15 was imagined and designed by Tomme Arthur and Jeff Bagby. The two brewers dumped 15 different hop varieties to the beer every 15 minutes for an award-winning double IPA with a huge hop flavor of tropical and stone fruits. Bolstered by a spicy hop finish, this Hop 15 offers orange marmalade and ripe mango with pine and pepper and resin, providing a thorough tour through Hopville without allowing any element to dominate.
Save
---