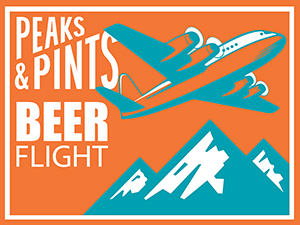 In the early 1700s, it was common for London pub patrons to ask for blends of the various available brews. Historical documents say the Brits called their mixed beer beverage "Three Threads" using a third of a pint each of ale, lager and a strong brew called "Twopenny." Eventually, bartenders told the Three Threadheads to take a flying leap off the London Bridge. Around 1730, a brewer named Harwood came up with a solution. He re-created the flavor of Three Threads into a single craft beer called Entire before it reached the pub. This beer came to be loved by porters and other physical laborers, and so earned its name, porter. But, a century later, PBS — browns, pales, and stouts — grabbed the public dollars, pushing porter to the postern. It wasn't until the late 20th century when bearded guys in Jean Vigne T-shirts, better known as American craft brewers, pulled the porter out of the scrap heap, strapped on their prize power over finesse bibs, highly hopped the brew, incorporated smoked malts and placed it on a pedestal. Today, Peaks and Pints salutes porters in the beer flight Craft Beer Crosscut 1.7.20: Flight of Porter.
Craft Beer Crosscut 1.7.20: Flight of Porter
Boulevard Restless Nights
7.5% ABV, 30 IBU
Boulevard Brewing collaborated with beer and coffee experts Modern Times on this beguiling blend of fresh porter and barrel-aged porter brewed with ten varieties of malted barley, wheat and oats. Following fermentation, this inky brew rested on bourbon barrel-aged coffee for two days, infusing trace notes of ripe fruit, citrus and rich vanilla.
DuClaw Sweet Baby Jesus
6.2% ABV, 33 IBU
First brewed in 2011, DuClaw Brewing's Great American Beer Festival bronze medal winning chocolate peanut butter porter is jet black in color with a tan, rocky head, full body, and creamy, luxurious mouthfeel. Its lightly sweet, malty flavor is accented by rich flavors of chocolate, coffee, and peanut butter, balanced by a subtle hop character. Sweet Baby Jesus finishes smooth, dry, and roasty with lingering notes of chocolate and peanut butter.
Sumerian Dark Side Nitro Coffee Porter
5.8% ABV, 35 IBU
In 1800 B.C. Mesopotamia (ancient Iraq), a Sumerian poem honoring Ninkasi, the patron goddess of brewing, contained the oldest surviving beer recipe, describing the production of beer from barley via bread. In 1995, Mark Ihrig created The Micro Beer Club. Four years later, he launched the Cellars Wine Club in 1999. In 2001, Mark launched Boxing Cat Brewery. Holly Ihrig, one of the first Microsoft employees, retired in 2012 so the couple could combine their talents to open Sumerian Brewing Co. In 2020, their Dark Side Nitro Coffee Porter inspired Peaks and Pints to offer Craft Beer Crosscut 1.7.20: Flight of Porter. Dark Side is a mellow, rich porter that melds roasted malt, chocolate, and cold brew coffee into an incredibly smooth and creamy texture.
Fort George RetroporteR
6.7% ABV
Since its founding in 2007, Fort George Brewery has swollen to fill two stories, an entire Astoria city block and about 20,000 barrels of beer a year — hovering around the 10th biggest brewery in the state — and a lineup of perilously rich stouts and porters. RetroporteR is a classic American porter, brewed for the classic craft beer drinker. Expect a deep brown porter with a full body, smooth chocolate flavor and notes of dates, caramel, and a touch of earthy hops.
Georgetown 18lb Imperial Porter – Barrel Aged
9.2% ABV
Manny Chao met the beer public some 27 years ago when he was the first employee at Mac and Jack's. With Chao's help, Mac and Jack's amber ale became the third best selling craft brew in the state. Five years later Chao left Mac and Jack's and by 2002, he and his housemate, Roger Bialous, homebrewed their first beer — Manny's Pale Ale. In 2003, Chao was back in front of beer enthusiasts, this time selling his Manny's Pale Ale, from his new Georgetown Brewing Company located in Seattle's Georgetown district. Chao and Bialous eventually brewed 9lb Porter for their neighborhood tavern 9 Pound Hammer, using tons of Chocolate, Munich and Roasted Malt, then blending it with Centennial and Northern Brewer hops to create what they like to call "Roasted Chocolaty Goodness." Then, they made and imperial porter, 18lb. Naturally, a bourbon barrel-aged version came along with Heaven Hills Bourbon adding booze and vanilla to the roasty, chocolatey imperial goodness.
---