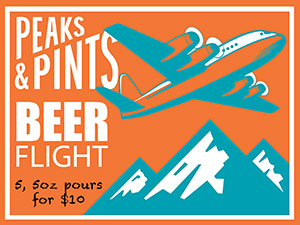 Being a great bartender is about far more than pouring magic — although that element is certainly important. But a bartender's role behind the stick is also about spending time with those bellied up to the bar, whether they're high rollers or gravediggers. And Jen Mahoney, who has been pouring beer at the North End Social Club on Tacoma's Sixth Avenue since January 2016, deserves heroine worship for the way she straddles the line between professional and crony. She's engaging, honest, genuine and knowledgeable but never snooty. And, she adores the North End Social Club, owner Justin Caillier and the tavern's patrons. A longtime craft beer drinker, she was a patron before an employee; Cailier asked Mahoney to host football parties at NESC. She had a blast. After she hosted their successful New Year's Eve party Mahoney remained on the other side of the bar. When she's not pouring, she's hanging out at Peaks and Pints, which we appreciate. Today, we asked Mahoney to chose our daily beer flight, adding her thoughts on each beer. Enjoy Craft Beer Crosscut 1.30.18: A Flight of Jen Mahoney.
Atwood Ales Mo's Saison
4.2% ABV
Located just 18 miles north of the burgeoning Bellingham brewery scene, on the outskirts of a scenic seaside town, is Blaine, Washington's first, and oldest, brewery — Atwood Ales. The unique setting provided by a 100 year old farmhouse and barn and the surrounding acreage is not only visually compelling, but also provides countless opportunities to directly incorporate estate and locally grown agricultural and natural ingredients into Atwood's small batch beers. It's a family-operated farm and brewery. Josh brews the beer. Monica takes care of sales, marketing and distribution. Josh's parents, Stephen and Leslee Smith, co-own the brewery, and Monica's parents (Steve and Nancy) are involved as well. Josh brewed Mo's Saison "for my beauty wife, who likes to keep light and refreshing saisons with mild spice and fruit character stocked in our fridge." This seasonally influenced saison features rotating ingredients grown on their farm. "My favorite version is the Mo's with honeysuckle flowers and estate-grown Cascade hops in Peaks and Pints' cooler right now," says Mahoney.
Urban Family The Lady
5.2% ABV
Urban Family Brewing is a small craft brewery located in the Magnolia neighborhood of Seattle. It brews small batch beers that are yeast driven and inspired by French and Belgian farmhouses. Lady of the Night pours a pale gold with a white wine aroma (dry-hopped with Nelson hops) followed by the expected Lactobacillus, albeit subtle. "The Lady has a mellow sourness up front that blooms but never gives me Warhead face," adds Mahoney. "There is also bright citrus flavor, most likely from the Azacca hops."
Breakside Salted Caramel Stout
6.7% ABV, 28 IBU
Breakside Brewery's popular Salt & Straw collaboration returns, bringing fans of the round dark ale much needed respite from cold and rainy weather. Made with specially made caramel and a pinch of sea salt, this is a delicately balanced ale that pre-dates many of today's cloying monstrosities, offering a full-bodied roast, and leaning on the salt to invite you back for more. "It's well-balanced," adds Mahoney. "Salted caramel up front, chocolate throughout and a full mouthfeel. It's my favorite beer."
Samuel Smith Oatmeal Stout
5% ABV, 32 IBU
Popular in the late 1800s, the last oatmeal stout was brewed before the First World War until Samuel Smith reintroduced this style in 1980. Oatmeal conjures stick-to-your-ribs fullness, but Samuel Smith's Oatmeal Stout is incredibly easy to drink. It hits the nose with sweet and roasted malt. The taste follows the nose with a big abundance of roasted malt with some sweet tones followed by a nice oatmeal flavor. It's creamy and full with just a hint of graininess — and it just nails that almost-coffee, almost-chocolate flavor profile. "It's a bittersweet stout that's still very smooth and easy to drink," says Mahoney. "I have it every time go to Doyle's Public House in Tacoma."
Melvin Asterisk IIPA
9% ABV, 88 IBU
The first craft beer in Melvin Brewing's yearlong Rotational Imperial India Pale Ale Series, Asterisk IIPA uses copious amounts of Mosaic hops that give this beer strong notes of tropical fruit, stone fruit, mango and berries. Brewed with a blend of Great western 2-row, light crystal, mosaic hops and some top-secret stuff, Mahoney digs the "flavors of bright malts, smooth grains, some alcohol but not too hot, a citrus zest bite and, most of all, the flowery hops. It's smooth, creamy, hoppy in a happy way and absolutely delicious."
---