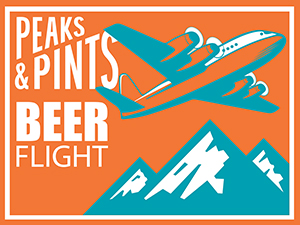 Washington, Oregon, and Idaho's panhandle grow 97.8 percent of the hops in the United States. Anchored by its famous Yakima Valley, Washington alone accounts for almost 74 percent of the domestic industry. Today, Peaks and Pints takes a look at hops found outside the United States, but brewed in the States, for our daily beer flight. The US topped Germany in hop production in 2009, 2013, and 2015, but otherwise Germany produces the most hops in the entire world- roughly one third of the world's entire hop production. The "Hallertau" in Bavaria is the largest continuous hop-planting area in the world. The birthplace of the Pilsner style, Saaz hops are the only true Czech Pilsner hops. Named after the Czech city of Žatec, Saaz hops have a mild, earthy, herbal and spicy aroma and a very low Alpha Acid level. The most popular English noble hop varieties are Fuggle, East Kent Goldings and Goldings. Discovered as a chance seedling in 1861 and propagated by Richard Fuggle in Kent, England in 1875, Fuggle was once the most prominent English hop. Our beer flight also features French hop Barbe Rouge and New Zealand hops. Grab a seat at our Proctor District bottle shop and take off with Craft Beer Crosscut 1.29.19: A Flight of Foreign Hops.
Craft Beer Crosscut 1.29.19: A Flight of Foreign Hops
Airways Pre-Flight Pils
5% ABV, 30 IBU
CZECH REPUBLIC HOP: As a noble hop, rather than being bred, Saaz has been growing naturally in the Czech Republic for centuries and was named after the city of Žatec (Saaz in German) where it was originally found. Airways Brewing Pre-Flight Pilsner is a pre-prohibition style pilsner, fuller in body with a distinct, spicy hop presence, attributed to the Hallertauer and Saaz hops used to brew it. It's crisp and refreshing, full-bodied, and low on the bitter scale.
Aslan De La Rouge IPA
7% ABV, 30 IBU
FRENCH HOP: Developed as part of the varietal research program in Alsace, France, the Barbe Rouge hop has parentage in Strisselspalt. It has a very pronounced red fruit aroma with strawberry and cherry being main notes of the character. Brewed in the same manner as Aslan Brewing's Mandarina Queen IPA, this medium-bodied version uses only Barbe Rouge hops, which delivers fruit and red berry notes with a prototypical dankness.
Matchless 2nd Best Bitter
4.9% ABV
ENGLISH HOP: First grown by in Kent, England as a chance seeding in 1861, Richard Fuggle brought his namesake hops to market in 1875. Fuggle hit its peak in 1949 when 78 percent of the English hop crops were Fuggle. Today, Fuggle continues to be grown in the UK in addition to Oregon and Washington state, though the US version is slightly less potent than its English counterpart. Matchless Brewing's 2nd Best Bitter arrived from a double mash of a barleywine batch. Dry-hopped lightly with Fuggle hops to give oaky and piney notes, this beer is for those who like an easy-drinking, malt-forward beer. Smooth hints of caramel and toffee make it flavorful, yet it finishes fast and clean.
Modern Times Dymaxion
5.5% ABV, 40 IBU
NEW ZEALAND HOP: Named after both its founding region in New Zealand and the Sauvignon Blanc grape, Nelson Sauvin as released in 2000 from a small bay on the north coast of the country's South Island. Nelson Sauvin possesses strong fruity aromas and flavors of tropical fruit and crushed grapes that mingle with citrus like tangerine and grapefruit. Modern Times scored a bunch of Grade A Nelson Sauvin hops. Nelson is front and center in the Dymaxion hazy pale ale with various New Zealand hops along for the ride. With 2-Row, white wheat and golden naked oats leading the grain bill, Dymaxion yields an intensely aromatic profile that marries a bouquet of tropical characteristics with crisp, biting citrus over a dry malt backbone.
Three Magnets It's All Nice DIPA
8.7% ABV, 50 IBU
GERMAN HOP: Hallertau Blanc, daughter of Cascade, was released to the world in 2012. Established on the Hüll farm in the German Hallertau region, it was grown primarily for use in American-style ales. Hallertau Blanc's flavor profile is said to be fruity, with wine-like qualities of gooseberry and grass, similar to that of Sauvignon Blanc. Three Magnets It's All Nice DIPA is brewed with Hallertau Blanc, as well as Mosaic. The double IPA features a pillowy malt body of NW Pale, 2-Row, wheat, oats, and Carapils and double dry hopped for a huge berry aroma balanced by sauvignon wine character.
---