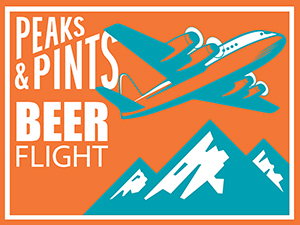 We celebrate just about every special occasion (i.e. birthdays, really good weeks and sometimes really bad weeks) with a cake. And while Tacoma dessert options are more than plentiful, we've somehow exhausted our local options (eating our way through Met Market's whole cake menu in a few short months) and began thirsting for something new — something worth celebrating, which meant it needed to have craft beer. Happy National Peanut Butter Day! Seriously, it's today. Skipping traditional desserts we're celebrating with a beer flight that combines our love of nuts and craft beer. Go nuts over our Craft Beer Crosscut 1.24.20: Flight of Peanut Butter Day.
Craft Beer Crosscut 1.24.20: Flight of Peanut Butter Day
Wild Ride Nut-Crusher Peanut Butter Porter
6% ABV, 18 IBU
Let's talk love. Peanut Butter. It transports us to a happier, simpler age. It's not a candy thing. It's a comfort thing. Redmond, Oregon's Wild Ride Brewing brings together two favorite flavors, peanut butter and porter, in this liquid chocolate truffle treat with a strong nuttiness. Nut Crusher is a beer that's almost as fun, if not more fun, to sniff for a while before actually drinking it.
Belching Beaver Peanut Butter Milk Stout
5.3% ABV, 30 IBU
This San Diego-brewed, 2014 World Beer Championships silver medalist Belching Beaver milk stout hits a nostalgic note: Peaks and Pints remembers how good a creamy peanut butter sandwich tastes with a glass of milk. That same luscious, nutty peanut butter flavor flows alongside coffee creamer richness; slight coffee roast and peanut butter on our noses before a lightly roasted, bitter finish.
Iron Horse PB & Death
6.53% ABV
Ellensburg, Washington's Iron Horse Brewery is an iconoclastic brewery. They're not ones to copy/paste a style into their profile just to compete with the Irish beer giants. Quilter's Irish Death was born of a reverence to the dry Irish stout. Created by the Iron Horse Brewery founder Jim Quilter, this craft beer has been called a sweet stout, strong ale and Scotch Ale. We call it delicious with a massive amount of chocolate malt that goes down easy. Then, Iron Horse added peanut butter to the Death for sweet toasted peanut butter goodness.
Wingman P-51 Peanut Butter Cup Porter
8% ABV
Wingman Brewers introduced a peanut butter and coconut porter to the Port Townsend Strange Brewfest several years ago. At its 2014 Porterpalooza festival, the Tacoma brewery dropped the coconut and added chocolate. It was a huge hit. It re-appeared for Porterpalooza 2015, this time in 22-ounce bottles as a seasonal. Peanut Butter Cup Porter tastes like a Reese's Peanut Butter Cup full of rich peanut, chocolate, some light roasted notes and a decent amount of sweetness.
Mother Earth Sin-Tax Imperial Peanut Butter Stout
8.1% ABV, 66 IBU
Mother Earth Brewing's Sin-Tax is an imperial stout first and foremost. Deep dark malts lend espresso notes and British crystal malts contribute the perfect toffee and caramel flavor. Despite the dry finish there is a wonderful molasses character compliments of brown cane sugar, and just enough residual sugar to finish full-bodied but never cloying. The peanut butter has been applied quite subtly and appears only in the very end, only to disappear again quickly.
Photo courtesy of Daniele Pellati 
---