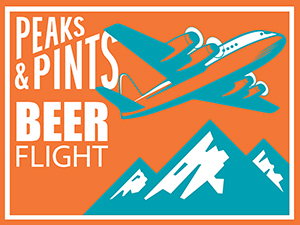 Founded in 862 as a feudal fief in the west of France, the Flemish Region today comprises part of northern Belgium, divided into West Flanders and East Flanders. The main language of Flanders is Flemish, a variant on the Dutch spoken in Holland, but French, German and English are widely spoken. Often overshadowed by West Flanders — home to the Belgian Coast, Bruges and Flanders Fields – East Flanders (Oost-Vlaanderen) proudly inhabits the role of the underdog. Marginally smaller in size and population, the province —fringed by Bruges to the west and Antwerp and Brussels to the east — doesn't skimp on breweries. Today, Peaks and Pints focuses our beer flight on East Flanders, Craft Beer Crosscut 1.17.20: Flight of East Flanders.
Craft Beer Crosscut 1.17.20: Flight of East Flanders
Van Honsebrouck Bacchus Vlaams Oud Bruin
4.5% ABV
"Oud bruin" is Flemish for "old brown," distinguishing the color from other Belgian sour ales such as Rodenbach, which tend to be red, and "Vlaams" is Flemish for, well "Flemish" — Flemish brown ale, a style of beer originating from the East Flanders region of Belgium. Van Honsebrouck ages the beer in oak for two years, which gives the beers of East and West Flanders their unique acidity. Van Honsebrouck are reliant on a koelschip, which is essentially a large vat in the roof where the wort is left to attract natural yeasts just as lambic beers do. Bacchus Oud Bruin opens with smooth, mild fruit — dark cherries, very mild in sourness, refreshing with a deep and fruity sour cherry aroma. Wood is there, deep and fruity with a long woody fruity aftertaste.
De Proef Zwart Black Star
8% ABV
De Proef Brouwerij in Lochristi, East Flanders, is an amazingly clean, technologically advanced brewery. The brewer and owner, Dirk Naudts, used to teach brewing science before moving on to create beers such as the Brewmaster's Collection for SBS Imports. For 2018's De Proef annual Brewmasters Collaboration series, Naudts partnered with Surly Brewing's Jerrod Johnson and Ben Smith to craft an old ale with star anise and Brettanomyces, creating a delicious beer that will continue to develop with time, as you'll discover today. Dip your nose into Zwart Black Star for big, sultry, woody caramel, brown sugar, ripe tree fruit and a hint of tropical Brettanomyces. The Brett is back for the flavor profile with lots of oak, whispers of bourbon, a bit of plum, and dark Belgian fruity malts. Zwart!
Bosteels Pauwel Kwak
8.4% ABV
Pauwel Kwak was an 18th century well-known brewer and publican in Dendermonde, a city in the Flemish province of East Flanders in Belgium. Kwak brewed his own beer, which was dark and heavy. In those days, the Napoleonic Code ruled that coach drivers were forbidden to drink beer with their passengers and so they were not allowed to leave the coach to quench their thirst. Kwak invented an efficient solution to this problem by offering the famous Kwak beer in a special glass that could be fixed to the carriage, so the drivers could also enjoy one. Kwak's story inspired Brouwerij Bosteels, which began brewing the Belgian pale ale Pauwel Kwak in the 1980s. Pauwel Kwak hits the nose with mellow fruit and malt, with a slightly spicy character from coriander and hops. The flavor is earthy and fruity, with hints of licorice and spice passing into a warm finish like caramelized banana. A delicate, balancing bitterness remains in the background.
Bosteels Tripel Karmeliet
8.4% ABV
Belgium's Brouwerij Bosteels utilizes a 340-year-old recipe for Tripel Karmeliet using wheat, barley and oats in the brewing. The result is a smooth and sweet Belgian golden ale that can appeal to both serious beer drinkers and folks looking for something cool to bring to a party. Tripel Karmeliet is still brewed to an authentic beer recipe from 1679 originating in the former Carmelite monastery in Dendermonde. The name Tripel Karmeliet refers both to its origin and its in-bottle refermentation. It benefits greatly from secondary fermentation, giving it some nice carbonation and a creamy head of foam upon pouring. The nose of the beer is redolent of spices and grass. Those spices also dominate on the palate, along with all that sweet oat and wheat malt. A restrained hop bitterness balances flavors of toffee and malt.
Huyghe Delirium Tremens
8.5% ABV, 26 IBU
Huyghe Brewery is a brewery founded in 1906 by Leon Huyghe in city of Melle in East Flanders. Its "flagship" beer is Delirium Tremens, a golden ale, made its American debut Dec. 26, 1988, more than 80 years after Huyghe Brewery's founding. According to legend, a tax collector felt himself gradually slipping into a state of unexpected drunkenness when he came up with the name, "Delirium." Whether he saw pink elephants remains unknown. Delirium Tremens is one of the most popular Belgian beers, and for good reason. Its signature pink elephant logo and ceramic bottles have helped it become incredibly recognizable. The medium-bodied Belgian golden ale exhibits apple and pear aromas at the nose, and features banana, fruit, spice, and wheat flavors.
---