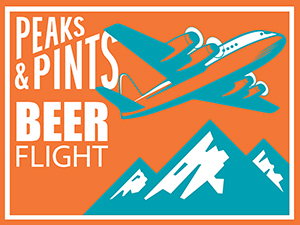 Oct. 17, 1989, the Pike Place Brewery, as it was then known, officially opened in the old Liberty Malt Supply space under the Pike Place Market on Western Avenue in downtown Seattle. At the time there were only three other craft brewers in Washington state and IPAs were hard to find on tap or in bottles. A lot transpired at the brewery since, including a name change to the Pike Brewing Company, but Charles and Rose Ann still proudly own the brewery and the history of beer museum that doubles as their restaurant and taproom. Today, Peaks and Pints offers a five Pike beer flight that we call Craft Beer Crosscut 1.16.20: Flight of Pike.
Craft Beer Crosscut 1.16.20: Flight of Pike
Pike Octopus Ink
8.3% ABV, 25 IBU
The black IPA goes by many names: American black ale, India black ale and Cascadian dark ale (when most of the hops are American-grown Cascades). Hops are at the forefront, but the style can also have a modest malt signature because of the amount of black malts that are used to give it its rich black color. Pike's Octopus Ink wraps itself around the hoppier side of the black IPA style with Chinook, Centennial, Citra, and Simcoe hops in the kettle, then dry-hopped with Citra, Amarillo, and Simcoe for a toasted pine needle aroma and a woody, spicy pine and resiny edge to the bitterness. Bitter black roasted grains and coffee attach to the tongue but not the burnt flavor that can be associated with dark malts. All that malt lends balance and depth, complementing but not allowing the hops to completely take over the beer. This isn't an in-your-face hop monster, just solidly hopped beer with a firm malty core.
Pike Kilt Lifter Scotch Style Ale
6.7% ABV, 27 IBU
Pike's best-selling Pike Kilt Lifter Scotch Style Ale is a ruby-colored, low-bittered malty ale that will transports us to 19th century Scotland, where this style has its roots. There's a subtle underlying smokiness from the addition of a small amount of peated Scotch whisky malt, which adds complexity. Warm fermentation produces fruity esters and balances the sweet malt character, as well as oaky vanilla and light tobacco. Layers of rich, sweet, powerful earthy malt — like freshly baked bread — makes Kilt Lifter great by itself or with Peaks and Pints' sandwiches. 
Pike Monk's Uncle
9% ABV, 34 IBU
Pike Brewing Company's founders and owners, Charles and Rose Ann Finkel, introduced American beer drinkers to Belgian beers in the 1980s through their craft beer importing company, Merchant du Vin. Pike Monk's Uncle is their only year-round Belgian style beer and continues the tradition of introducing American palates to the joys of Belgian style beers. This Belgian-style tripel pours traditional golden straw color of the style together with a solid lacy head that remains throughout. There is an overall fruity background flavor to this brew, with just a hint of honey and a touch of spice.
Pike Reunion IPA
6.8% ABV, 50 IBU
Brewed in honor of their 30th anniversary, Pike Reunion IPA is a collaboration of the minds of Pike Brewing Company's brewers, past and present. Featuring Pilsner malt from Skagit Valley Malting, Pike Reunion IPA is brewed with Centennial and dry-hopped with El Dorado and Warrior hops. The beer is fermented with Charlie's First Bump yeast, a hybrid strain developed in honor of industry legend and Pike beer friend, Charlie Papazian. Expect a floral profile accented with notes of pineapple, grapefruit, and stone fruit.
Pike Entire
9.9% ABV, 85 IBU
Pike Brewing's robust stout is aged for six months in Woodinville Whiskey bourbon barrels and then blended with Pike's XXXXX Stout to create a complex, rich beer — reminiscent of small-batch bourbon with its vanilla and wood overtones. A smoky and slightly sour component initially grips the nose, before opening up to chocolaty malt, cinnamon, dark raisins, and earthy oak once the beer warms.
Original photo courtesy of Zanatpike
---