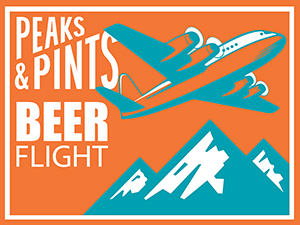 First things first … SNOW! Thanks to the school children whom put white crayons on every windowsill, brushed their teeth with their non-dominant hand, and flushed ice cubes down the toilet, Tacoma is blanketed with snow today. Icy roads and a half inch of snow in the Puget Sound area caused a messy commute and several schools to close or be delayed today. Now what? How the hell are you going to travel to Peaks and Pints for our snow beer flight, Craft Beer Crosscut 1.14.20: Flight For Snowpocalypse? Well, the original downhill pioneers damn near strapped entire tree trunks to their feet, doggedly steering them like great monoliths. Those folks laughed and laughed — even though they were working up one helluva rash. Times have changed, and so have the equipment, clothing and attitudes. What hasn't changed is the thrill one feels when the planks are strapped on. So strap them on and make your way to Peaks and Pints.
Craft Beer Crosscut 1.14.20: Flight For Snowpocalypse
Rogue Yellow Snow Pilsner
5.5% ABV, 19 IBU
Remember not to eat yellow snow. Peaks & Pints doesn't care what the older guys at the playground tell you, eating yellow snow will not give you super powers or a beard. Take our word on it. Do drink Yellow Snow! Rogue Ales brewed Yellow Snow IPA for 15 years, but in 2019 the Oregon brewery decided to make a beer reminiscent of our Pacific Northwest winters. They turned Yellow Snow into a crisp pilsner made with spruce tips from their own backyard. It has a sweet toffee and berry flavor with herbal notes, bubblegum and a smooth, fruity finish.
Rainy Daze Winter Daze
5.7% ABV, 25 IBU
Craft beer enthusiasts devote a lot of attention to bitterness as they seek out the latest and greatest, so much so that good brews under their noses can be overlooked. The altbier is one such style, with its smooth malty tones and clean balance. Then there's a lack of familiarity with the alt, given that few breweries in Washington produce them. But Peaks and Pints finds this copper-colored beer to be wonderfully easy to drink — almost too easy after digging our cars out from today's snow. The traditional altbier is a brown ale, originating in Düsseldorf. "Alt" is German for "old," and these beers are somewhat of a hybrid between ales and lagers. Altbiers are fermented with ale yeast at warm ale temperatures but conditioned in cooler confines and for long periods, creating an ale that shares characteristics with a lager. Rainy Daze Brewing's version, Winter Daze, has faint fruity tones, with an underlying maltiness that is toasted, but not overwhelming. The finish is dry and lightly hopped, with a slight smoky taste.
Odd Otter Hoppy Headed Ninny Muggins
6.4% ABV, 30 IBU
"I'm the worst toy-maker in the world. I'm a Cotton Headed Ninny Muggins," said a frustrated Santa's elf, Buddy, in the film, Elf. No doubt many Tacomans are calling themselves Cotton Headed Ninny Muggins over their inability to navigate a car through all the snow today. We have no idea if Odd Otter Head Brewer Greer Hubbard is having troubles on the road today, but we do know he can brew a delicious IPA as proven by Hoppy Headed Ninny Muggins. This West Coast IPA is brewed with Idaho 7, Cascade and spruce tips for a beautiful combination of berry, citrus and spruce flavors.
Everybody's Foggy Goggles Hazy IPA
6.9% ABV, 35 IBU
Everybody's Brewing first released their new hazy IPA seasonal, Foggy Goggles, in November 2018, for the opening of Mount Hood Meadows ski season. The name and branding were specifically chosen for Meadows, a ski resort that is a long time supporter of the White Salmon, Washington, brewery. Brewed with Galaxy, Simcoe, Azacca, and Ella hops, plus rolled oats, wheat and lactose for a balanced creamy body, this hazy has distinct flavors of orange sherbet and peaches, with a citrus, juicy aroma.
Kulshan Kitten Mittens Winter Ale
7.4% ABV, 39 IBU
Kulshan Brewing adds four different malts — 2-row, Chocolate, roasted barley and Munich — to Kitten Mittens Winter Ale giving it the rich, medium-bodied winter warmer we adore with a nose of milk chocolate and a touch of brown malt. The body strikes a nice mix of easy malty notes and medium sweet chocolate balanced by earthy hop notes, thanks to the Apollo, Willamette and Fuggle hops. We dig the touch of chocolate liquor on the finish.
---