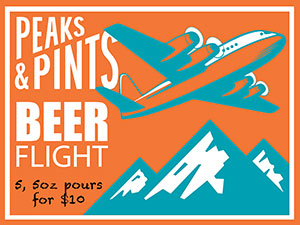 Early American agriculture paved the way for producing new crop species, some intentionally and scientifically and others effortlessly through Mother Nature. The Galena hop is a wonderful combination of the two: a cross between the Brewer's Gold hop and open pollination. Developed from the USDA breeding program in Idaho in 1968, this all-American hop was released to the market a decade later. It is prized for being an excellent high alpha variety, which is perhaps why it is the most widely grown hop in the U.S. The Galena is used primarily as a bittering agent in beers, widely producing clean and crisp bitterness. It has medium aromas of spice, blackcurrant and citrus. The Galena is a friend to others, for it blends well with other finishing hops. Peaks and Pints presents Craft Beer Crosscut 1.11.18: A Flight of Galena.
Bear Republic Sonoma Pride Blonde Ale
5.5% ABV, 26 IBU
Napa and Sonoma County fires burned an estimated 200,000 acres, 8,300 homes and businesses, and claimed many lives. As firefighters reign in the devastation, the question, overwhelmingly, has become how to help. Bear Republic Brewing Co. is fundraising with signature Sonoma Pride Blonde Ale with all proceeds going toward wildfire victims in Sonoma County — King Ridge Foundation and the Bear Republic Brewing Company employee fire relief fund. This blond is brewed Northern Sonoma County style with Super Galena, El Dorado, Citra and Ekuanot hops for a juicy flavor and aroma, complimented by a soft malt character.
Two Beers Jive Espresso Stout
7.5% ABV, 45 IBU
At the heart of Two Beers Jive Espresso stout is a milk stout, sometimes called a sweet stout. The style is known for sweetness and hints of chocolate and caramel. Two Beers' version follows suite with a full body, soft mouthfeel — but adds some hop bitterness, thanks to Galena. From there, Jive Espresso Stout takes sweet stout up a notch with a chocolaty espresso version featuring locally roasted direct-trade espresso from Fulcrum Coffee. Combine with flavorful oatmeal malt, Jive Espresso Stout features layers of flavor — including dry roasted malt and mild old vanilla bean note — with just a hint of espresso lingering on the palette.
Bear Republic Grand-Am Pale Ale
6% ABV, 50 IBU
A winner of the Gold Award at the 2013 California State Fair in the American Pale Ale category, Bear Republic Brewing's Grand-Am is hopped with Galena, Cascade, Crystal and Amarillo hops. Classic session-ish yet assertive, citrus-like American hop character blooms in aroma and flavor. A style never to get tired of, Grand-Am has all the classic lines — caramel, grass hops, pine, orange peel — with a well balanced, piney finish.
Two Beers Evo IPA
6.2% ABV, 70 IBU
Two Beers' Evo IPA is for everyone: hopped with Yakima Valley Simcoe, Amarillo, Galena and Centennial, then aggressively dry-hopped with Simcoe and Columbus, it has citrus for Ed, tropical fruit for Vince and pine for Oscar. Biscuit and caramel malts balance out the strong hop bill. Nose is orange tropical fruit notes with some pine and biscuit malt. Tasty.
Hop Valley Alpha Centauri Binary
9% ABV, 100 IBU
After graduating from Oregon State University's fermentation sciences program and honing his hoppilicious skills at Pelican Brewing Co. and Rogue's Tracktown Brewpub, Trevor Howard busted out deep, dank, and delicious craft beers as co-owner and head brewer at Eugene, Oregon's Hop Valley Brewing Co. Howard commemorated Hop Valley's 100th batch with the floral and grapefruity phenom Alpha Centauri Binary. A hazy orangey hue from Great Western 2-Row and Munich malts are the fuel to launch a capsule full of Simcoe, Galena, Amarillo, Centennial and Cascade hops.
---