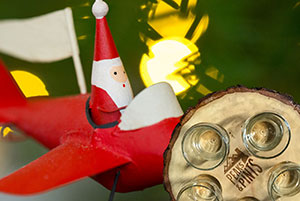 The Washington State Fairgrounds in Puyallup has turned into a Christmas lover's wonderland for five days as the Victorian Country Christmas festival opens at 10 a.m. Holiday music will fill the air as live musicians stroll through a festive array of Christmas décor and animated displays. Visitors can shop all day as well as enjoy the shows and a vast array of food offerings. There are also carriage rides, Santa Tram rides and the Christmas Carousel. Best of all, this extravaganza is complemented by numerous how-to-events, a wine garden and a plethora of family activities. After getting your Victorian on, stop by Peaks and Pints and recount the activities over a flight of holiday beer we call Christmas Craft Crosscut 12.5.19: Victorian Country Christmas.
Christmas Craft Crosscut 12.5.19: Victorian Country Christmas
One Tree Snow Globe
6.6% ABV
Who doesn't love glitter? It's nearly impossible to get out of your cleavage after a night on the town, but it's festive as hell. And now thanks to edible glitter, your digestive system can be as sparkly as your 1990s eye shadow palette. One Tree Hard Cider Snow Globe is a delicious spiced cider with glitter. We recognize the clove and cinnamon, but the glitter seems like a handful rather than a full dance floor dump. 
Maritime Pacific Jolly Roger Christmas Ale
8% ABV, 42 IBU
A Christmas beer with a pirate skull and crossbones donning the bottle? This one is for you, Jack Skellington! George and Jane Hancock founded the ma-and-pa Maritime Pacific Brewing Company in an old transmission shop in 1990 in Seattle's Ballard neighborhood. In 1997 they opened the Jolly Roger Taproom named, as they say, "in honor of our most popular holiday brew": Jolly Roger Christmas Ale. A beer fridge staple, Jolly Roger English strong ale combines rich malt character with a blend of fresh Northwest Chinook and Cascade hops.
Diamond Knot Industrial Ho!Ho! Winter Ale
8.5% ABV, 60 IBU
Diamond Knot Brewing Industrial Ho!Ho! Winter Ale, brewed for 19 years, is on the nitro tap at peaks and Pints. This winter ale is the first beer recipe Diamond Knot Vice President of Brewing Operations Pat Ringe created when he arrived at the Mukilteo, Washington, brewery. Ho!Ho! is hoppy!hoppy! — 60 IBUs — with a balanced residual sweetness. It was also the first recipe he created when he came to Diamond Knot.
Ninkasi Sleigh'r Dark Double Alt Ale
7.2% ABV, 60 IBU
Ninkasi Brewing's motivation for creating Sleigh'r was to make a beer different than other Northwest winter beers that feature big hop profiles and rich caramel flavor. They created a malt-forward yet dry, toasty and hardy beer brewed in the traditional German Alt way, only darker. First released in 2009, Sleigh'r rides roasted barley and Chocolate malts with Nugget hops balancing roasted malt, cooked sugar and a little dark fruit flavors. It's surprisingly light in body with a dry finish.
Double Mountain Fa La La La La
7.6% ABV, 85 IBU
T'is the season for a big, malty hop bomb. … Double Mountain Brewery loads their annual holiday brew up with enough Centennials to fill Santa's toy bag. Brewed with Gambrinus Organic Pilsner and Munich malt, imported crystal malts and Centennial hops, this winter ale pours a beautifully, burnt orange and huge fluffy head. Aroma hints at the spiciness that follows in the taste. The spice isn't overwhelming, but complementary to the malt and hop profiles. Expect lingering savory flavors, with a slick and creamy body.
---