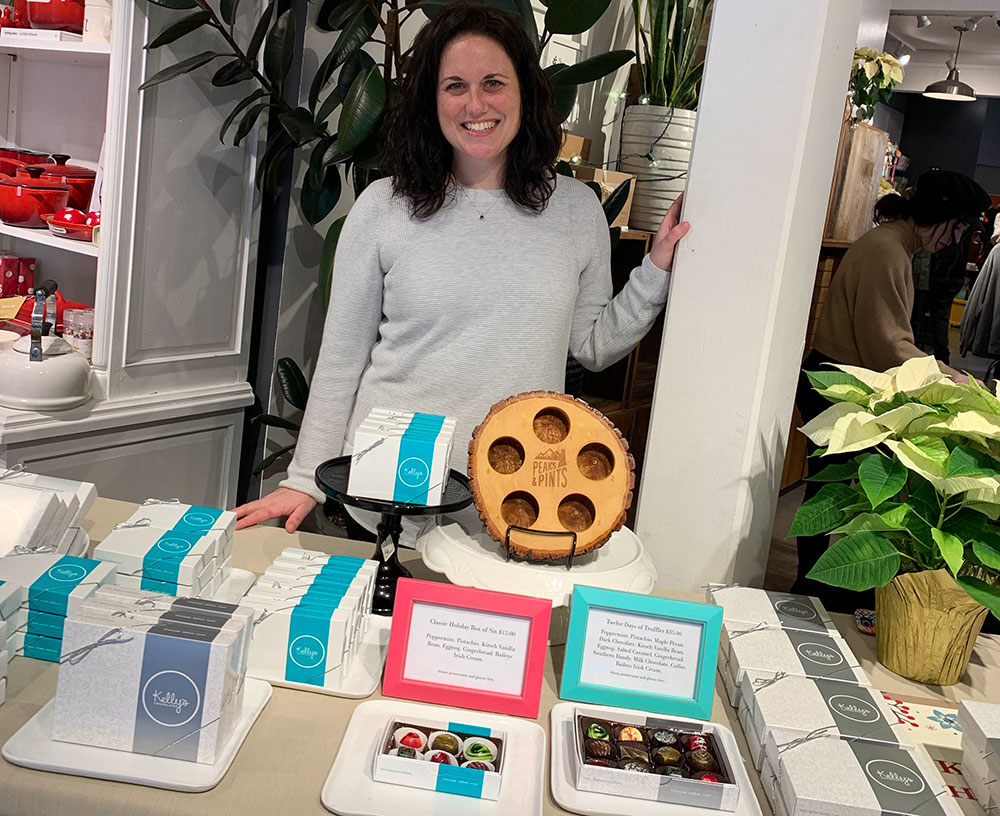 A lesser sibling might buy their sister a Nightmare Before Christmas T-shirt at Hot Topic. But not you. You are going to visit Compass Rose Tacoma for their Makers In Proctor afternoons. Throughout the year, the dreamy gift shop in Tacoma's Proctor District offers pretty and unique personal and home accessories, locally produced artisan jewelry, home décor, stationary, cool kitchen gadgetry and sweet-smelling lotions and potions, and so much more. But, now through Dec. 20, Compass Rose hosts a different artist each day, 10 a.m. to 3 p.m., so you can receive the story behind the handmade gifts. Today, Kelly Mero, chocolatier and founder of Kelly's Chocolates, will be in Proctor with stories of her teacher, Ewald Notter, one of the finest confectionary chefs and artist in the world, and, of course, chocolates. Do you know what pairs with chocolates? Peaks and Pints' holiday beer flight, which we have named Christmas Beer Flight 12.13.19: Compass Rose.
Christmas Beer Flight 12.13.19: Compass Rose
Silver City Bourbon Barrel Old Scrooge
9.5% ABV, 26 IBU
The cats at Silver City Brewery excel in their Barrel-Aged Series, from Bourbon Barrel Aged Time Goddess Imperial Stout to Port Barrel Giant Made of Shadows. But the barleywine is the star. This holiday bourbon barrel-aged English barleywine offers up a rich aroma of toffee and sweet cherry, with a rush of warm vanilla, bourbon and caramel malt to create an immaculate fireside drinking companion.
pFriem Belgian Christmas
8% ABV, 30 IBU
pFriem Family Brewers Belgian Christmas Ale changes from moment to moment. This big dubbel-based holiday ale is brewed with German Perle hops, candi sugar, coriander and Belgian ale yeast that changes flavor with every sip. Just as you think it's a toffee delight it morphs into chocolate-covered orange. Then raisin. And cinnamon pastry. Oh, and dried cherry. And …
Kulshan Kitten Mittens Winter Ale
7.4% ABV, 39 IBU
Kulshan Brewing adds four different malts — 2-row, Chocolate, roasted barley and Munich — to Kitten Mittens Winter Ale giving it the rich, medium-bodied winter warmer we adore with a nose of milk chocolate and a touch of brown malt. The body strikes a nice mix of easy malty notes and medium sweet chocolate balanced by earthy hop notes, thanks to the Apollo, Willamette and Fuggle hops. We dig the touch of chocolate liquor on the finish.
10 Barrel Pray For Snow
7% ABV, 75 IBU
10 Barrel Brewing's Pray for Snow Winter Ale uses seven specialty malts and plenty of hops to create a herbal, malty, hoppy brew. Dark copper in color, the Pray for Snow has big malty aromas with hints of caramel, toffee, and spices. The German malt flavor profile with slight roasty notes gives the beer a subtle toffee sweetness balanced with a spicy hop bitterness and slight alcohol warming. Today, Peaks and Pints pours the nitro version for added creaminess.
Block 15 Fresh Pow!
7% ABV
Block 15 Brewing has brewed a "winter IPA" featuring resinous, citrusy, and tropical American and New Zealand hop varietals alongside a warm malt base — 2-Row, Superior Pilsen, Carafoam, flaked barley, oat malt, white wheat malt — designed to balance this wintry hop experience. Brewed in cooperation with Ashland artist Chris Herbst, the release of Fresh Pow! Landed just when the first major dump in the mountains hit. Nice.
---