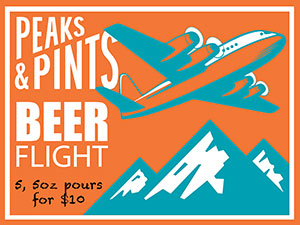 A flight of beers is a wonderful thing — it's a sampler platter, speed dating, a master's class and a family reunion all wrapped into one.
The concept is simple. Hang out at Peaks and Pints bottle shop, taproom and restaurant in Tacoma's Proctor District, and choose a selection of 5-ounce brews to try back-to-back.
In most cases, we suggest the beers are tasted from least bitterto most bitter as to not blow out your taste buds.
Scanning Peaks and Pints' taplist today, we suggest the following flight, but you can choose your own from our 28 taps.
Lost Coast's Tangerine Wheat
5.5%ABV, 15 IBU
"Tangerine, Tangerine, living reflection from a dream" so says Led Zeppelin. We have no idea what that means, but we do know this: a delicious tangerine craft beers is currently pouring from Peaks and Pints' Western red cedar tap log. For those of you who want a light and cheerful beer, Lost Coast's Tangerine Wheat is your best bet. This candy-scented wheat beer is crisp, clean and refreshing.
Powerhouse Coco Loves Nitro
5.3% ABV
Powerhouse Restaurant and Brewery takes its stout and blends it with 50 pounds of toasted coconut and organic Madagascar vanilla beans for a rich, creamy and deliciously decadent stout.
Task Force Kingdome Implosion IPA
6% ABV, 55 IBU
Remember that IPA you were sipping while watching the Kingdom implode in March 2000?It's back, but with a different name and brewed by Task Force Brewing in Lakewood, Washington. Pale, Victory, and Melanoidin malts provide old school malt character and a dark orange color, whilst a bombardment of Citra and Simcoe in the whirlpool and dry hop creates a hop implosion big enough to bring down a venerable stadium.
Boneyard Enzymatic IPA
7% ABV, 60 IBU
Because we know we're going to need a good IPA to throw into the mix and Boneyard Beer knows what they're doing with hops. Enzymatic is a clean, crisp IPA built on North American Pale and Pilsner malts. Seven different hop varieties compose the mild bitterness and hop forward aroma and taste.
Rhinegeist/Melvin Experimental J-Hole
7%ABV, 62 IBU
Cincinnati, Ohio brewery Rhinegeist teamed up with fellow lupulin lovers at the GABF medal-winning Melvin Brewing in Alpine, Wyoming, to brew Experimental J-Hole, a hop-happy red IPA. El Dorado hops play first chair here with candied cherry notes; Simcoe hops add bass notes of resin, pine and blood orange; and Centennial hops tie everything together with medium notes of citrus.
---