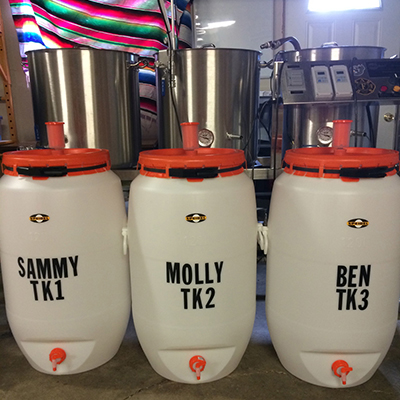 Triceratops Brewing Company
1710 Dickinson Ave NW, Olympia, WA 98502, United States
Biography
Established: 2014
Owners: Rob and Kelly Horn
Brewer: Rob Horn
Location: 1710 Dickinson Ave. NW, Olympia, WA 98502 (no visiting hours yet)
Specialty: East Coast style ales with a West Coast influence.
Five Notable Beers: Sammy IPA (lemon drop), Molly IPA (peeko hops), Hawthorne's Coffee Milk Stout (with cold brew toddy), Ben Pale Ale, Rhythm and Rye IPA (named for the bar)
Awards: Not yet (as a home brewer, yes)
Fun Facts:
>>> Business named after Three Horns (Rob and Kelly's children)
>>> Triceratops donates a keg of beer to the Olympia Film Society for every batch of Craftsman Copper they brew.
>>> Triceratops Brewing with relocated to Deschutes Landing Building in Tumwater in the fall of 2016.
Triceratops Brewing Company launched with a one-barrel system, but now brews on a 10-barrel, with two 20-barrel fermented and one 20-barrel bright tank. Triceratops is in bottles and on tap at South Sound bars and bottle shops.