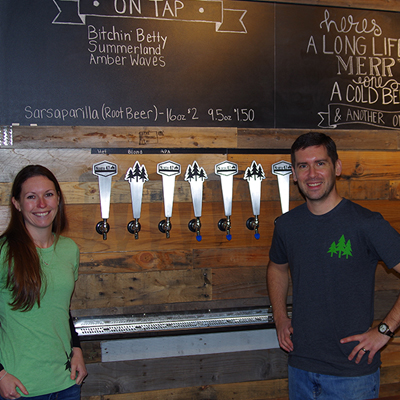 1000 Town Center NE #160, Tacoma, WA 98422
Biography
Established: 2015
Owners: Carl and Stephanie Leach
Brewers: Carl and Stephanie Leach
Location: 1000 Town Center NE #160, Tacoma WA 98422
Specialty: Across-the-board brews
Five Notable Beers: Bitchin' Betty Blonde, Elated Slug ESB, Brown's Point Porter, Summerland American Pale, Nightmare 21 IPA
Awards:
2018 Washington Beer Awards: Gold – Amber Waves Hefeweizen, Silver – Bitchin Betty Blonde Ale, Bronze – Nightmare 21 IPA
2019 Washington Beer Awards – Gold – Guvnuh Brown Ale
Fun Facts:
>>> Carl is in the Air Force Reserves, and he and his wife Stephanie are both Central Washington University grads. They hope to get involved in Central's new brewing classes.
>>> Named for the line of latitude that goes through our little portion of the Pacific Northwest.
>>> Elated Slug ESB received its name one night after a bunch of slugs congregated during a brewing break on their front porch.
North 47 Brewing Co. a 3-barrel system with three 3-barrel fermenters, two 7-barrel fermenters and a 7-barrel brite tank. They pour their beers, and guest beers and ciders, in an outdoors-y theme taproom, allowing food to be brought in. Grab growlers and grunts to go.