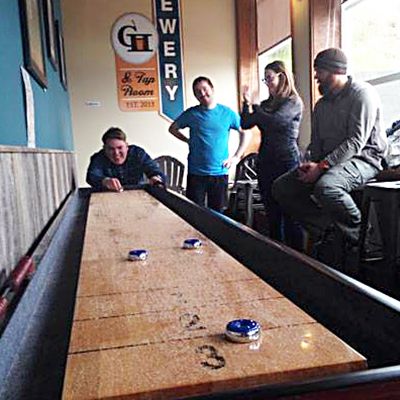 Gig Harbor Brewing Company
3120 S Tacoma Way, Tacoma, WA, United States
Biography
Established: 2015
Owner: John Fosberg
Brewer: Mike O'Hara
Location: 3120 S Tacoma Way, Tacoma, WA 98409
Gig Harbor Taproom Location: 3155 Harborview Dr., Gig Harbor, WA 98335
Specialty: Beers with Gig Harbor history, such as the Round Rock IPA, named for a maritime festival game started in the '40s, in which the winner was the person who found the roundest rock. Or the Racing Rooster Red, named for the infamous Gig harbor rooster races of the '40s.
Five Notable Beers: Giggly Blonde, Raising Rooster Red, Round Rock IPA, Sturdy Gerdie, Gig Harbor Imperial Stout
Awards:
2019 Washington Beer Awards: Bronze – Gig Harbor Imperial Stout
Fun Facts:
>>> Daily specials such as $10 growler fills on Wednesdays
>>> The brewery hosts Sunday shuffleboard tournaments.
>>> In April of 2018, Gig Harbor Brewing opened a second location in its namesake city. The taproom is located on the water and is 21 and older only. Beer and wine is available, but no food sold on the premises, however great food options are nearby. Brewery operations remain at the Tacoma taproom location.
After an exhaustive search for large enough building space in Gig Harbor, the Gig Harbor Brewery was forced to open in Tacoma's Nalley Valley. The brewery has 2,500 square feet of warehouse space, with seating for about 30-35 indoors and a sunny brick patio space for outdoor lounging during warm weather. Expect five beers on tap, plus a guest beer and cider.