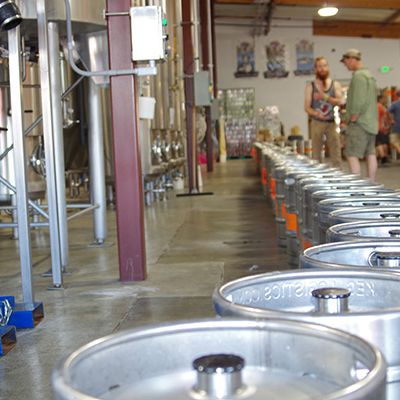 3006 Judson Street, Gig Harbor, WA and 2101 S. Jefferson St., Tacoma, WA
Biography
Established: 2009
Owners: Mike Runion and Travis Guterson
Brewers:
Brewery Crew – Travis Guterson (head brewer), "Salmon Joe" (lead brewer), Chris Clarke (barrel shepard/GH brew system), JD McQueen (cellarman), Jay DeLong (packaging lead), and Christian (packaging).
Location: Tacoma's Historic Brewery District, 2101 S. Jefferson St. next to the University of Washington and 3006 Judson St. Suite# 110, Gig Harbor
Specialty: Guterson and Runion have set the goal of producing the ultimate proper pint with the environment in mind. That means cans instead of bottles, because "when packaging beer, oxygen and sunlight are enemies. Cans are the best in protecting beer from sunlight. …"
Five Notable Beers: Rude Parrot IPA, Ballz Deep IIPA, 253 Pilsner, Life Jacket Session IPA, Water Chopper Gose
Awards: Voted "Best Beer in the South Sound" by South Sound Magazine readers six years in a row. Voted "Best Brewery" in Pierce County in 2014 by Weekly Volcano readers. Stan's Favorite Brewery in the World seven years running. Strange Brew champion 2015-2016, Bronze at 2019 Washington Beer Awards for the Sour Raspberry Blend. Winner of the Parkway Tavern's Blind IPA Challenge 2019 for Willie Maze Haze, now known as Hazy IPA.
Fun Facts:
>>> No TVs at 7 Seas in Gig Harbor. Patrons are encouraged to instead "take the unique opportunity to meet friends and make new ones over a hand-crafted pint while viewing the brewery in action."
>>>Gig Harbor location is now used to produce their Tap Room Series and collab projects. Taproom is open to all ages. Guests are able to bring in food.
>>>Tacoma location is open to all ages. Food is available from partners 3uilt Tacoma and 3 Grind Espresso. Guests are also able to bring in outside food. Private event space is available for groups 20 to 150. This location houses the main brewery operations including the Wild Goose canning line, Barrel Room and Beer lab.
While 7 Seas Brewing has been in existence since 2008, a fire in January 2009 at the original downtown Gig Harbor address meant the two young beer makers and co-owners had to relocate. Popularity and growth forced them to move to their current and much larger location back in downtown Gig Harbor. 7 Seas Brewing Co. now occupies the 11,000 sq. ft. former QFC grocery store with an 8,600 sq. ft. production facility and 2,400 sq. ft. taproom with long tables and outdoor seating. In 2016, 7 Seas added another location, opening an 80,000-square-foot expansive taproom, marketplace and production facility with 10,000 sq. ft. basement for barrel program in downtown Tacoma at a site that once held the Heidelberg Brewery.
LINK: 7 Seas Brewing archives