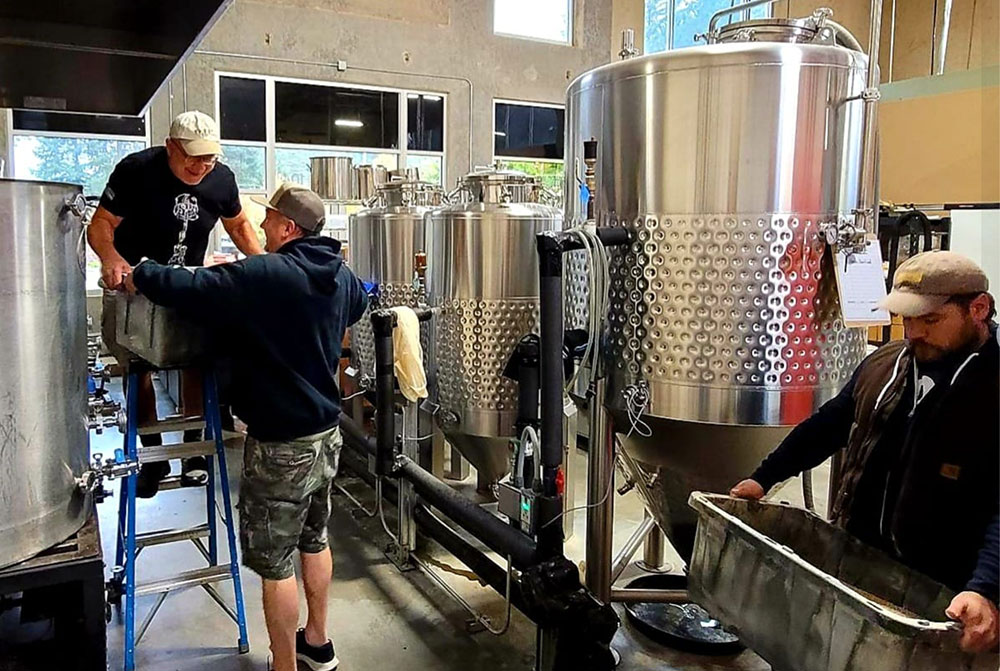 Army veterans release Until Valhalla IPA on Veterans Day
Army Sgt. (Ret.) Jared Wharton loves beer. So does Col. (Ret.) Colin Miller, who served with the 2nd Battalion, 160th Special Operations Aviation Regiment (Airborne). Today, Veterans Day, the Army veterans release Until Valhalla IPA 2021, which is also on tap at Peaks & Pints craft beer bar, bottle shop, and restaurant in Tacoma's Proctor District — many miles north of Wharton's Forward Operating Base Brewing Company in Dupont and Miller's soon-to-open Task Force Brewing in Lakewood, although Miller has been officially brewing Task Force beer for several years.
These two Army veterans love beer so much that they individually planned their breweries while in the service. Homebrewer Wharton, who served both overseas in Germany, Iraq, and Afghanistan and stateside as a sheriff's deputy, hatched F.O.B. while in Afghanistan. After nearly eight years in the Army, he opened his military-themed brewery in 2011, close to the Lewis North gate of Joint Base Lewis-McChord. More than 30 years ago, Miller envisioned Task Force while homebrewing at each of his stations. In 2007, the Lakewood resident opened Task Force with CW4 (Ret.) Jon Alexander, Capt. (Ret.) James Leise, and a half-dozen other veterans — brewing their beers at South Sound breweries while they searched for a permanent home.
Led by Task Force, this year's Until Valhalla IPA was brewed at F.O.B., and will be tapped at the Dupont brewery today. Proceeds from sales today will go to 22 Until Valhalla, an organization dedicated to preventing veteran suicide. Skagit Valley Malting donated their grain bill. Until Valhalla IPA 2021 is also brewed with this year's Yakima Chief Hops Veterans Blend, which the Yakima Valley hop company will donate proceeds to K9s For Veterans.
If you can't make it out to Dupont to enjoy Until Valhalla with military personnel, veterans, and armed forces supporting civilians, Peaks & Pints has the IPA on tap beginning at 11 a.m. Peaks & Pints appreciates all the veterans and current troops serving in our military. Our freedoms, our heritage, and the way of life we enjoy today are made possible because of them. As a thank you, Peaks will offer $1 off all draft pours to veterans and active military on this Veterans Day.
Peaks & Pints co-owner Ron Swarner wrote, edited and published The Ranger and Northwest Airlifter newspapers for Joint Base Lewis-McChord with his family for 29 years.
Task Force Brewing, 7304 Lakewood Dr. W., Lakewood
Forward Operating Base Brewing, 2750 Williamson Place, DuPont
Peaks & Pints, 3816 N. 26th St., Basecamp Proctor, Tacoma
---