Announcements made at Hops and Props 2020
At 10 p.m., when revelers began stumbling out of the Museum of Flight searching the list of "Transportation Providers" on page 8 of the Taster Guide, a woman started twerking as she pretended to be a plane. Her partner in crime backed into consumers as he pretended his two souvenir pint glasses were flashlights marshaling her to park at Boeing Field. These two probably touched the museum exhibits, didn't drink responsibly and no doubt broke other posted rules during Hops and Props 2020, the 18th annual beer and cider festival with more than 100 local, national and international beers and ciders, McCormick & Schmick's food and live music held world's largest private, non-profit air and space museum. Peaks & Pints enjoyed the festival without breaking rules as brewery and cidery representatives made important safety announcements throughout the night. Luckily, we had our phone recorder on. Enjoy the transcripts. Cheers!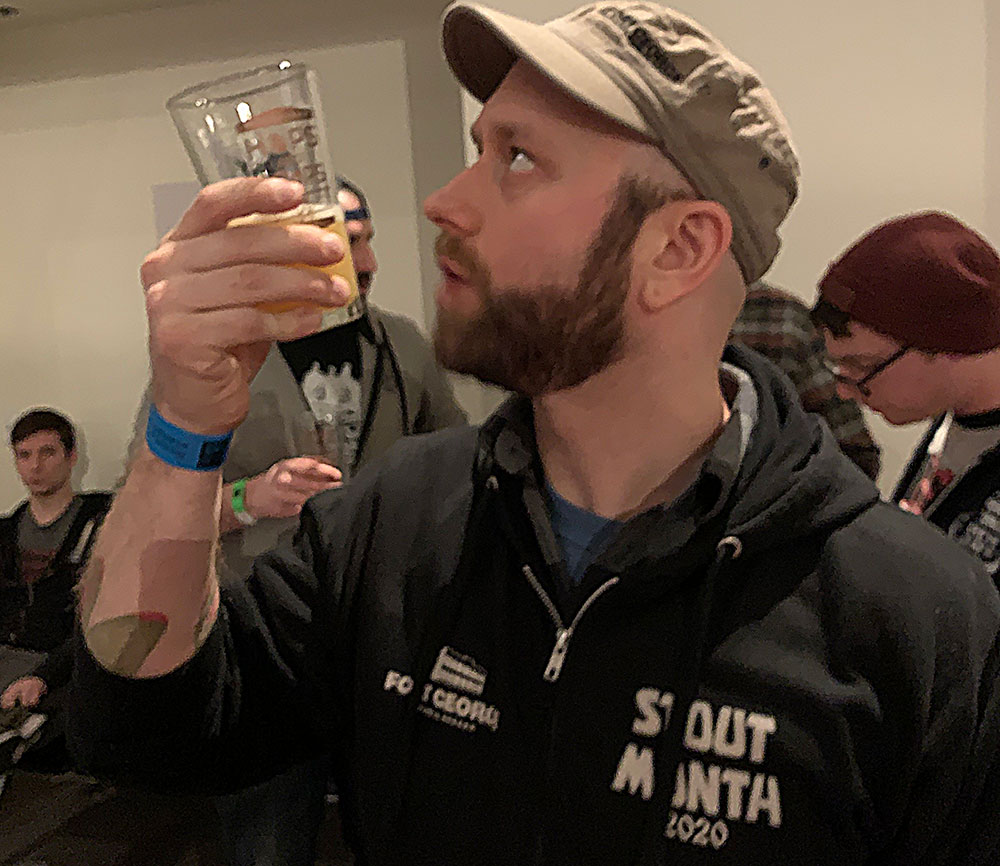 "Good afternoon passengers," said Fort George Brewery pilot Hoyt, "this is the pre-boarding announcement for Flight Magnetic Fields IPA. We are now inviting those passengers who enjoy heavy amounts of Azacca, Strata, and Citra hops, and any passengers whom love pineapple, stone fruit, and nectarine flavors, to begin boarding my booth at this time. Please have your 16-ounce pint glass and identification ready. Regular boarding will begin in approximately ten minutes over by that nine-ton Douglas DC-3. Thank you."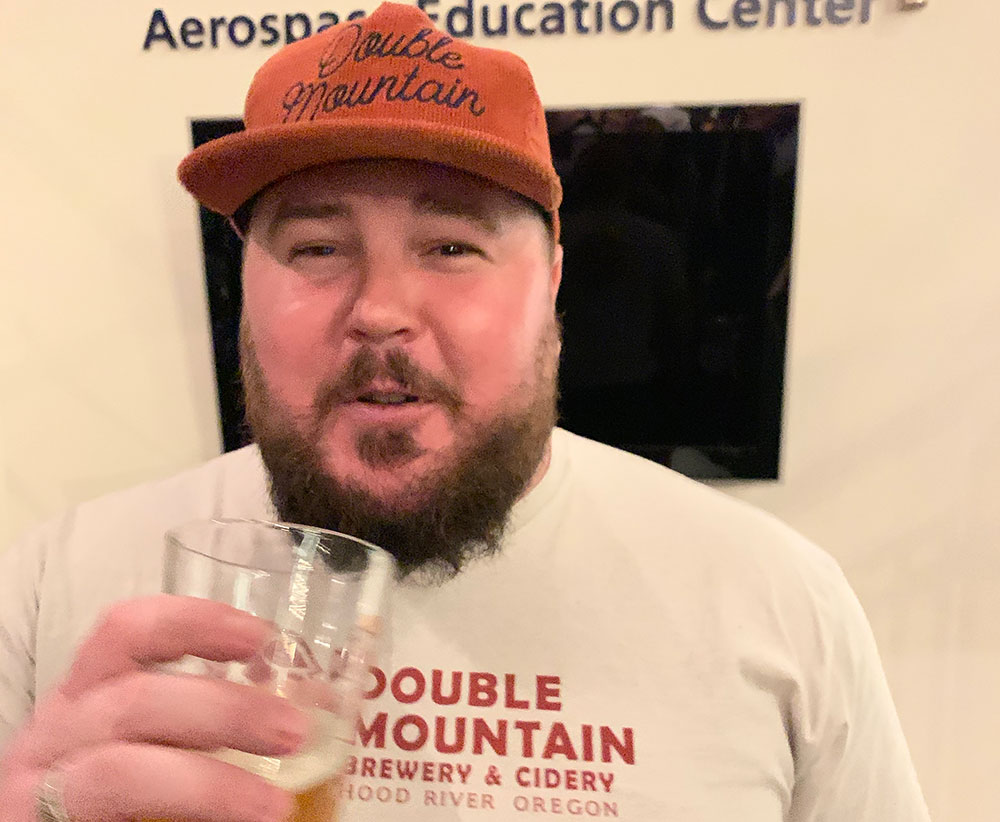 "This is the final boarding call for passenger Peaks and Pints booked on Flight Hops and Props to Boeing Field," announced Double Mountain Brewery pilot Matt. "Please proceed to my gate immediately. The final checks are being completed and Captain Matt Swihart will order the door to our citrus Ol' Greg IPA to close in approximately five minutes time. I repeat. This is the final boarding call for Peaks and Pints. Thank you."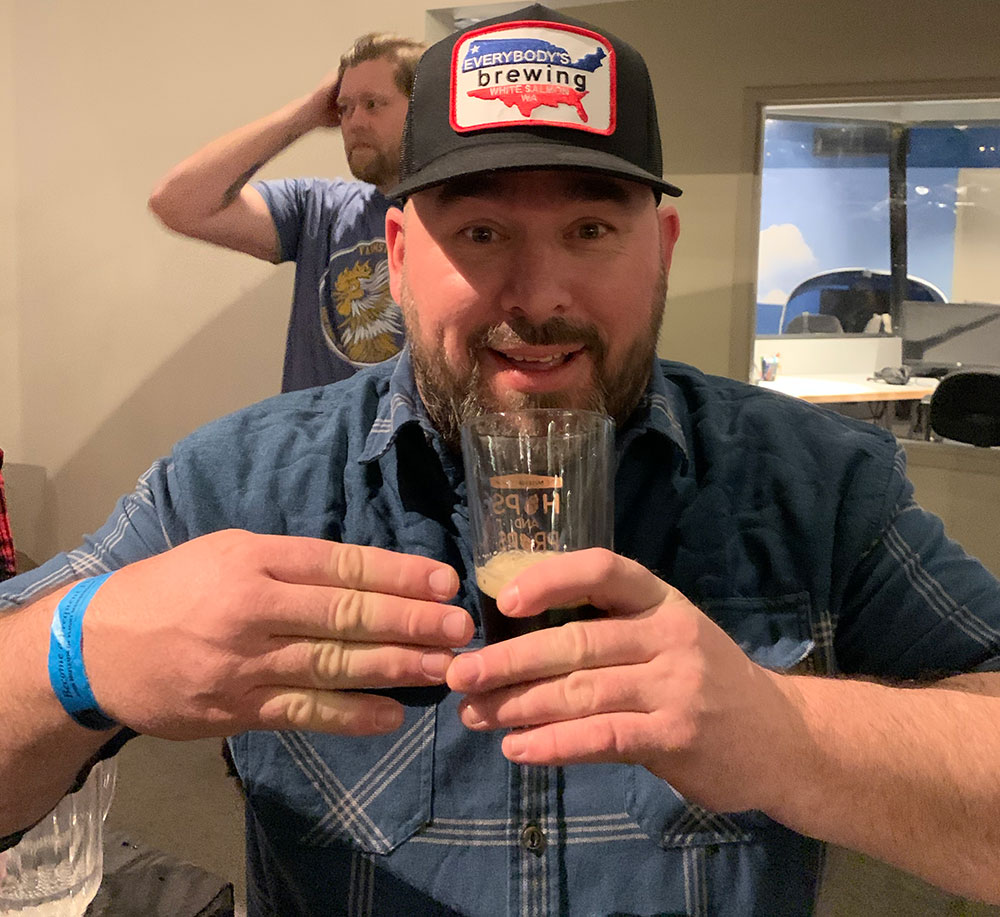 "Attention passengers on Hops and Props Flight to Boeing Field!" yelled Everybody's Brewing captain Doug Ellenberger . "The departure gate has been changed. The flight will now be leaving from my Rye Porter gate. Get spicy and toasty before TSA checks your man purse."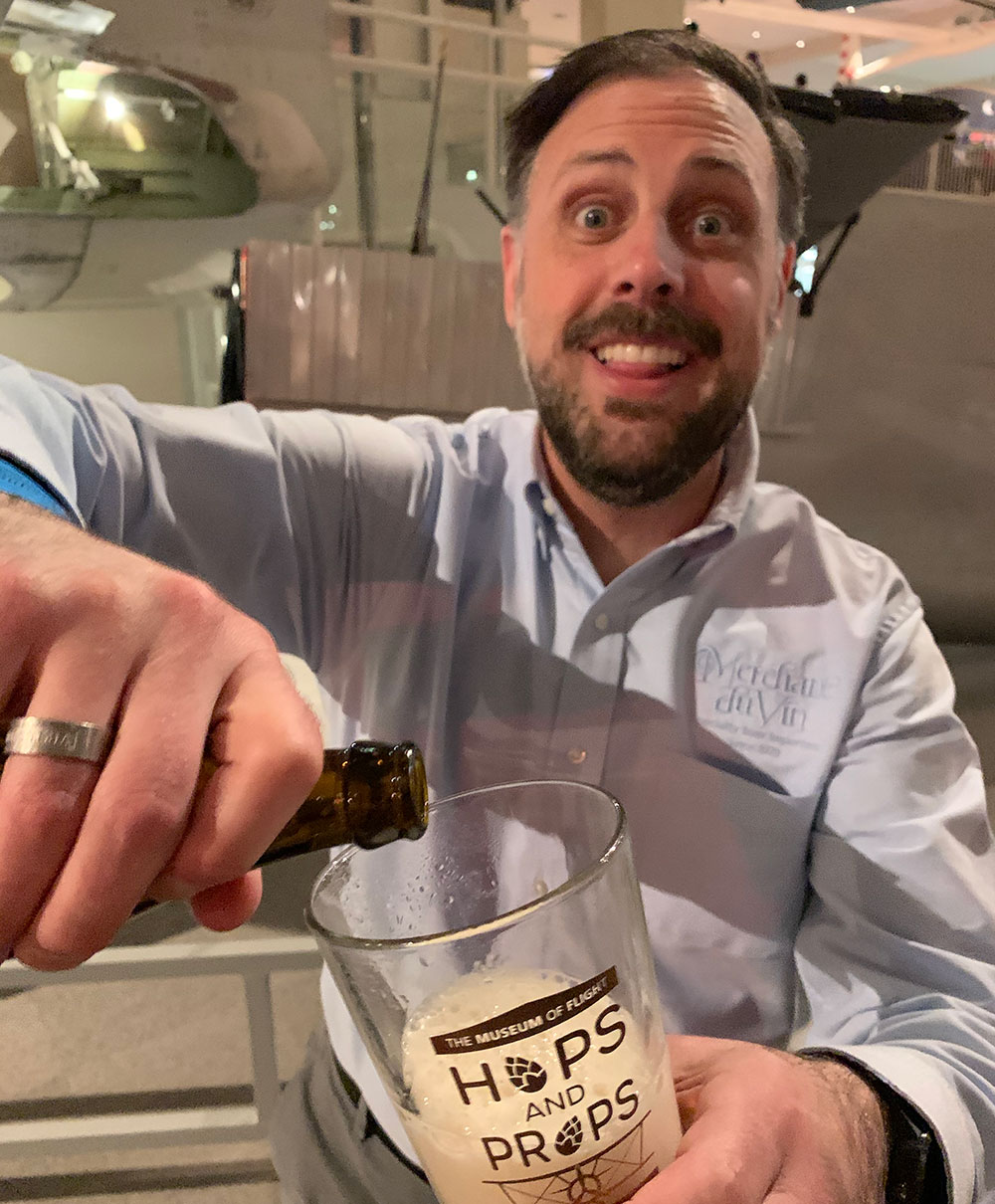 "This is an announcement for passengers on Flight Yellow Beer," said Merchant du Vin pilot Aaron. "That flight has been delayed due to the Yellow Beer ground crew is still icing-up their pint glasses. My Green's Quest Tripel departure time is now. Please board its spicy aroma and candied fruit deliciousness."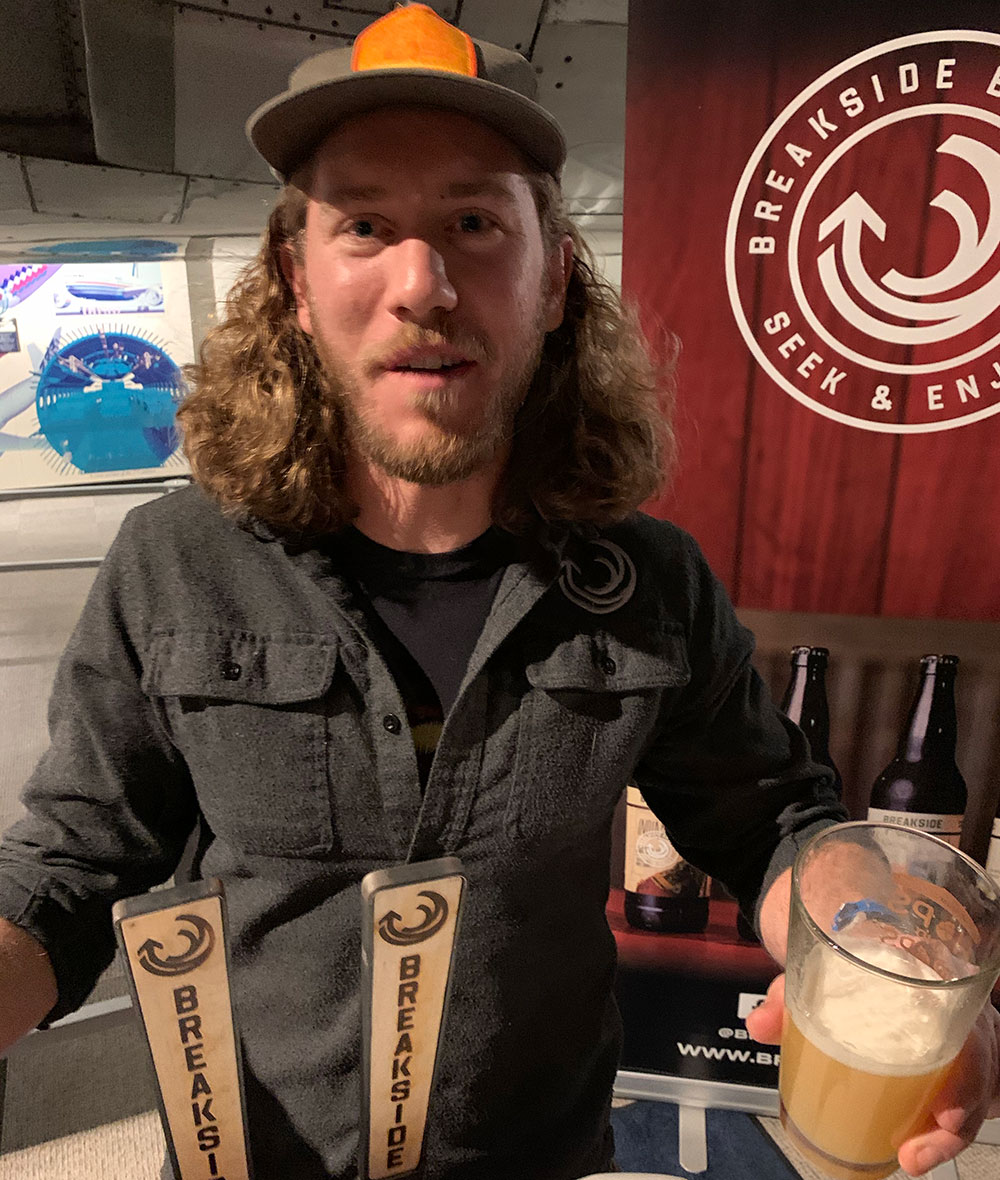 "I'm afraid your hard seltzer is overbooked," explained Breakside Brewery pilot Joe. "We're looking for passengers who are willing to take my Biotransformers IPA Flight instead of a travel voucher for that seltzer. Any passenger who is interested should see me for Galaxy, Citra, and Simcoe hops for intense notes of peach, grapefruit and passionfruit. That's right, I meant to say passionfruit as a single word."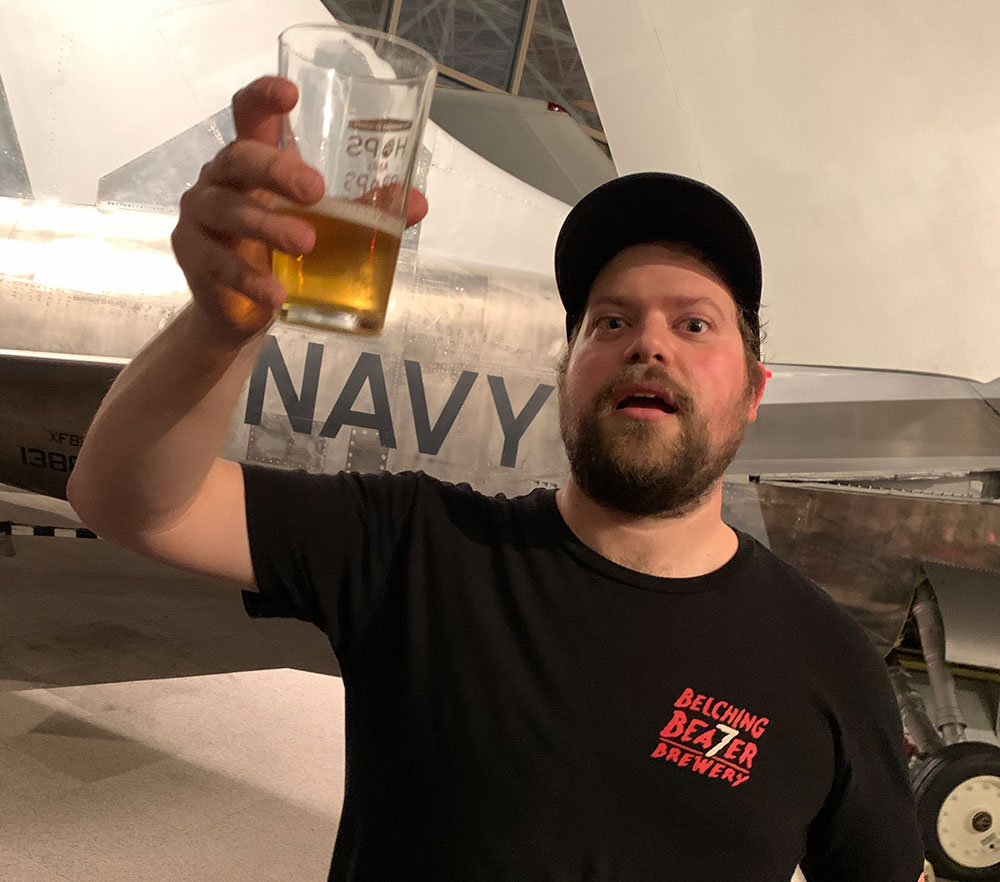 "Hello. Passengers of Flight Phantom Bride IPA bound for bright lemon zest flavor, with stops in pine resin and soft malt. The departure gate has been changed to my booth," directed Belching Beaver Brewery pilot Clay. "Also, there will be a slight departure delay due to you'll be asking for another 3-ounces, yo. You're welcome."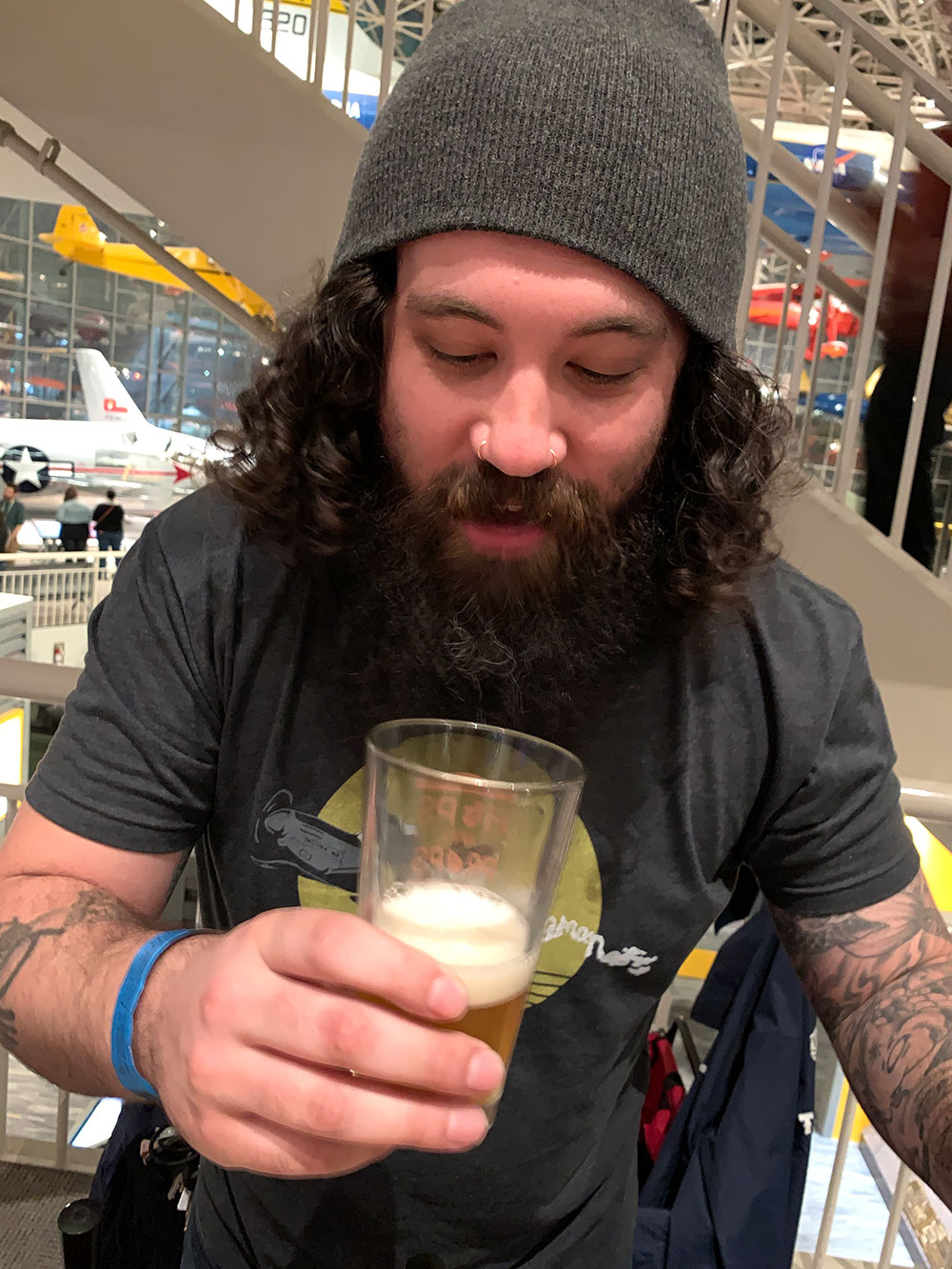 "Ladies and gentlemen, welcome onboard Flight P-51 Porter with service from your pint glass to your taste buds," announced Wingman Brewers pilot Michael. "Your are currently second in line for take-off behind my Juicy Pale Lager so first enjoy the lager's resiny hops backed up by some chewy malts. I ask that you please fasten your seatbelts at this time and secure all baggage in your pockets. Thank you for choosing Juicy Pale Lager. Enjoy your flight."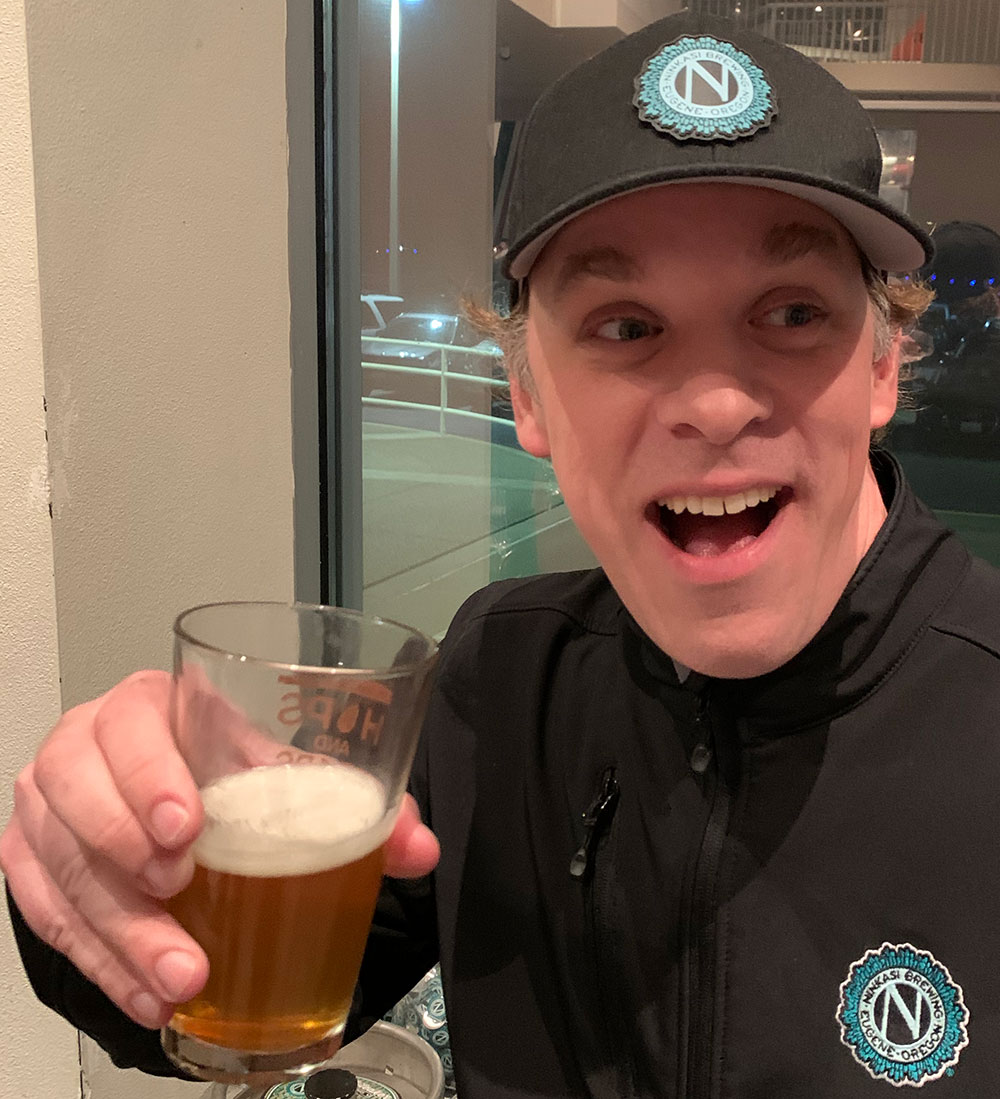 "Good evening passengers," welcomes Ninkasi Brewing pilot Ben. "This is your captain speaking. First I'd like to welcome everyone on Ninkasi Flight Megaodom Imperial IPA. We are currently cruising at an altitude of boldness at a fruity airspeed with slight sweetness. The time is 9 p.m. The cabin crew will be coming around in about 5 minutes time to offer you our Whiteaker Series No. 11 Schwarzbier Lager. The food is over at that table, and the inflight band seems to be dropping some heavy funk right now. I'll talk to you again before you reach the end of your pint. Until then, sit back, relax and enjoy the rest of the beer."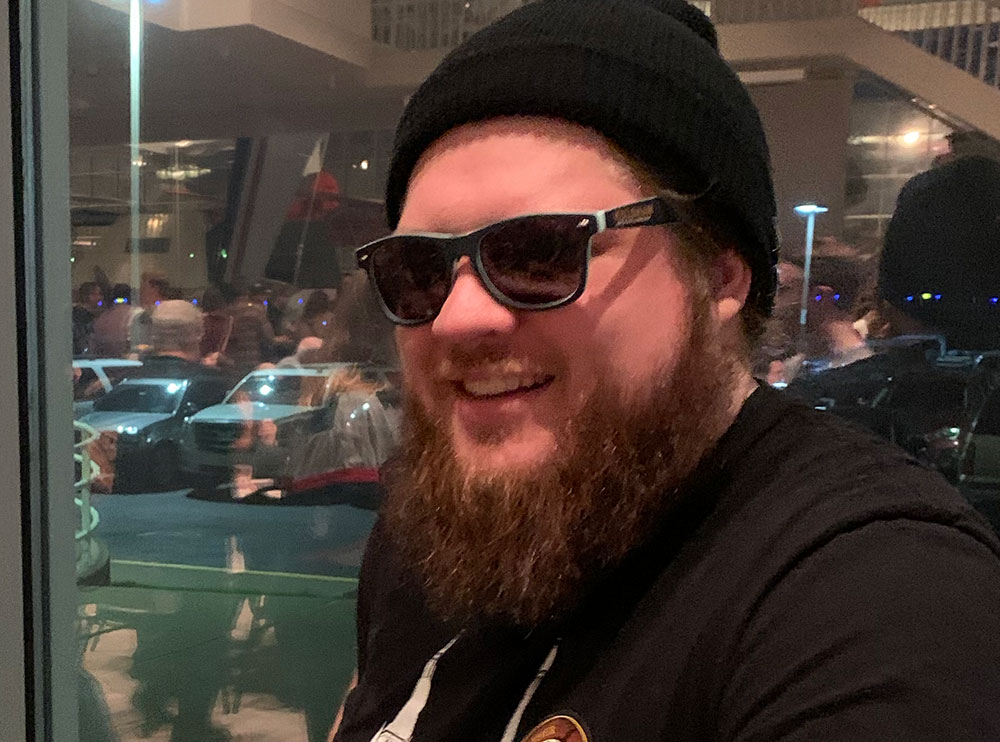 "Ladies and gentlemen, on behalf of my pilot Samantha, I ask that you please direct your attention to BooKoo IPA as I review the emergency procedures," explained Mother Earth Brew co-pilot Xander. "There are 26 emergency exits in the Museum of Flight. Take a minute to locate the exit closest to you. Note that the nearest exit may be behind you. Count the number of beers to this exit. Should you drop your pint of this hop-forward IPA teeming with fruit and pine notes, stay calm and listen for instructions from Samantha. I suspect she'll hand you a Mother Earth Cali Creaming Vanilla Cream Ale as quick as possible. Place the cream ale in your mouth. If you are traveling with children, then I imagine you're going to be kicked out any second now."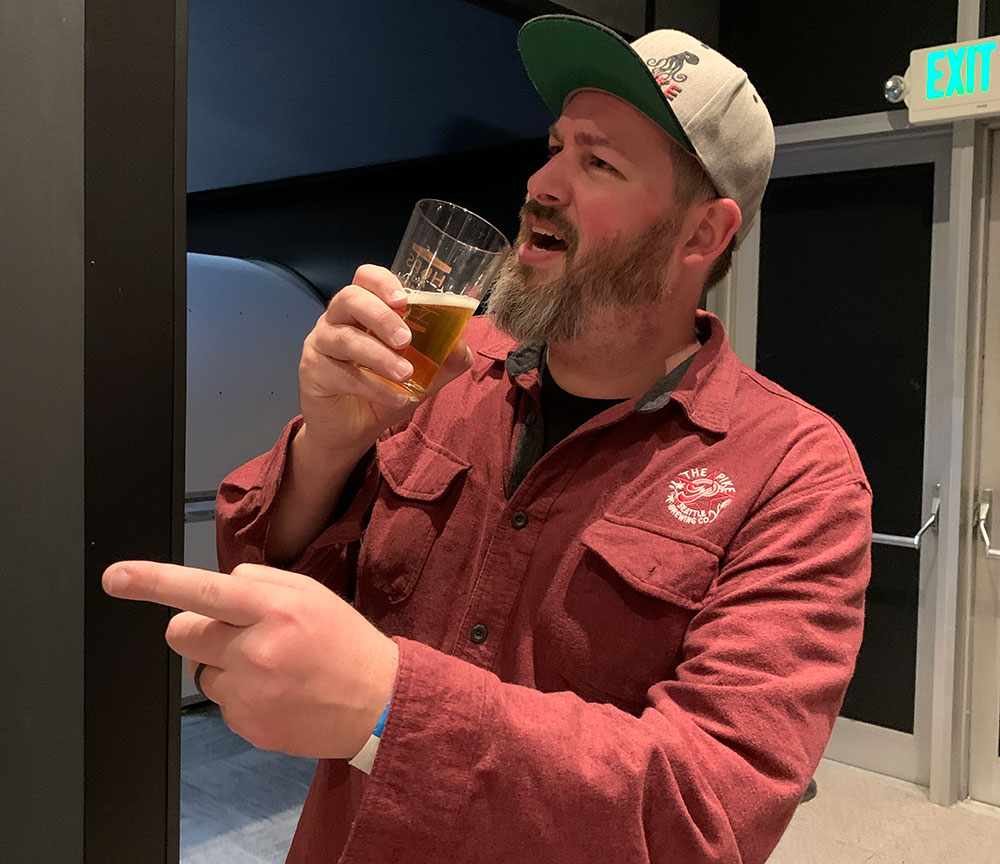 "Welcome to Flight Experimental Juicy IPA #1," said Pike Brewing pilot Jon. "While you enjoy this juicy, fruity IPA dry hopped with El Dorado, Mosaic, and Citra hops, please take a moment to review the Hops and Props program guide in my front pocket in front of you. All cellular telephones and other portable electronic devices, such as laptop computers, must have a photo of my IPA or our Pike Pilsner brewed with whole leaf Mosaic hops. Thank you."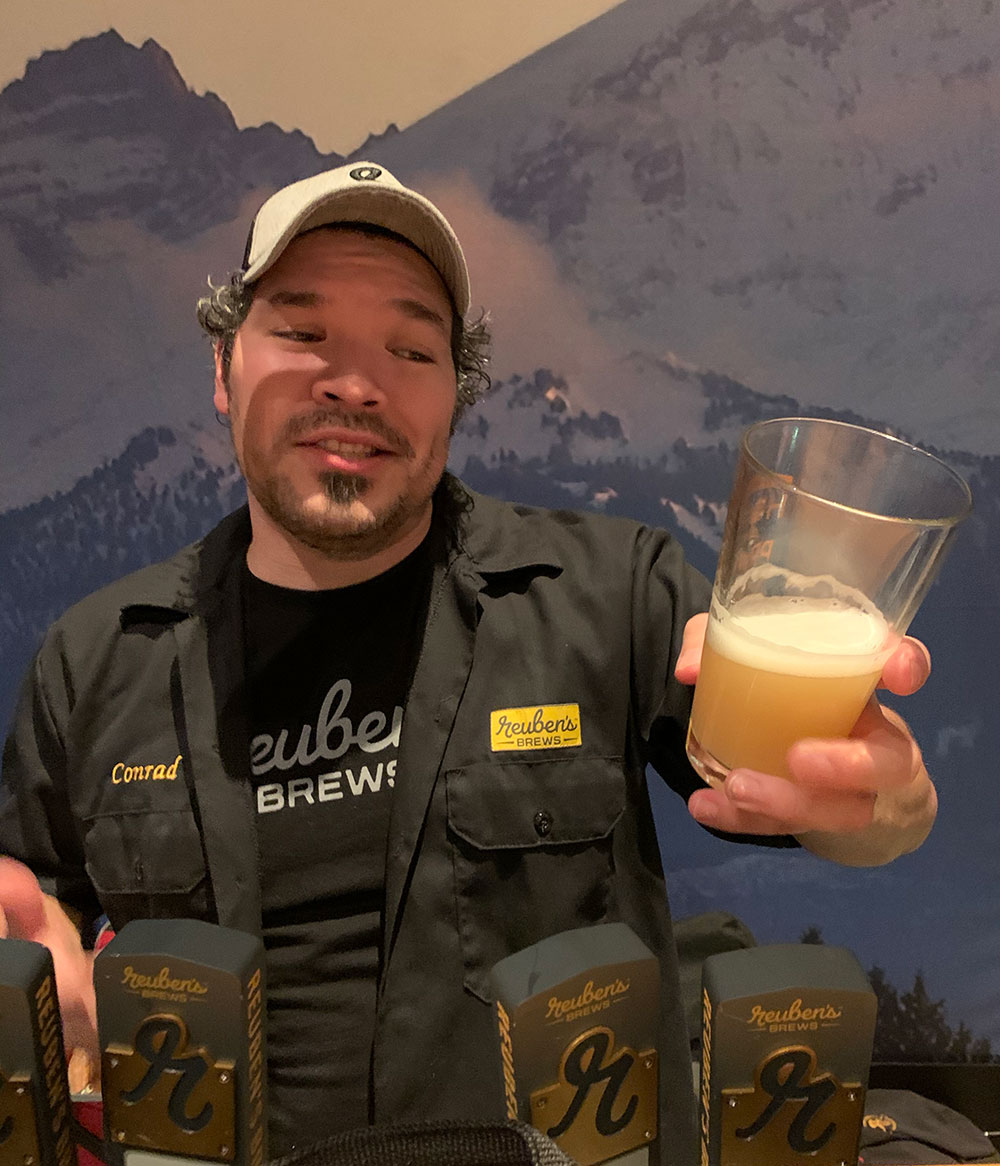 "Ladies and gentlemen, please be standing," announced Reuben's Brews pilot Conrad. "Our Triple Crush Hazy IPA is ready for drinking. Flight attendants, prepare our Bits & Bobs IPA, Crikey IPA and Czech-style Pilsner and cross check. It is a requirement to demonstrate removal of the life vest from the plastic storage pouch during a life vest demonstration, but I don't want to. This chair's seat cushion serves as an approved flotation device. To remove it, pull up and take it with you to the nearest usable exit as fast as you can before security notices. After exiting the building, drive to Peaks and Pints and buy more Reuben's Brews craft beer. Thank you."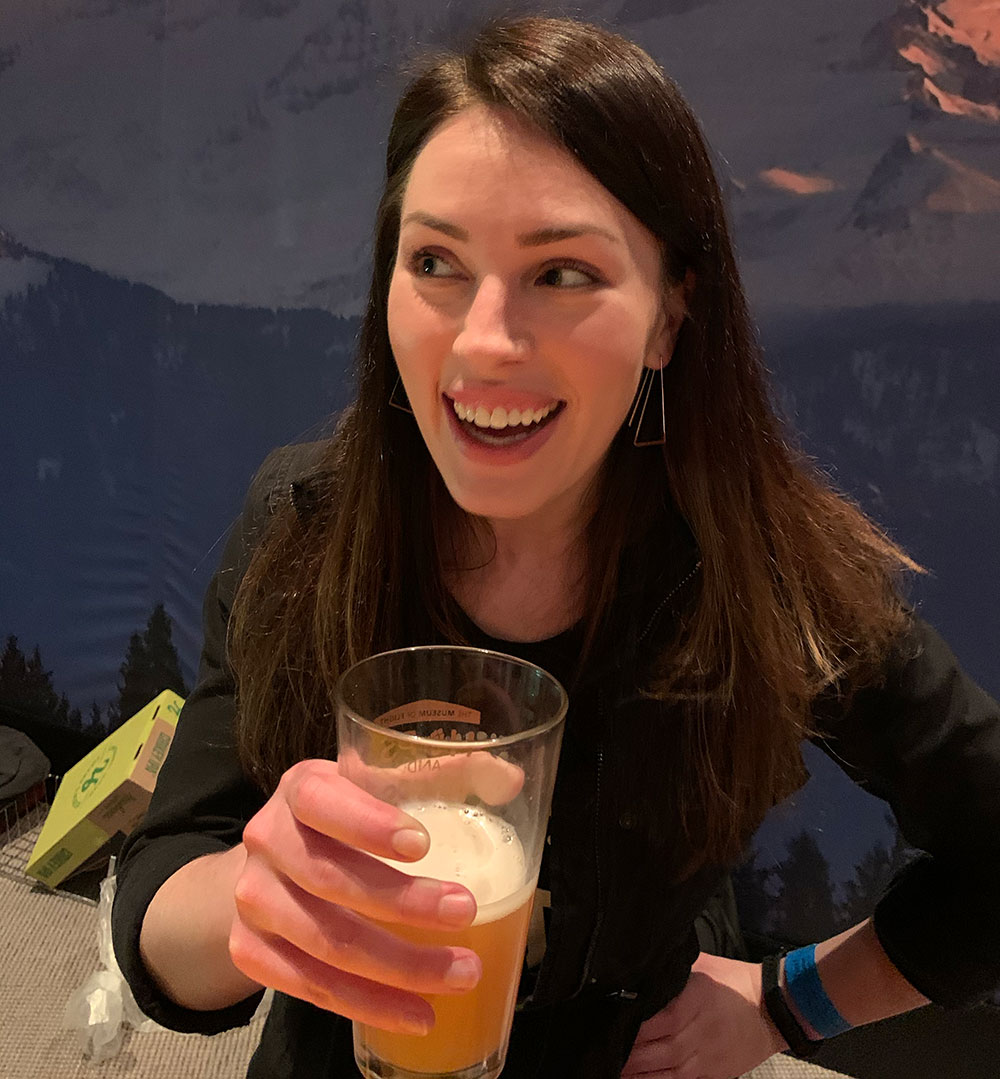 "Ladies and gentlemen, you have begun your descent into Schofferhofer Grapefruit Raddler," announced Radeberger Gruppe pilot Kimberly. "Please turn off all portable electronic devices and stow them in your pocket so you can concentrate on this incredibly refreshing beer. Also, in preparation for drinking my Radeberger Pilsner, be certain you are standing upright and your belt is fastened. Please secure your carry-in items, don't try to stow my table, and don't try to pass me your unwanted reading materials. Thank you."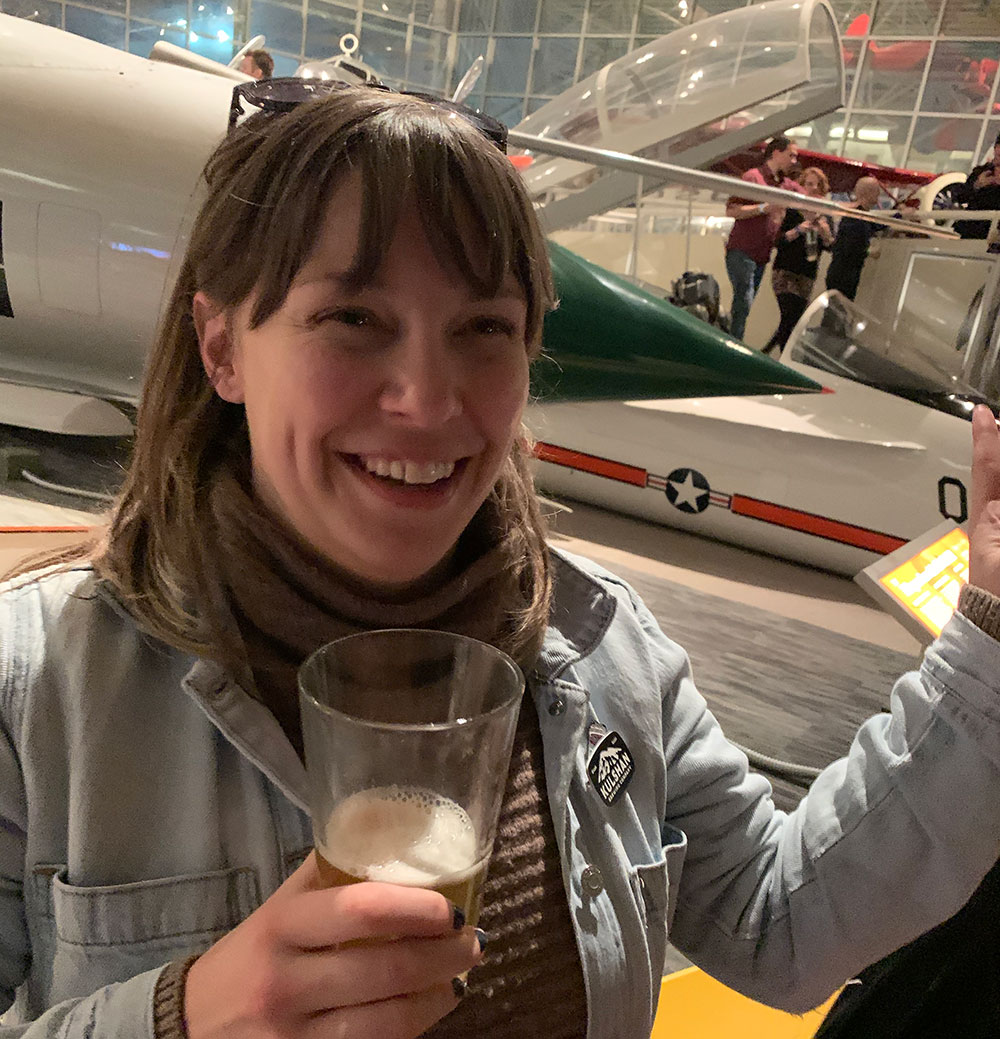 "Attention. If there is a loss of this building's electrical power, low level emergency lights will illuminate," explained Kulshan Brewing pilot Katie. "If you are actually in one of Museum of Flight airplanes when the lights go out, it's important to continue drinking your pint of my Heliotrope IPA with apricot, tangerine and grapefruit flavors. As you follow the aircraft's floor lighting, you'll notice this IPA has milder notes of pineapple and black tea. I'm not sure if an inflatable exit slide will appear, but if it does, I sure as hell would take that ride."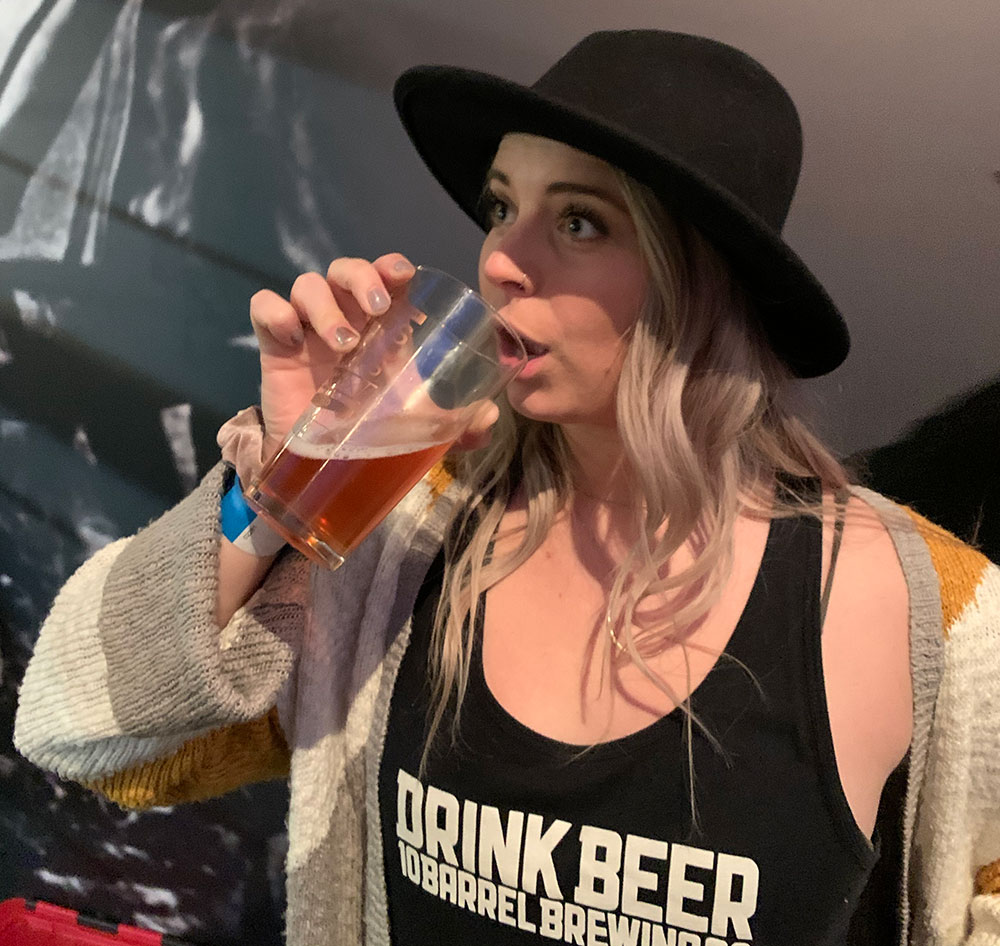 "Ladies and gentlemen, welcome aboard Flight Strawberry Crush," announced 10 Barrel Brewing pilot Madison. "As a reminder, tampering with, ripping, or drawing profanity in pilot Scott Travis' beer books will result in immediate laughter on my part. From your entire 10 Barrel crew, it is our pleasure to have you aboard. Enjoy your Berliner weisse with fresh strawberries and cayenne."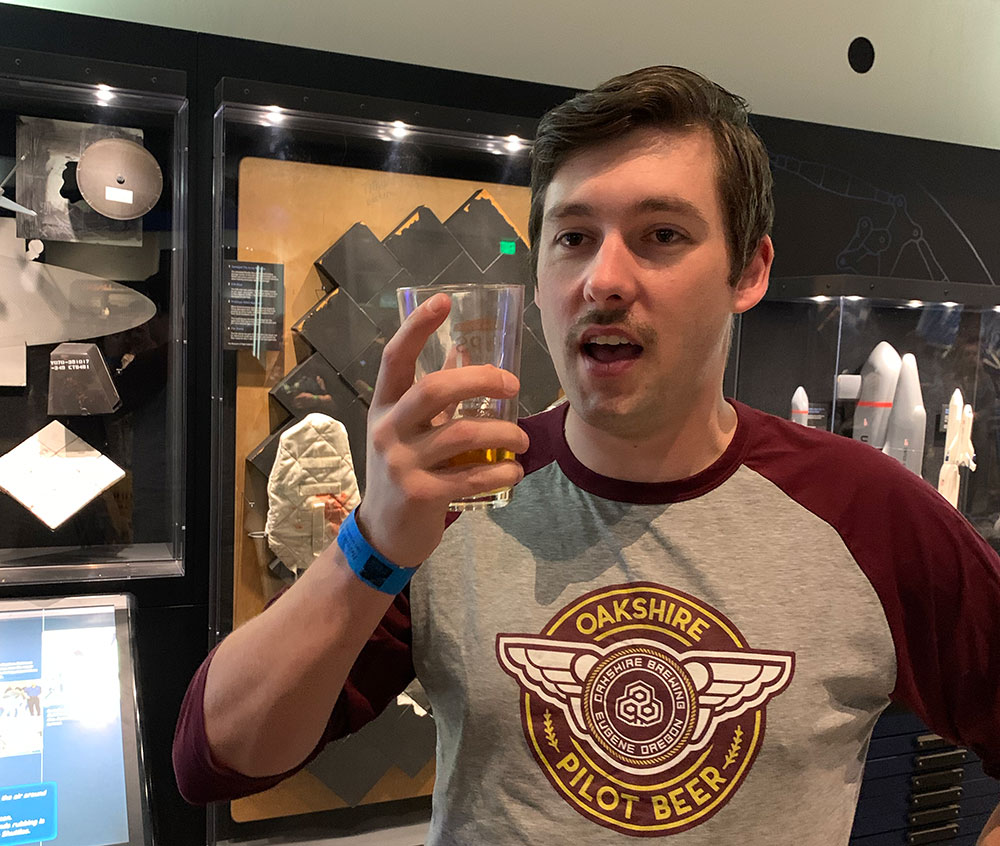 "Flight Reclaim The Fame West Coast IPA welcomes you to Seattle," announces Oakshire Brewing pilot Jordan. "The local time is 9:25 p.m. For your safety and the safety of those around you, please don't breakdance after you smell the tropical fruit and pine resin in this IPA."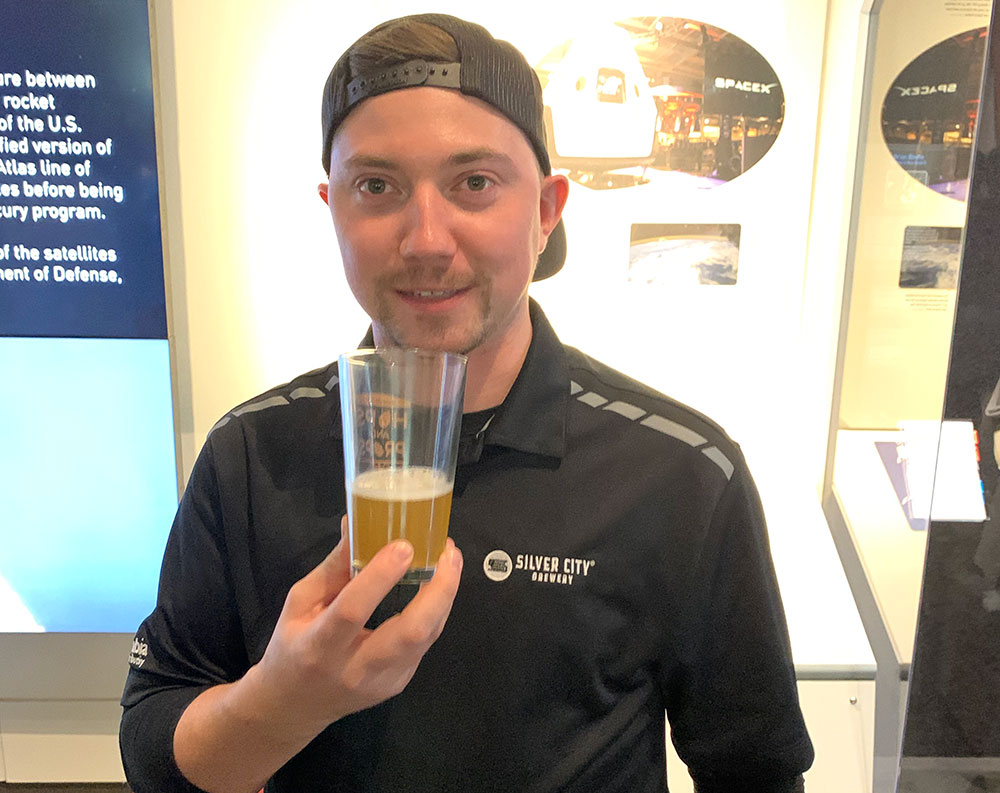 "Ladies and gentlemen, we are aware that many of you want to connect all Silver City Brewery flights tonight," announced Silver City Brewery pilot Jordan. "We are, indeed, pouring Cosmic Waves IPA, Ride The Spiral IPA, Sun Glitter IPA and Tropic Haze IPA. In the event one of our IPAs has departed, which will happen, the Silver City ground staff will work with you to confirm you on the next available IPA. Thank you for your patience."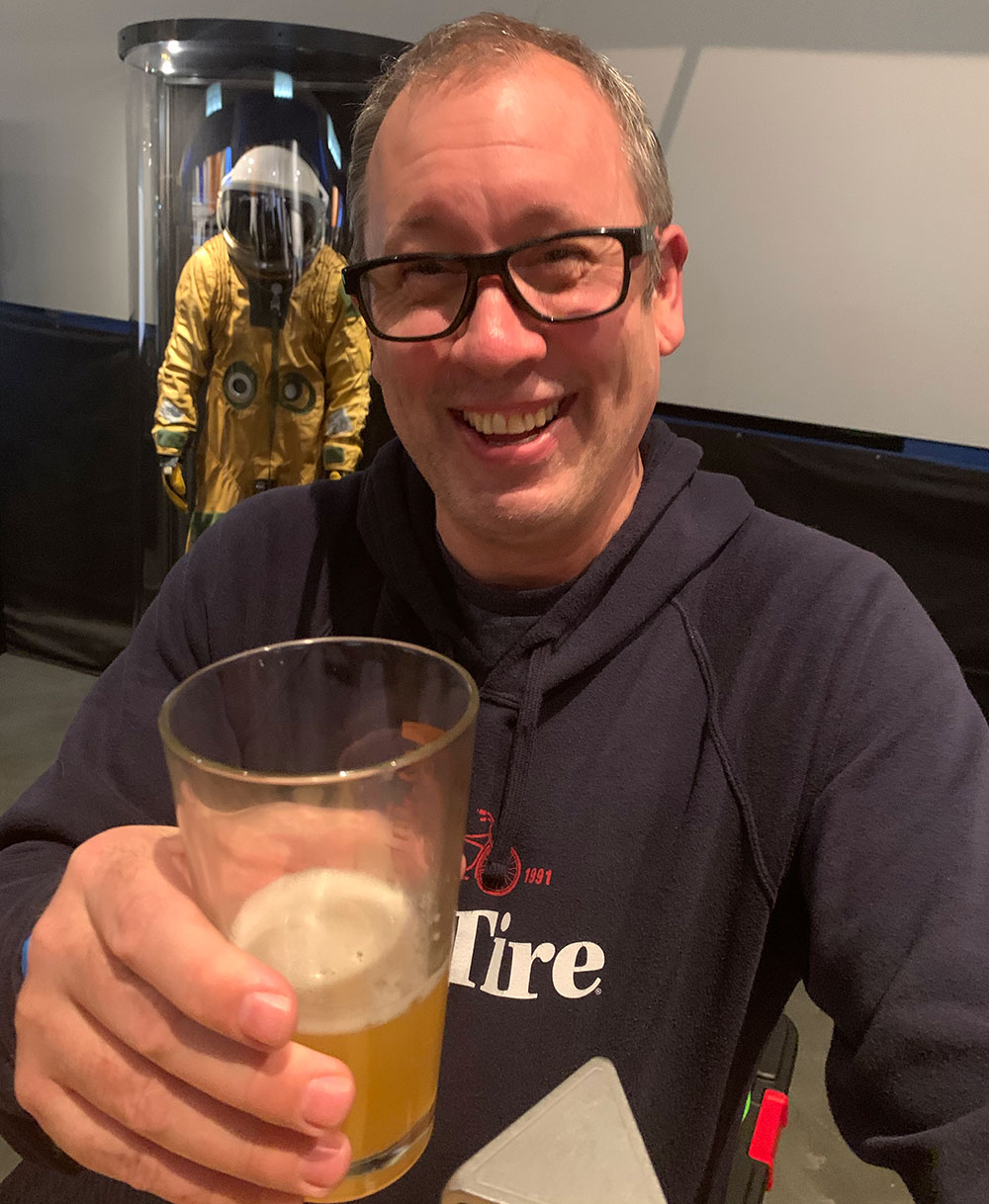 "Welcome ladies and gentlemen, but we don't have a bicycle for you to ride across the sky bridge between the two buildings," confirms New Belgium Brewing pilot Shawn. "Please remain standing while you wait for our American Haze Flight. You'll want to fasten your seats belts for this supremely drinkable, juicy and unfiltered IPA brewed with all American hops. Over and out."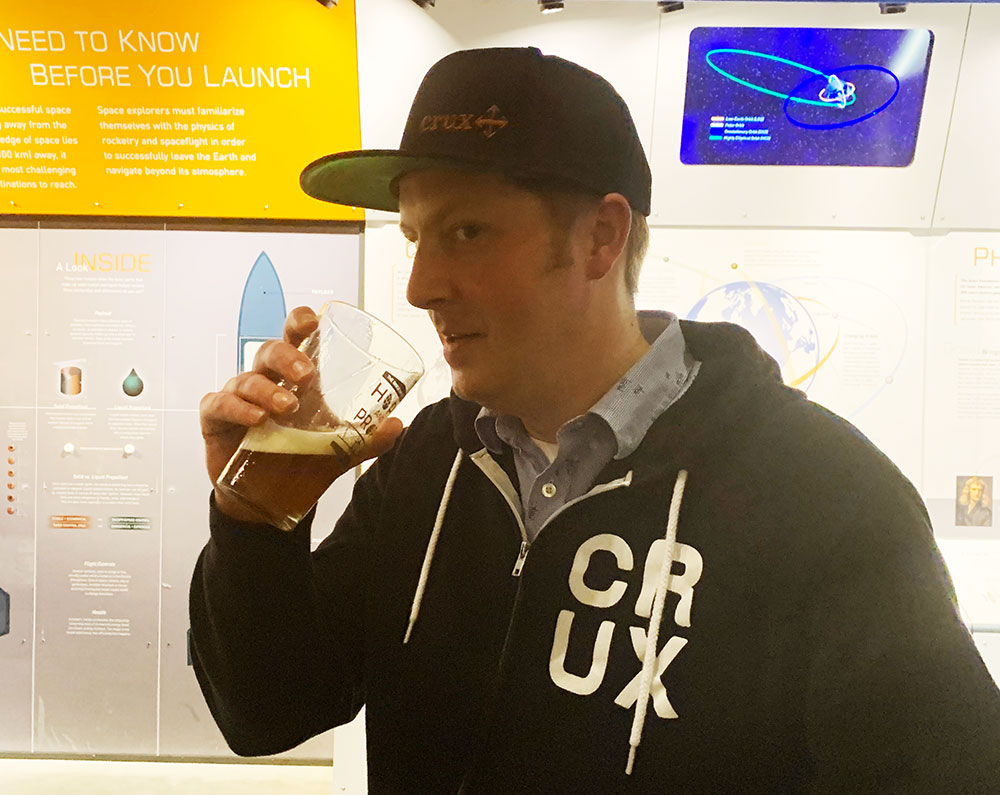 "Attention! The Bubble Wrap I have is a hazy IPA brewed with a healthy amount of specialty malts and a ton of Galaxy and Mosaic hops," informed Crux Fermentation Project pilot Kene. "I do not have anything you can actually pop. If you keep asking I'll tie you up with a Half Hitch, and I'm not talking about my amazing imperial Mosaic IPA."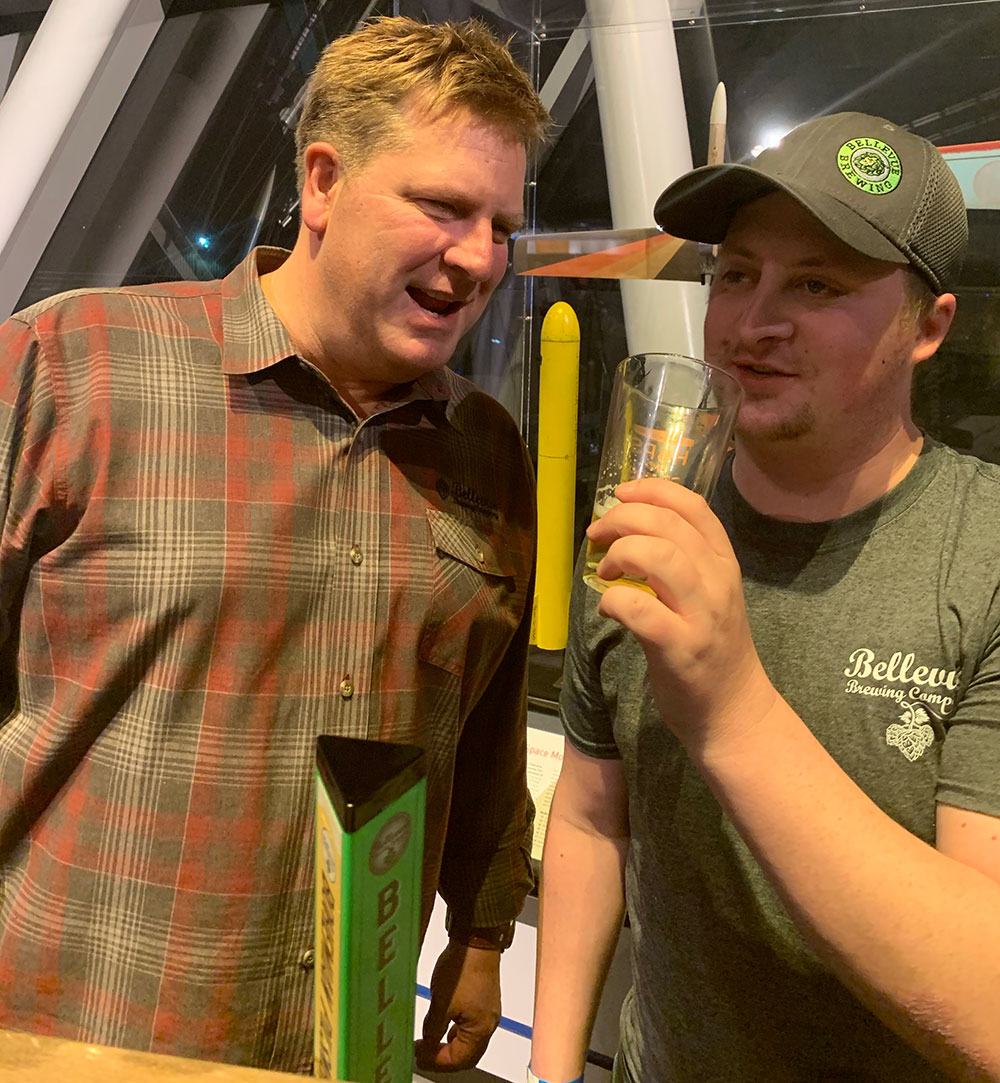 Bellevue Brewing Director of Sales Jim Hudson: "Hey Peaks & Pints. While you're enjoying our pilsner with sweet malt, notes of cashews and a crisp finish, you'll be excited to hear that our new Net Runner Hazy Pale is our most ridiculously hopped beer ever, with 62 pounds of hops!"
Peaks & Pints: "Surely you can't be serious."
Hudson: I am serious … and don't call me Shirley."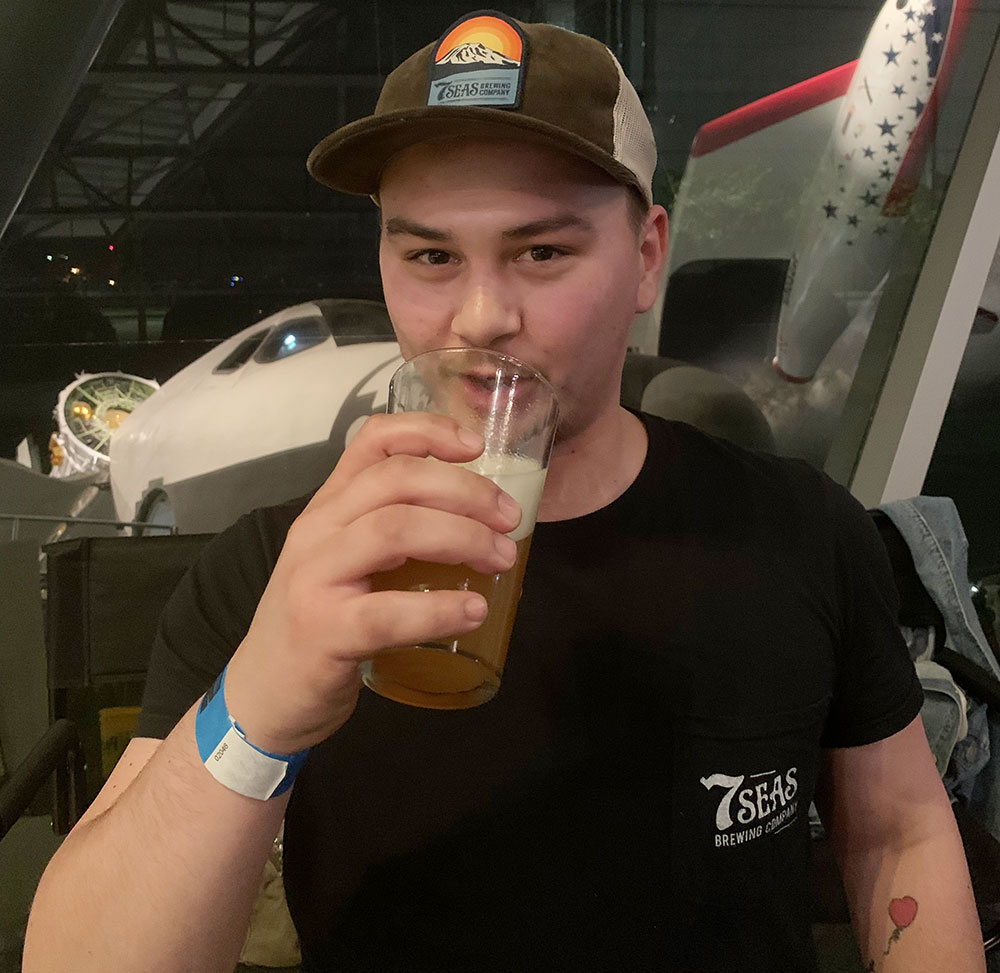 "Ladies and Gentlemen, Willie Maize Haze has not yet reached the closing gate," warned 7 Seas Brewing pilot David. "Please remain standing and enjoying this hazy IPA brewed with El Dorado, Mosaic, Idaho 7, and Meridian hops until the Museum of Flight turns on the "closed" sign. You have about 10 minutes left for lots of juicy flavor and aroma. Thank you."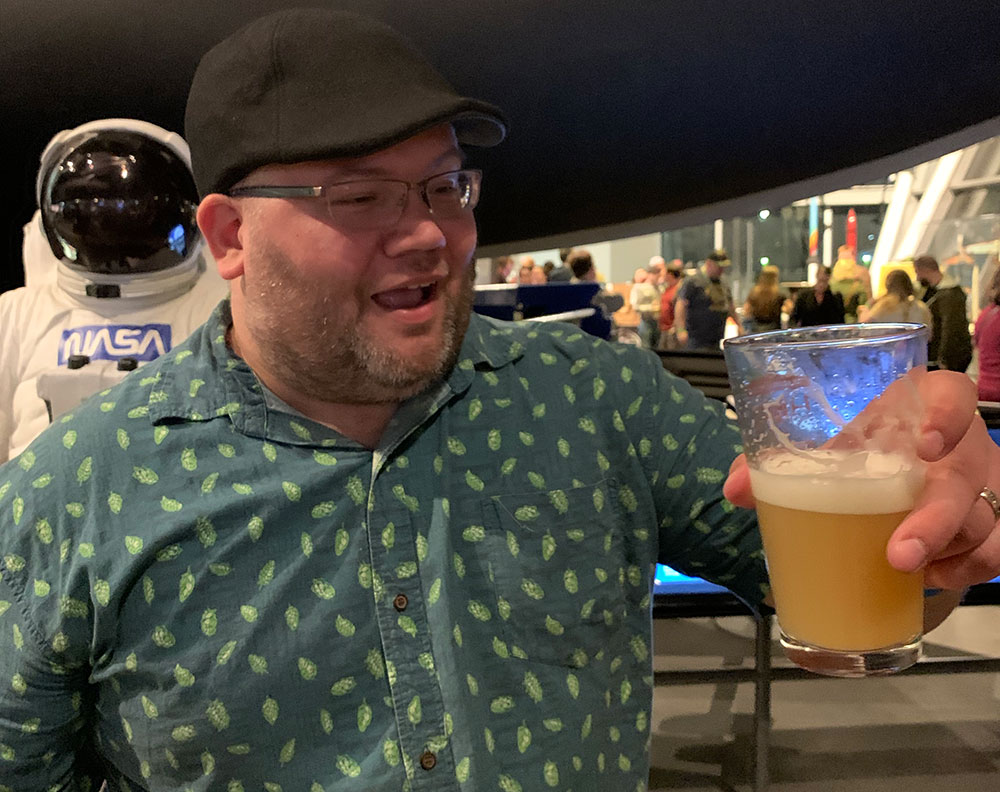 "Excuse me," said Rogue Ales TSA agent Rich. "Any liquid, aerosol, gel, cream or paste that alarms during screening will require additional screening, unless it's my juicy, cloudy Batsquatch. That intense tropical aroma and flavor IPA is allowed to move freely."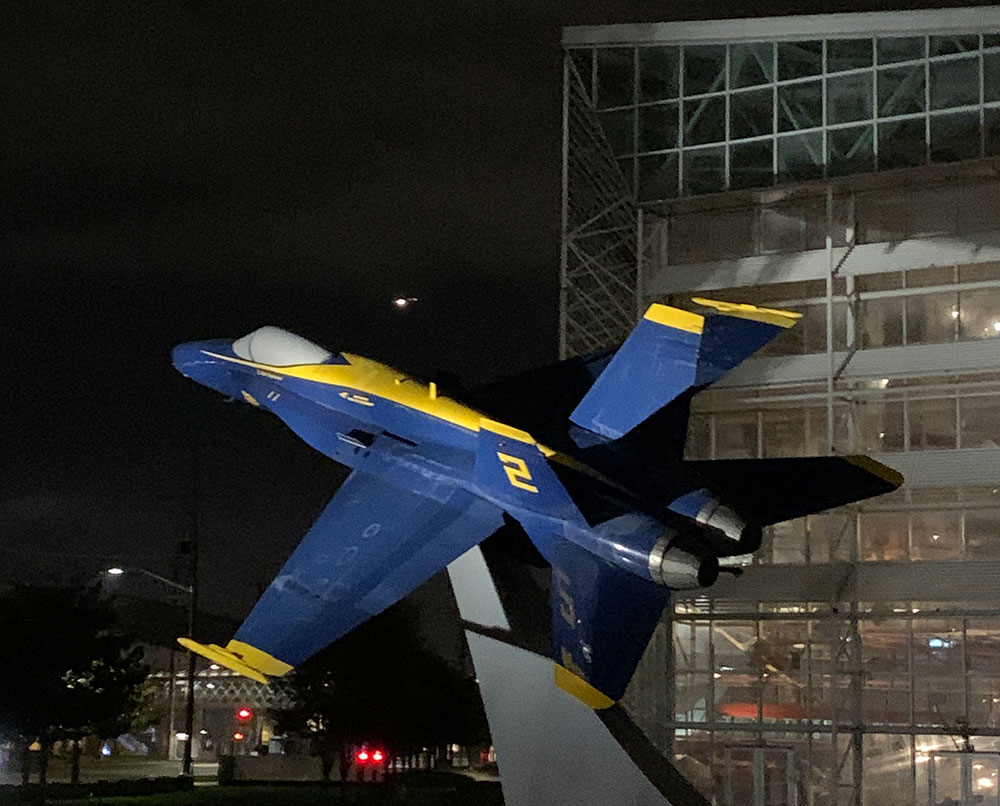 Hey Hops and Props 2020! Thanks for letting Peaks & Points ride in the jumpseat. It was a fun flight. Cheers!
---