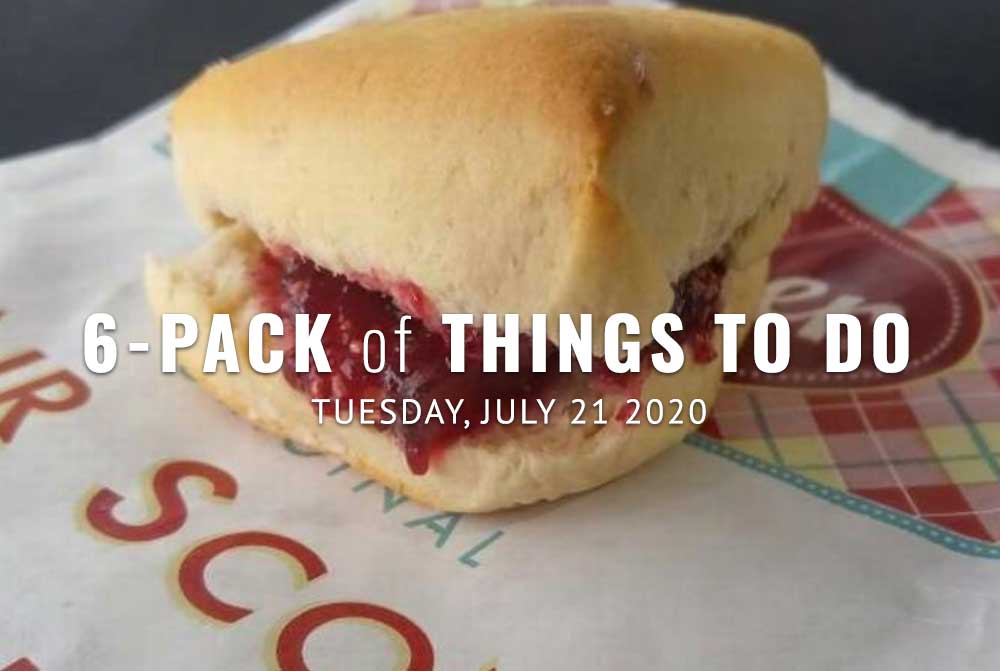 6-Pack of Things To Do: Tuesday July 21 2020
Back in March, South Sounders were looking forward to a summer of warm weather and a wealth of seasonal events. Then the coronavirus pandemic shook up the entertainment industry, moving everything from art shows to wine dinners online. But there are at least six things to enjoy every day in the South Sound … all while observing new safety protocols, of course. Enjoy this 6-Pack of Things To Do: July 21 2020 … and be careful out there!

FAIR SCONES TO-GO: For the first time in nearly 80 years, the Washington State Fair has been canceled due to coronavirus concerns. This year would have been the fair's 120th anniversary. The fair was scheduled to run from Sept. 4 to Sept. 27 this year. However, the fair's scones does not appear to be canceled. In response to the coronavirus, Fisher Scones will be available to-go today. 7-2 p.m., Gold Gate Parking, Western Washington Fairgrounds, 110 9th Ave. SW, Puyallup

BEER FLIGHT: Today isn't just Tuesday. It's Belgian National Day. That's right — as if anyone ever needs another reason to tip back a delicious brew (responsibly, of course), today sounds like an outstanding day to unwind after work without the slightest bit of guilt. Yes, today is Belgium's National Day — a celebration that dates back 186 years, to July 21 1831, and the happy moment when Leopold of Saxe-Cobourg swore allegiance to the Belgian constitution, and became the first king of a newly forged European country. In Belgium, the anniversary will be marked with wild scenes and general merriment — OK, maybe not this year. At Peaks and Pints, the anniversary will be marked by a to-go flight of Belgian beers bottles. 11 a.m. to 8 p.m., 3816 N. 26th St., Proctor District, Tacoma, individual bottle prices vary
FARMERS' MARKET: Located in the historic McKinley District on the east side of Tacoma the Eastside Farmers Market offers an abundant selection of the freshest fruits, vegetables, flowers, honey, processed foods, and baked goods every Tuesday. Get your weekly groceries and grab dinner from one of the local food trucks. 3-7 p.m., 3500 E. McKinley Ave., Tacoma
ART: During the economic hard times of the 1930s, U.S. government art projects under the WPA and other agencies created a wealth of public art and supported art communities across the country. In the Northwest hundreds of artists were employed and thousands of artworks created but their story is almost unknown. "Forgotten Stories: Northwest Public Art of the 1930s" at the Tacoma Art Museum offers an extensive overview of the bounty of work created in our region and bring forgotten treasures back to view. Since the museum is still closed, you can tour and learn about this historical series in the museum's "TAM AT HOME" virtual room. Pair it with Trap Door Brewing's Grassroot saison lager from the Peaks & Pints cooler.

FILM: If you attended Hudtloff Junior High in the 1970s, then you might have sat next to Peaks & Pints co-owner Pappi Swarner reading George Orwell's Animal Farm in Mrs. Rostedt's class. Perhaps, like him, you couldn't relate to the horrors of Stalinism as they played out (symbolically) in the fable. Yeah, yeah, men are pigs, pigs are men, proletariats of the world unite, etc. Director Agnieszka Holland's new film Mr. Jones looks at the origins of Animal Farm through the experience of a British investigative journalist as he travels deep into the Soviet Union to uncover an international conspiracy. Watch the film in The Grand Cinema's Virtual Screening Room. Available now, $12, pair it with North Coast Brewing's Old Rasputin Russian Imperial Stout from the Peaks & Pints cooler
BINGO: The San Diego-brewed, 2014 World Beer Championships silver medalist Belching Beaver Brewing milk stout hits a nostalgic note: Peaks and Pints remembers how good a creamy peanut butter sandwich tastes with a glass of milk while playing bingo in the family room. That same luscious, nutty peanut butter flavor flows in Belching Beaver's Peanut Butter Milk Stout, alongside coffee creamer richness. Tonight, Rainier Growlers hosts their weekly Bingo and Brews Night featuring Belching Beaver and the California brewery's new local rep, Sean Larson. The game is played in Rainier Growler's Zoom Room, or limited in-house seating. How can you tell that a bingo player just isn't into you? When you call their numbers 5 times in a row and they still don't answer. Pick up your bingo cards, brews and raffle tickets before the 6 p.m., start time. 3105 Meridian E., Puyallup
---