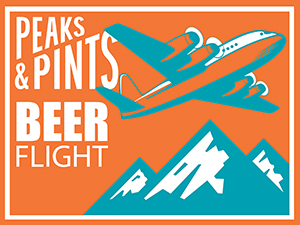 Today isn't just Tuesday. It's Belgian National Day. That's right — as if anyone ever needs another reason to tip back a delicious brew (responsibly, of course), today sounds like an outstanding day to unwind after work without the slightest bit of guilt. Yes, today is Belgium's National Day — a celebration that dates back 186 years, to July 21 1831, and the happy moment when Leopold of Saxe-Cobourg swore allegiance to the Belgian constitution, and became the first king of a newly forged European country. In Belgium, the anniversary will be marked with wild scenes and general merriment — OK, maybe not this year. At Peaks and Pints, the anniversary will be marked by a to-go flight of Belgian beer bottles, a flight we call Peaks and Pints Belgian Beerloo 2020: Belgian National Day On The Fly.
Peaks and Pints Belgian Beerloo 2020: Belgian National Day On The Fly
Lindemans GingerGueuze
6% ABV
Last year, Lindemans Brewery in Vlezenbeek, Belgium, won gold at the World Beer Awards in London. Their GingerGueuze walked away with the honor in the "Flavored Wild/Sour category." A brewery both traditional and innovative, Lindemans created the new beer category with their Botanical Lambic series: wild-fermented lambic beers, with a new ingredient that leads to an entirely new flavor sensation. Third in this series, GingerGueuze is based on a blend of 12 month-old lambic with two- to three-year-old lambic, fermented in oak with fresh ginger. Bottle-conditioned, GingerGueuze has a golden color and combines the sourness of lambic with the subtle flavors of fresh ginger, herbal Brett, hay, and wood, as well as farmyard and wooden barrel notes.
Brasserie Dupont Saison Dupont
6.5% ABV, 30 IBU
Saison may sound French in name, but the style actually originated in Wallonia, the French-speaking part of Belgium. Traditionally, saisons were brewed at the end of the winter season to last through the warmer months before refrigeration was common. Thus, the beer had to be sturdy enough to last for months but light enough that it could remain thirst-quenching and refreshing in the summer. They're now brewed year-round in tiny, artisanal breweries whose buildings reflect their origins as farmhouses — hence the saison's alias, farmhouse ale. Saisons are complex brews; most are fruity in aroma and flavor, contain lots of spice and earthy yeast tones, and are moderately tart. They also tend to be semi-dry with many only having touch of sweetness. If saisons were developed to be consumed by hard-working farmers, Peaks and Pints thinks we may need to become a hard-working farmer. Brasserie Dupont's Saison Dupont seems, at first glance, to be a simple saison. The complexities however, are nearly endless. There is an inherent sweetness that is counter-balanced by an earthy taste. Refreshing and subtly complex, Saison Dupont also refuses to disappoint with 6.5-percent alcohol.
Orval Trappist
6.2% ABV, 36 IBU
When Orval head brewer Jean-Marie Rock retired in 2013, it was his long-term assistant brewer Anne-Françoise Pypaert who replaced him. By doing so, Anne-Françoise became the first female head brewer at a Trappist Abbey. When she started at Orval in 1992 she was one of the first female brewers in Belgium and encountered an industry almost exclusively dominated by men. Joining Orval straight out of university, she has never worked a day anywhere else. The Orval's brewery produces only one beer to sell, a beer with a high fermentation that continues in the bottle. It's brewed exclusively from spring water, barley malt, hop cones, candy sugar, and yeast. The tantalizing aroma sings to the nose with candy-sweet overtones and slightly tart notes. Its flavor is pure refreshment with bready, honey-lemon sweetness up front that invigorates the palate and clears the way for the beer's slightly sour finish.
---