6-Pack of Things To Do: Nov. 10-13 2023
The world increasingly looks like the first act of a movie based on a comic book. Where are our heroes? Who can save Gotham? Who can save America? The answer is finally here: 6-Pack of Things To Do. Happy Friday!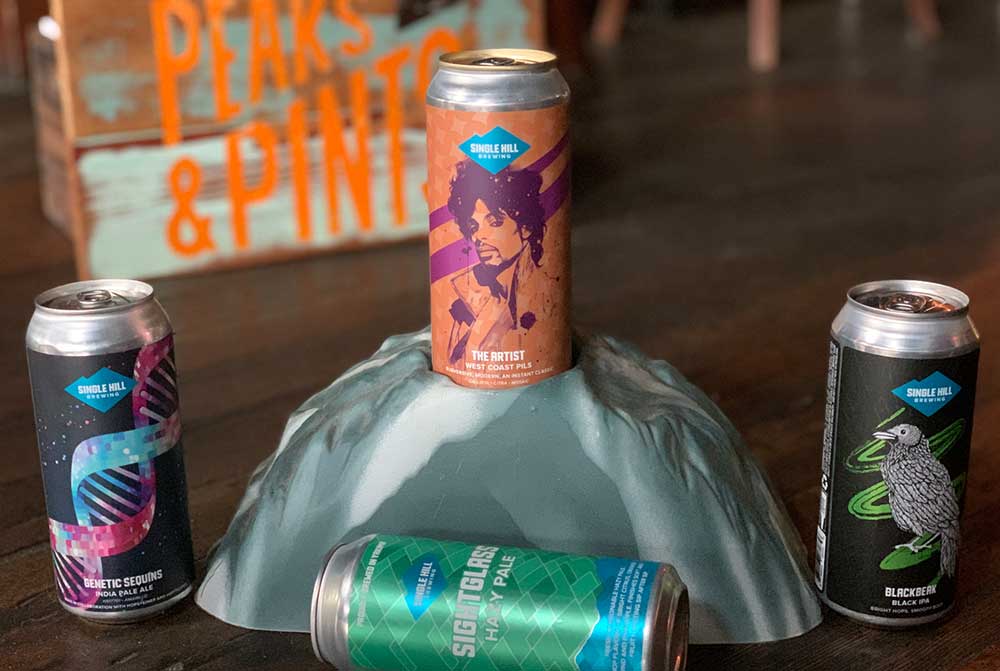 FRIDAY, NOV. 10 — BEER FLIGHT: Hops are one of Washington's most prominent crops, their farmers powering the global brewing industry by growing almost 75 percent of the nation's hop acreage in the state, almost all of which is in the Yakima Valley. A handful of craft breweries sit close to said hops, including Single Hill Brewing. In August 2016, Ty Paxton and Zach Turner opened Single Hill in an old JC Penney Tire Center in downtown Yakima. The two first met at a cider pressing party that a mutual friend was hosting in 2013. Three years later, over pints at Bale Breaking Brewing, the two hatch the idea for a community-based brewery in a town dear to their hearts. Friday, Peaks & Pints presents an in-house flight of Single Hill beer — a flight we call Peaks and Pints Beer Flight: Single Hill. 11 a.m. to midnight, Peaks & Pints, 3816 N. 26th St., Basecamp Proctor, Tacoma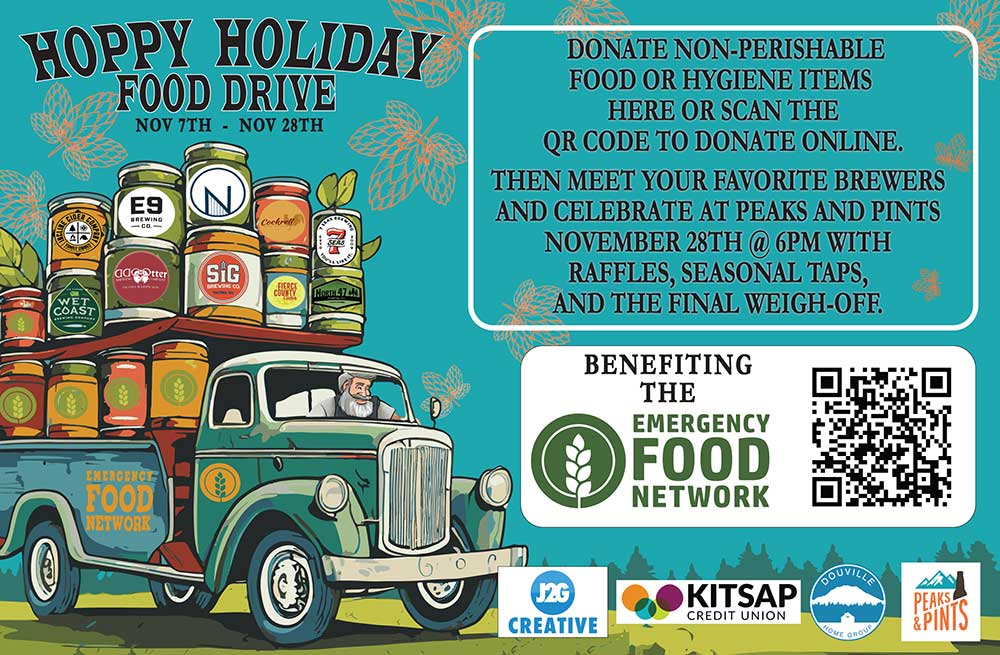 FRIDAY, NOV. 10-TUESDAY, NOV. 28 – FOOD DRIVE: The holiday season is a time to be charitable, and there are scores of specific ways to donate in Pierce County this winter. Usually, that means donating cash, but that isn't the only way to help our fellow neighbors. Douville Home Group, in partnership with Peaks & Pints, has kicked off the fifth annual Hoppy Holiday Food Drive, where Pierce County breweries and cideries come together to support the Emergency Food Network. Through Nov. 28, 10 breweries and cideries will collect non-perishable food items and hygiene products to be distributed to thousands of Pierce County residents in need. Then join the breweries, ciders, Emergency Food Network, and Douville Home Group at Peaks and Pints on Giving Tuesday, Nov. 28, for a final weigh-in, announcement of our Hoppy Holiday Tap Handle Trophy winner, and raffle drawings for sweet brewery swag.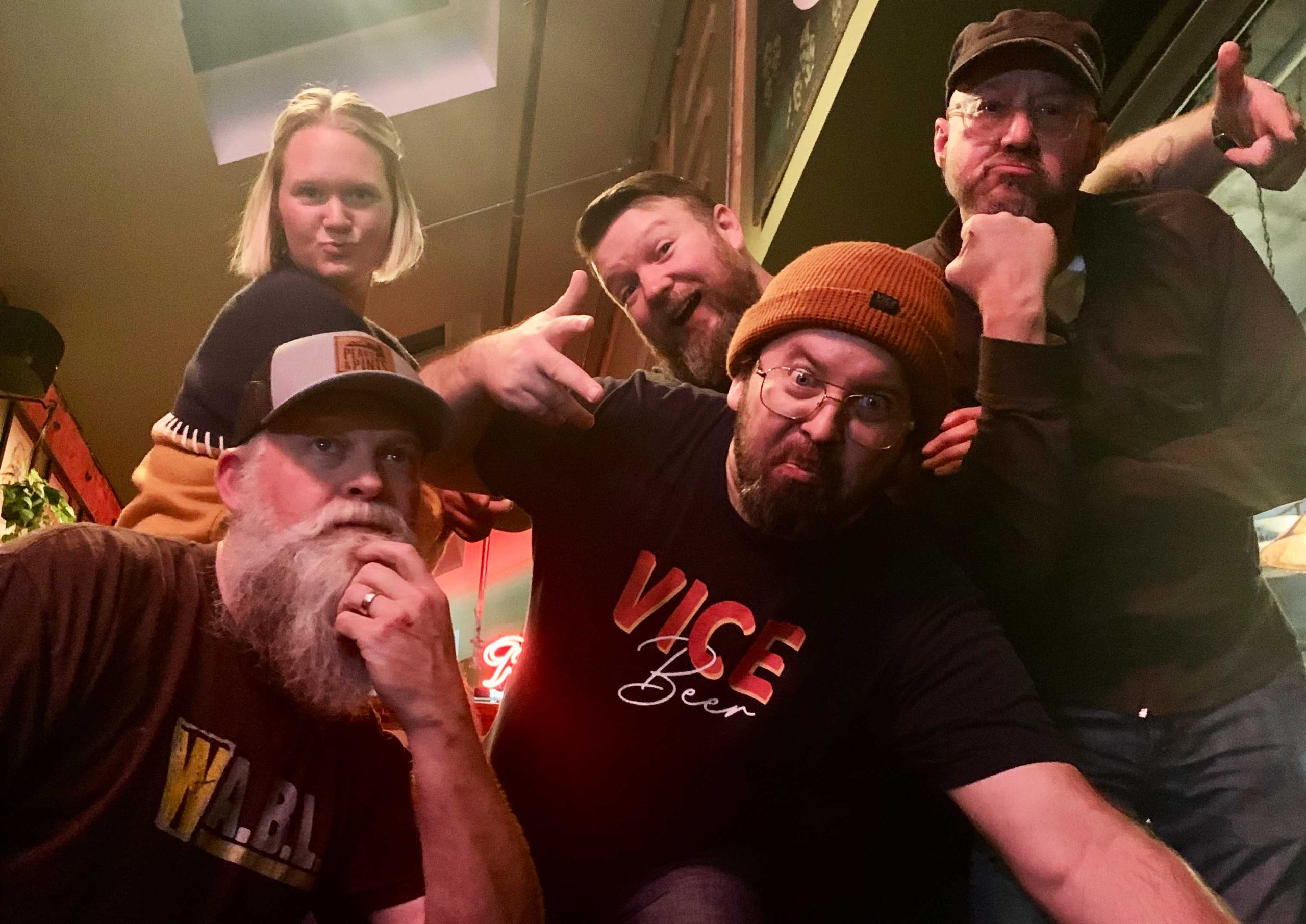 FRIDAY, NOV. 11 — BEER PODCAST: Beer Nerds rejoice!  The one and only Michael Perozzo made the trek up from Vancouver, Washington, to sit down with the Grit & Grain Podcast to discuss everything from beer names to branding to his time as the world-famous "Darth Blazer" and much more.  Perozzo has spent years as the tip of the spear in the Southwest Washington beer community, from long-time consumer to community organizer, to taproom owner, and now to part-owner and creative brain behind the award-winning Vice Beer. Michael's passion for the beer world is unmatched, which comes through in Grit & Grain Episode 70. To listen to Grit & Grain Episode 70 Michael Perozzo of Vice Beer, and previous episodes, visit gritandgrainpodcast.com, or search your favorite podcast mediums, including Channel 253.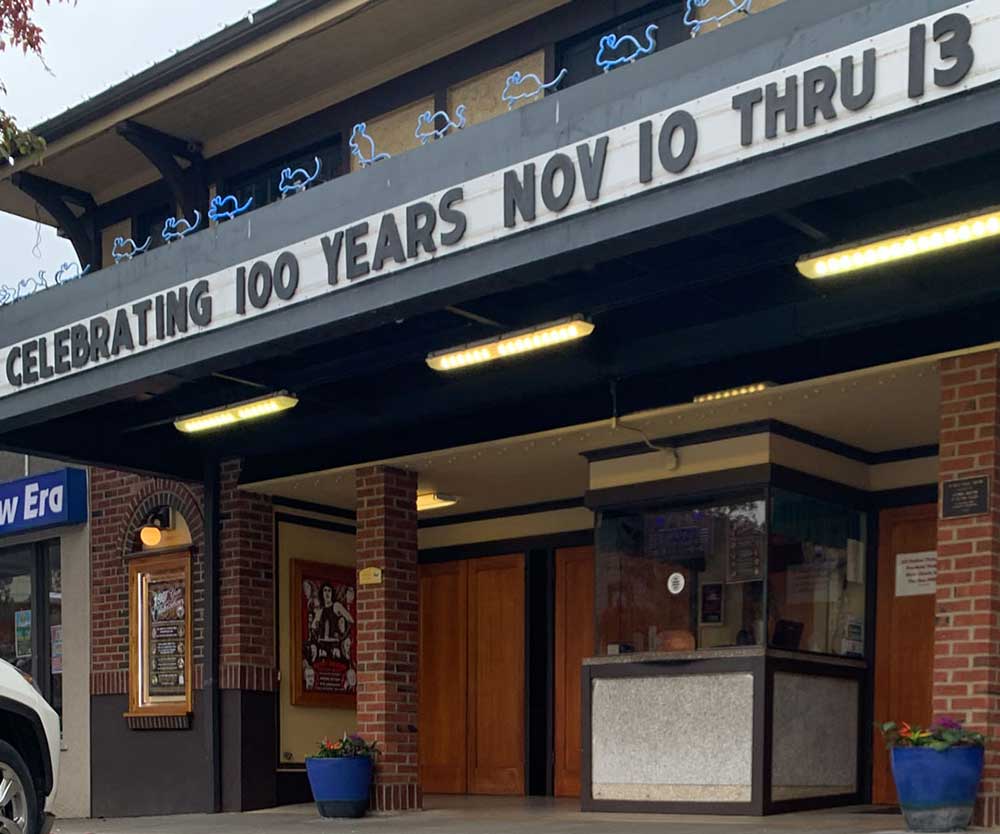 FRIDAY, NOV. 10-MONDAY, NOV. 13 — ANNIVERSARY CELEBRATION: In the early 1900s, John Hamrick opened the Blue Mouse Theatre for vaudeville and movies screenings in several Pacific Northwest cities, including Seattle in 1920, Portland in 1921, Corvallis in 1921, Astoria in 1922, downtown Tacoma on Broadway in 1922, and Proctor District Tacoma on Nov. 13 1923, which is the only Blue Mouse still operating. The name is said to have been inspired by a lounge in Paris, France, that screened talking pictures. The Blue Mouse Theatre's 100th Anniversary in Proctor runs through the official anniversary Monday, Nov. 13, with special screenings and parties. Friday, Nov. 10, the Blue Mouse will screen Abbott & Costello Meet Frankenstein with the comedy team unwittingly releasing Frankenstein's monster, Dracula, and the Wolf Man at 7 p.m. followed by Monster Squad at 9 p.m. The Blue Mouse 100th 1Anniversary Red Carpet Gala begins at 6:30 p.m. Saturday, followed by a screening of the 1942 film, Casablanca. Sunday, Nov. 12, is the 1 p.m. free screening of 100 years of Disney Animation, followed by the 1927 silent film made in Tacoma, Eyes of the Totem, at 3:30 p.m. and 10 Things I Hate About You filmed in Tacoma at 6 p.m. The first film screens at the Proctor Blue Mouse was The Green Goddess, which will screen again 100 years later Monday at 7 p.m. 2611 N. Proctor St., Tacoma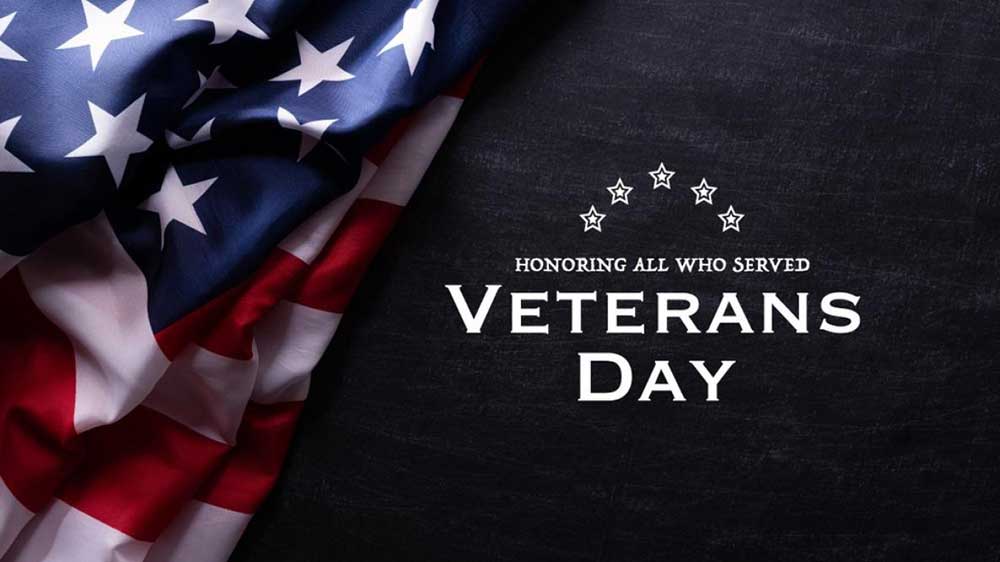 SATURDAY, NOV. 11 — VETERANS DAY: The historical epoch of Armistice Day began with the Nov. 11, 1918, signing of a ceasefire between Germany and the Allied powers of World War I. President Woodrow Wilson initiated it. In the South Sound, we're reminded of war's impact more often than people in most other cities. But even so, it's not often enough. Our freedoms, our heritage, and the way of life we enjoy today are made possible because of our military veterans. Today's 105th anniversary of Veterans Day honors all of America's veterans for their patriotism, service, and sacrifice. And for their families, there is no better time than now to recognize them and give thanks for the remarkable sacrifices they have made. The 17th Annual Tacoma Veterans Day Service will be held at Tacoma War Memorial Park on Sixth Avenue. This year we will feature an All-City Junior ROTC Color Guard, representing all the JROTC units in the Tacoma School District, and a brass ensemble from the 133rd Army Band from the Washington National Guard. 11 a.m. to 1 p.m., Tacoma War Memorial Park, 7201 Sixth Ave., Tacoma, free and open to everyone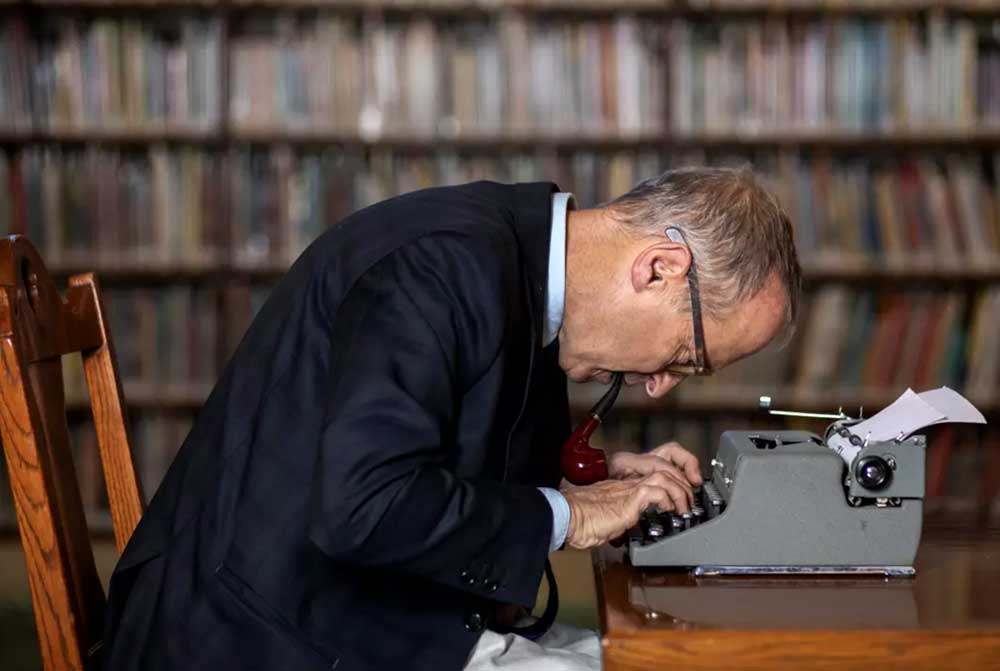 SATURDAY, NOV. 11 — DAVID SEDARIS: David Sedaris first came to prominence in the early 1990s, when NPR broadcast his story "SantaLand Diaries," about his experience working as a Christmas elf at Macy's in New York City. Now 61, Sedaris lives in England with his longtime partner, Hugh Hamrick, who is a recurring character in his work. As one of America's pre-eminent humor writers, Sedaris will regale Tacoma with tales addressing the human condition in an evening of superb storytelling followed by an audience Q+A, thanks to Tacoma Arts Live. He is a master of satire, beloved for his personal essays and short stories, and the author of several instant bestsellers. There are over 16 million copies of his books in print, having been translated into 32 languages. Bring yours to the book signing after the show or purchase a copy from beloved local bookshop, King's Books. 7:30 p.m., Pantages Theatre, 901 Broadway, Tacoma, $32-$89 at Tacoma Arts Live, photo courtesy of Anne Fishbein
LINK: Receive the Peaks & Pints 6-Pack of Things To Do via newsletter
---