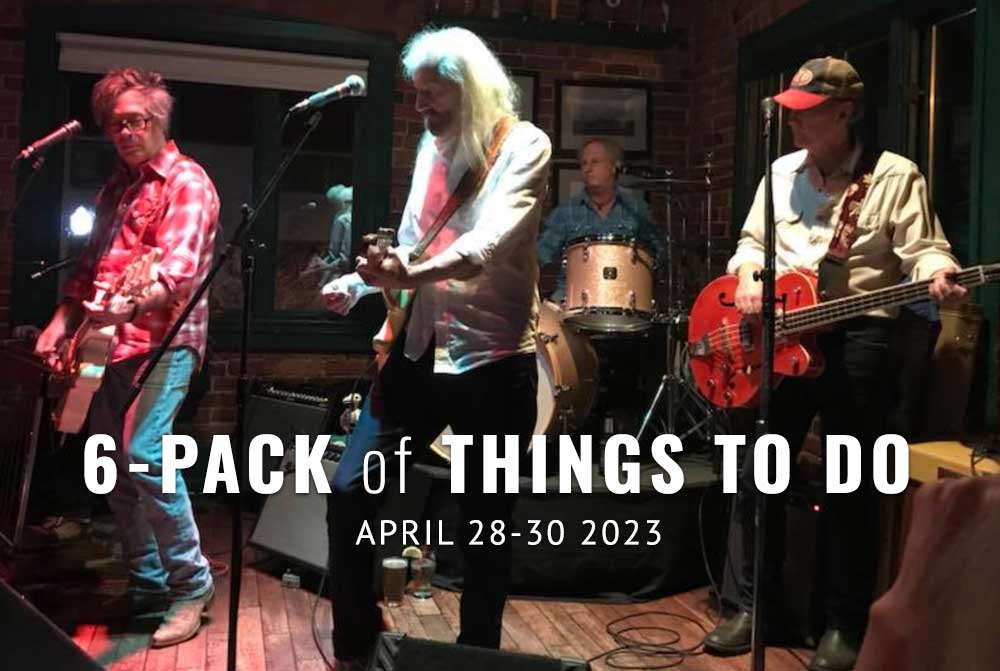 6-Pack of Things To Do: April 28-30 2023
The weekend is full of pale ale battles, romantic comedies, tomato plants and twang, among other distractions. Welcome to Peaks & Pints' 6-Pack of Things To Do: April 28-30 2023.

FINAL FOUR: The Pacific Northwest loves pale ales — at least according to the thousands that have voted in our Tournament of Beer: Northwest Pales Ales. Today marks the Final Four. We started with 64 of the Pacific Northwest's best pale ales. Now, four premier pales face off for the ultimate glory — hop-to-hop battles to determine the best pale ale brewed in Washington state and Oregon. Which pale ale has the moxie to nail down the championship? What brewery's pale will win it all? Jump here to read up on the action, then head to Peaks & Pints' Instagram Stories to vote. Cheers!

BEER PODCAST: Mike Husaker drove thousands and thousands of miles to become a gold medalist brewer. He took all the crap jobs and low paying gigs to take his chemical engineering degree and 10 years of homebrewing to the next level, learning from the worst and best across the Midwest, before landing a brewhouse position with Fat Head's Brewing in Cleveland. It paid off when he landed a head brewer position at Fat Head's in Portland's Pearl District, and ultimately when he opened his own brewery, Grains of Wrath, in Camas, Washington. Tune-in to Grit & Grain Episode 43 to hear Hunsaker discuss his days in Virginia Beach and Cleveland, his love for the Portland brewing community who helped him navigate Beervana, and his thoughts on brewing award-winning beers. To listen to Grit & Grain Episode 43 with Mike Hunsaker with Grains of Wrath, and previous Grit & Grain episodes, visit gritandgrainpodcast.com, or search your favorite podcast mediums, including Chanel 253. Cheers!

THEATER: Tacoma Little Theatre has received many favorable reviews of their current production, the bittersweet comedy Significant Other by Joshua Harmon. It's the story of Jordan Berman who wards off lonely nights with his trio of close girlfriends. But as singles' nights turn into bachelorette parties, Jordan discovers that the only thing harder than finding love is supporting the loved ones around him when they find love. Significant Other is an unorthodox romantic comedy that celebrates the highs and lows of twenty-something urban life, wedding after wedding after wedding. 7:30 p.m., Friday and Saturday, 2 p.m. Sunday, through May 7, Tacoma Little Theatre, 210 N. I St., Tacoma

MARKET DAY: Spring is here, which means the Proctor Farmers Market sweeps the street every Saturday morning now. The Proctor Farmers Market provides locally grown produce, pasture raised meats, wild caught seafood, cheeses, eggs, fruit, tomato plants, flowers and more. Today, local folk legends Steve and Kriti Nebel will fill the market with passion, finesse, and beauty with their songs of social justice, knife edge observations and pure love from 11 a.m. to 1 p.m. 9 a.m. to 2 p.m., 27th Street and Proctor, Tacoma's Historic Proctor District

CHAMPIONSHIP PARTY: Welcome to the Peaks & Pints Tournament of Beer: Northwest Pale Ales Big Dance. After three weeks of voting, you have picked your favorite pale ales brewed in Washington and Oregon. What began as 64 hop-slinging pales will be narrowed down to two Saturday, April 29. (Final Four voting is still live on Peaks & Pints Instagram Stories.) Championship Game online voting will begin at 12:01 a.m. end at 4 p.m. on Peaks & Pints Instagram Stories Saturday, April 29. Voting will resume at 5 p.m. live at the Tournament of Beers Party at Peaks & Pints in Tacoma's Proctor District. Ballots will be handed out, which will also serve as raffle tickets for a Yeti Cooler plastered with stickers from nominated Tournament breweries. The live vote will close at 8 p.m., tallied and the Northwest Pale Ale Champion will be announced at 8:30 p.m. The winning brewery will have a permanent tap handle at Peaks & Pints through the summer. 5-8:30 p.m. Saturday, April. 29, Peaks & Pints, 3816 N. 26th St., Basecamp Proctor, Tacoma

MUSIC: The country genre nowadays often seems to favor superstar pop-artists, and one can also admit that it has lost a lot of original flavor and a great amount of heart and soul. The Twang Junkies are loaded with original flavor and soul. The Tacoma band moseys up to the bar with Cash, Haggard, Hank and Earle on one side and Jagger, Lennon, Bowie and Gibb on the other, then taking The Valley Saturday night with their own blend of alt-country: a Southern twang bass with a hint of indie rock. Vanilla headlines the show with their record release party. 9 p.m., 1206 Puyallup Ave., Tacoma
LINK: Receive the Peaks & Pints 6-Pack of Things To Do via newsletter
---
Category:
6-Pack of Things To Do
,
Beer Line Blog
,
Contest
,
Craft Beer
,
Events and Festivals
,
Grit and Grain Podcast
,
Newsletter
,
Peaks and Pints Lodge Meetings
,
Proctor District
,
South Sound
,
Tacoma events
,
Tournament of Beer