Tournament of Beer: Northwest Pilsners First Round April 16
RON SWARNER: Low and behold, today marks the closing of the Tournament of Beer: Northwest Pilsners' First Round. After today's battles the bracket will officially be down to 32 pilsners brewed in Washington state and Oregon, and breweries start hiring cheerleaders. Seriously, how can you not get excited when head brewers dress in pilsner costumes and perform jigs on bar tops while their taproom crowds goes bananas? It's those moments that make the Tournament of Beer: Northwest Pilsners so awesome.
PEAKS AND PINTS WEATHER GUY: My forecast calls for mostly cloudy conditions with scattered showers at Cape Disappointment today. High around 54. Chance of precipitation 40 percent, slowly increasing to 70 percent Friday. Might have to go manual with toothbrush after snack time.
RON SWARNER: The Tournament of Beer: Northwest Pilsners hosts competitions Monday through Friday up to the championship game Saturday, April 27 live at Peaks and Pints bottle shop, taproom and restaurant in Tacoma's Proctor District. Without wasting anyone's time with craft beer related basketball innuendo, on to a recap of yesterday's games and today's Tournament of Beer action.
Monday, April 15, First Round Northwest Pilsners Games results
GAME 1, WASHINGTON STATE REGION
5. Matchless Original Pils vs. 12. Boundary Bay Pilsner
RON SWARNER: Only one game yesterday was close, a back-and-forth battle from the opening buzzer to the final pint, changing leads several times. Separated by 1556 miles of Interstate 5, there was a steady stream of Uber rides between the two breweries, which probably befuddled Dick's Drive-In located between the excitement. It's our guess Boundary Bay's Community Plate Day yesterday gave the Belling ham brewery the extra push they needed. (Think "Pint Night" but with food benefitting BAAY Bellingham Arts Academy for Youth.) Boundary Bay's Pilsner edged out Matchless' Original Pils with 52 percent of the vote.
PEAKS AND PINTS WEATHER GUY: There's a rumor Matchless head brewer Pat Jansen wore sleeves yesterday, which freaked voters out.
GAME 2, WASHINGTON STATE REGION
2. Kulshan Pilsner vs. 13. Silver City Cold One Pilsner
RON SWARNER: When first discussing the Tournament of Beer in planning meetings that seem like they were many moons ago, Silver City Brewery was mentioned almost immediately. The Bremerton craft beer company has a following, and everyone knows it. Silver City's marketing is strong. The brewery is tight with left-coast punk rawk, MXPX. But this isn't the Tournament of Punk Rawk Friends. It's the Tournament of Beer: Northwest Pilsners, and Kulshan Brewing's medal-winning Pilsner rawks on its own. Behind strong play from Kulshan's Sales Executive Katie Johnson, Bellingham stomped Bremerton with 79 percent of the votes.
PEAKS AND PINTS WEATHER GUY: Rumor is Katie Johnson popped in and out of bottle shops and taprooms singing a 30-second promotional song she wrote about Kulshan's Pilsner.
GAME 3, PORTLAND/GREATER MULTNOMAH CO. REGION
7. Upright Engelbert Pilsner vs. 10. Ex Novo Perle Haggard
RON SWARNER: Upright Brewing's Engelbert Pilsner is not a run-and-gun player. Rather Engelbert Pilsner will slow play opponents, concentrating on their malt bills, and covering opponents with sweet bready malt, straw and honey. Upright Brewmaster Alex Ganum has a gentle touch, and apparent distaste for hyperbole in the beer world. His pilsner kept scrappy Perle Haggard within arms reach the entire game. In fact, Upright cranked the vinyl-only 1970s AM gold records last night on the brewdeck, pumping up the brewers just enough for Engelbert Pilsner squeak out a win with 53 percent of the votes.
PEAKS AND PINTS WEATHER GUY: "Quando, Quando Quando!"
GAME 4, PORTLAND/GREATER MULTNOMAH CO. REGION
2. Heater Allen Pils vs. 15. Widmer Bros. PDX Pils
RON SWARNER: It's time for the Family Feud! Introducing the Allen family, ready for action! And the Widmer family, on your marks! Let's start the FAMILY FEUD!!!! Give the top answer to this question: What is the most popular pilsner between Heater Allen Pils and Widmer Brothers PDX Pils? Survey says! (Ding!) Heater Allen Pils had 77 percent of the votes of Widmer Brothers' PDX Pils.
PEAKS AND PINTS WEATHER GUY: I'd like to buy a vowel.
RON SWARNER: Let's wade through the soft water. The following are advancing to the Second Round:
Boundary Bay Pilsner
Kulshan Brewing Pilsner
Upright Brewing Engelberg Pilsner
Heater Allen Pils
RON SWARNER: OK, let's do a quick liver-size check, then dive into today's First Round pilsner battles. Vote for one pilsner per game. Voting for today's pilsner battles ends at 11:45 p.m.
PEAKS AND PINTS WEATHER GUY:
TUESDAY, APRIL 16, FIRST ROUND NORTHWEST PILSNERS GAMES
GAME 1, SEATTLE/GREATER KING COUNTY REGION
Player: Pre-Flight Pilsner (#6 seed)
Team: Airways Brewing, Kent
RON SWARNER: In 2010, Alex Dittmar combined his homebrewing passion and love for 1960's big jet airliners opening Airways Brewing in Kent, Washington. Seven years later, founder and head brewer Dittmar and crew began operating out of much larger facility in downtown Kent. Dittmar brought his former Alaska Airlines job with him with an airline industry theme throughout his taproom and craft beers. Airways' Pre-Flight Pilsner is a pre-prohibition style pilsner, fuller in body with a distinct, spicy hop presence, attributed to the Hallertauer and Saaz hops used to brew it. It's crisp and refreshing, full-bodied, and low on the bitter scale.
PEAKS AND PINTS WEATHER GUY: Ladies and gentlemen, I'm your guest pilot on board today, so I'll be announcing our bonus destination shortly.
ABV: 5%, IBU: 30, Hops: Hallertauer, Saaz
Player: Pilchuck Pilsner (#11 seed)
Team: Two Beers Brewing, Seattle
RON SWARNER: In 2005, Joel VandenBrink found himself in a disagreement with a friend, so they headed to a local pub to talk it through. After the second pint disappeared, the two friends had an honest conversation. Before that second pint, and after a homebrew starter kit and an inspirational tour of New Belgium Brewing, VandenBrink founded Two Beer Brewing in a 170 square foot ActivSpace facility along Highway 99 in Seattle's Fremont neighborhood in August 2007. The rest, as they say, is history. Two Beers Brewing's Pilchuck Pilsner is a Czech-style pilsner hopped with Czech Saaz and Perle hops for a lightly sweet aroma and mild hop spiciness.
PEAKS AND PINTS WEATHER GUY: Dude, you left a lot of information out of Two Beers' history. How many beers have you had?
ABV: 4.7%, IBU: 20, Malts: Pilsner, Hops: Perle, Czech Saaz
SCROLL DOWN TO VOTE >>>>>>>>>>>>>>>>>>>>>>>>>>>>>>>>>>>>>>>>>>>>>>>>>>>>>>>>>>>>>>>>>>>
GAME 2, SEATTLE/GREATER KING COUNTY REGION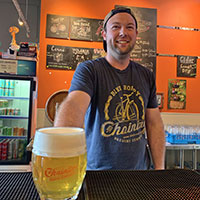 Player: Polaris Pilsner (#3 seed)
Team: Chainline Brewing, Kirkland
RON SWARNER: In 2014, Chainline Brewing Company was the first brewery to open along the newly minted Cross Kirkland Corridor Trail. Brewing on an 11 Hectoliter copper brewhouse from the Czech Republic allows the bicycle-themed brewery to create unique recipes and utilize processes and equipment not often seen on this side of the Atlantic, including a delicious pilsner. Released in 2012 by the Hop Research Institute in Hull Germany, Polaris hops were bred as a dual purpose hop with an incredibly high alpha acidity and essential oil content that leads to very bold tastes and distinctive flavors — including contributing to bold floral and fruit notes with a slight hint of mint, which describes Chainline's Polaris Pilsner. The 2016 Great American Beer Festival silver medalist pilsner has a mint-like flavor while still maintaining its Noble hops lineage. Bohemian malts and yeast provide the body you would expect from this style pilsner.
PEAKS AND PINTS WEATHER GUY: My bicycle? An 1887 Croker Wheelman Penny-farthing purchased from an antique dealer in Pennsylvania and lovingly restored to its original glory.
ABV: 4.9%, IBU: 30, Malts: Bohemian, Hops: Noble
Player: Puget Pilsner (#14 seed)
Team: Pike Brewing, Seattle
RON SWARNER: The Pike Brewing Company is an independent, family owned craft brewery located in the historic Pike Place Public Market neighborhood. It was founded in 1989 by craft beer pioneers Charles and Rose Ann Finkel. Dry hopped with Yakima's bounty and brewed with Northwest grains, Pike Puget Pilsner is clean, dry and aromatic. Tropical Cashmere hops give this easy-drinker notes of melon, sweet lemon, and hints of grapefruit.
PEAKS AND PINTS WEATHER GUY: Oct. 17, 1989 the Pike Place Brewery, as it was then known, officially opened with The World's Shortest Non-Motorized Uphill Parade to the brewery's front door. Leading the parade was Liberty Malt Supply's John Farias, pushing a keg of Pike Pale Ale in a silver, two wheeled hand truck.
ABV: 4%, IBU: 20, Malts: Skagit Valley Pilsner, wheat, Hops: Cashmere, Saaz
SCROLL DOWN TO VOTE >>>>>>>>>>>>>>>>>>>>>>>>>>>>>>>>>>>>>>>>>>>>>>>>>>>>>>>>>>>>>>>>>>>
GAME 3, OREGON REGION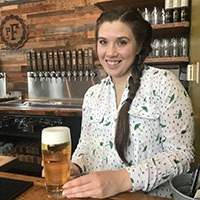 Player: Pilsner (#1 seed)
Team: pFriem Family Brewers, Hood River
RON SWARNER: Seattle native Josh Pfriem began homebrewing while at Western Washington University in his early 20s then moved to Utah as a ski bum. He worked at Utah Brewers Cooperative for a few years before moving back to his old college town of Bellingham to brew at Chuckanut Brewery, where he helped win the Great American Beer Festival Small Brewpub of the Year in 2009. He moved to Hood River, Oregon to work at Full Sail but left in December 2011 to open pFriem Family Brewing — across the highway from Full Sail along the banks of the Columbia River — in August 2012. The brewery prides itself on its strong family focus and community involvement, as well as its ingredients — while many craft brewery websites list the notable spices and hops used in their brews, none we've encountered boast the encyclopedic cataloging of every ingredient the way pFriem does. pFriem's Pilsner is seeded No. 1, which isn't shocking considering it hits the nose with fresh grass, spring flowers, with a touch of lemon zest before landing on the tongue with zesty spiciness and a touch of honey before finishing crisp, snappy, and refreshing.
PEAKS AND PINTS WEATHER GUY: There were many times I though my family was a brewery.
ABV: 4.9%, IBU: 35, Malts: Gambrinus and Weyermann German Pilsner, Cara Foam, Acidulated, Hops: Perle, Saphir, Tettnang, Spalt Select
Player: Schwenks Classic Pilsner (#16 seed)
Team: Riverbend Brewing, Bend
RON SWARNER: Gary and Linda Sobala moved to Bend in 1985 and eventually started a restaurant, the Italian Cottage. They sold it and built a commercial building on Division Street and leased it. The brewery occupies the western 2,600 square feet of that building today. In the meantime, Sobala took over Rivals, a sports bar, from its owners. In 2013 he transformed Rivals into RiverBend Brewing Sports Pub and started serving beer from the brewery 150 feet away. Overwhelmed, the Sobala's closed the original brewpub Nov. 19, 2018, are actively searching for another location with hopes to open a smaller tasting room/brewpub that the brew staff could manage themselves. Schwenk's Classic Pils — a pilsner created by Riverbend's former head brewer, Kyle Schwenk — is gold in color, with a rich, but clean flavor accentuated by noble hop character.
PEAKS AND PINTS WEATHER GUY: Is it a milkshake pilsner? Riverbend makes delicious milkshake IPAs.
ABV: 4.5%, IBU: 25
SCROLL DOWN TO VOTE >>>>>>>>>>>>>>>>>>>>>>>>>>>>>>>>>>>>>>>>>>>>>>>>>>>>>>>>>>>>>>>>>>>
GAME 4, OREGON REGION
Player: Out of Office Pils (#8 seed)
Team: 10 Barrel Brewing, Bend
RON SWARNER: 10 Barrel Brewing dates back to 2006 when twin brothers Chris and Jeremy Cox moved from Portland to Bend to escape their corporate jobs and take a shot at buying and running a bar — Lucy's Place, which they renamed JC's Bar & Grill. Their love for craft beer resulted in their small startup called Wildfire Brewing in 2006. The brothers and partner Garret Wales focused on selling their beers to local bars and restaurants. The first two beers in the lineup were Code 24 Pale Ale and Logger Lager, followed by Backdraft IPA. In 2009, Wildfire restaurants, a chain of eateries with locations in Illinois, Minnesota, Virginia and Georgia, forced the trio to change their brewery name — which they changed to 10 Barrel Brewing Company after the small craft brewing system. Their hoppy Out Of Office is an all grain Northwest-style pilsner dry hopped it with a bunch of Citra hops creating a light, crisp lager with a hop bite.
PEAKS AND PINTS WEATHER GUY: 10 Barrel has one simple mindset — brew beer, drink beer and have fun doing it, which it proves daily on their Instagram account. By regularly posting high resolution product photography, reposting user-generated content, Boomerang videos, action shots, lifestyle photography and more, this brewery keeps its Instagram following on their toes.
ABV: 5.6%, IBU: 28, Hops: Citra
Player: Five Fin West Coast Pilsner (#9 seed)
Team: Pelican Brewing, Pacific City
RON SWARNER: In 1996, Jeff Schons and Mary Jones founded English-focused Pelican Brewing in Pacific City — Oregon's only oceanfront brewpub. Celebrating its 23rd year, the brewing company has created tasty treats and garnered hundreds of awards including the 2014 World Beer Cup Champion Small Brewing Company and Brewmaster of the Year. Inspired by the crystal clear waters of the six Tillamook County rivers and named for the five ocean-going species of fish benefitting from the salmon recovery effort, Pelican's Five Fin is a uniquely West Coast take on the classic pilsner beer style that grabbed a silver medal at the Great American Beer Festival in 2016. Bright and zippy with a bold hoppy flavor and aroma, Five Fin is crafted with a unique blend of Cascade and Sterling hops from the Pacific Northwest and Mandarina Bavaria hops from Germany. The pilsner marries the hop-driven flavors of tangerine, pineapple, and lemon zest with classic spicy, floral notes, all balanced against a toasty malt character.
PEAKS AND PINTS WEATHER GUY: It's Aquaman's favorite pilsner
ABV: 5.3%, IBU: 45, Hops: Cascade, Sterling, Mandarina Bavaria
VOTE BELOW >>>>>>>>>>>>>>>>>>>>>>>>>>>>>>>>>>>>>>>>>>>>>>>>>>>>>>>>>>>>>>>>>>>>>>>>>>>

Wednesday, April 17 Tournament of Northwest Pilsners Second Round action …
Game 1: 1. Roger's Pils, Georgetown Brewing (5200 Denver Ave. S., Seattle) vs Lucidity Pilsner, Sumerian Brewing (15510 Redmond-Woodinville Road NE, Woodinville)
Game 2: 10. The People's Pilsner, Brothers Cascadia (9811 NE 15th Ave., Vancouver) vs Crosscut Pilsner, Icicle Brewing (935 Front St., Leavenworth)
Game 3: Proper Pilsner, Migration Brewing (2828 NE Glisan St., Portland) vs Bohemian Pilsner, Occidental Brewing (6635 N. Baltimore Ave., Portland)
Game 4: Czech Meowt, Sunriver Brewing (57100 Beaver Dr., Sunriver) vs Crux Pilz, Crux Fermentation Project (50 SW Division St., Bend)
LINK: Tournament of Beers: Northwest Pilsners explained
LINK: Hot Damn! Yes, I want to follow Peaks and Pints Weather Guy on Twitter!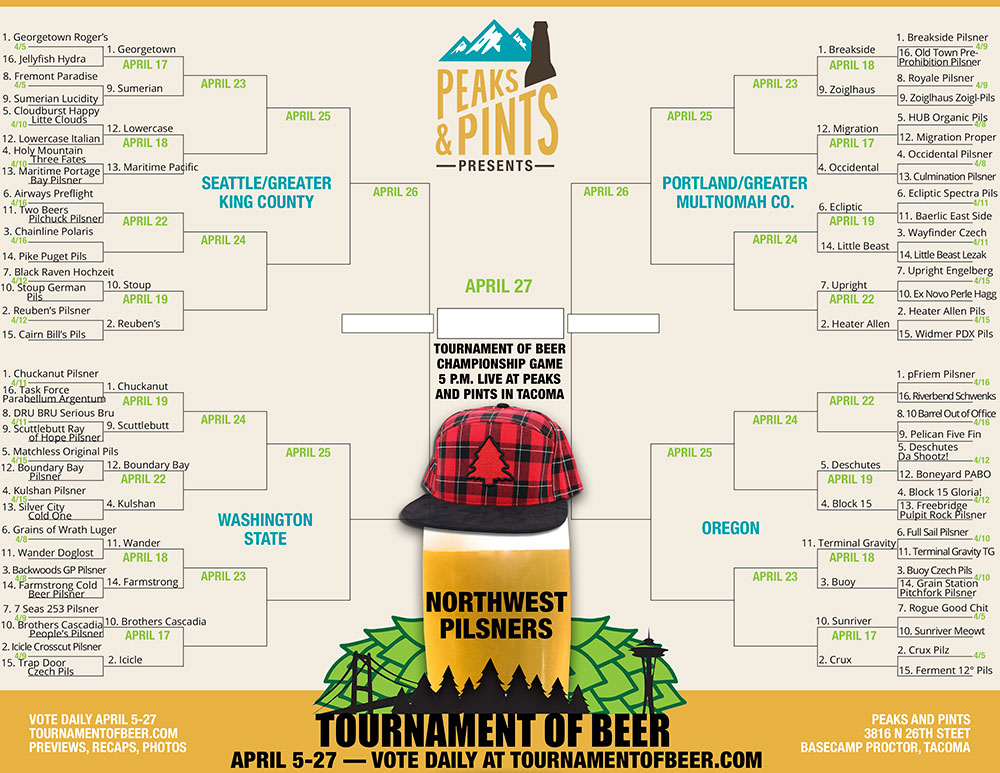 ---