Tournament of Beer: Northwest Lagers bracket announced
Peaks & Pints has unveiled the official bracket for its Tournament of Beer: Northwest Lagers, a voter-based public tournament seeking to crown the best pale lager brewed in the Pacific Northwest. Patterned after the NCAA Division I Basketball Tournaments, the Tournament of Beer features 64 regular craft lagers from Washington and Oregon, all seeded by public vote, and separated into four geographical regions: Northern Washington, Southern Washington, Northern Oregon, and Southern Oregon.
These top 64 vote getters — the cream of the crispy bois — will compete Monday through Friday at tournamentofbeer.com, April 8-30. Through online voting, Northwest lager drinkers will pick daily winners until the best pale lager in the Northwest is crowned. It's just like March Madness, only with way more burps.
The Tournament of Beer: Northwest Lagers grand champion will be announced at the Tournament of Beer Party, April 30, at Peaks and Pints, 3816 N. 26th, in Tacoma's Proctor District. The final two regular craft lagers will battle live pouring from the bottle shop, taproom and restaurant's Western red cedar tap log with the champion brewery receiving a permanent handle through the spring and summer 2022.
Through online voting, the public nominated the 64 Northwest brewed lagers in early March 2022. The lagers had to follow the BJCP Style Guide Category 1A American Light Lager, 1B American Lager, 2A International Pale Lager, and the breweries are recognized by the Washington Beer Commission or Oregon Brewers Guild.
Which Northwest lager brewed with bottom-fermenting yeast at cold temperatures will take the prize? Look for the first round of Northwest lager battles beginning Friday, April 8.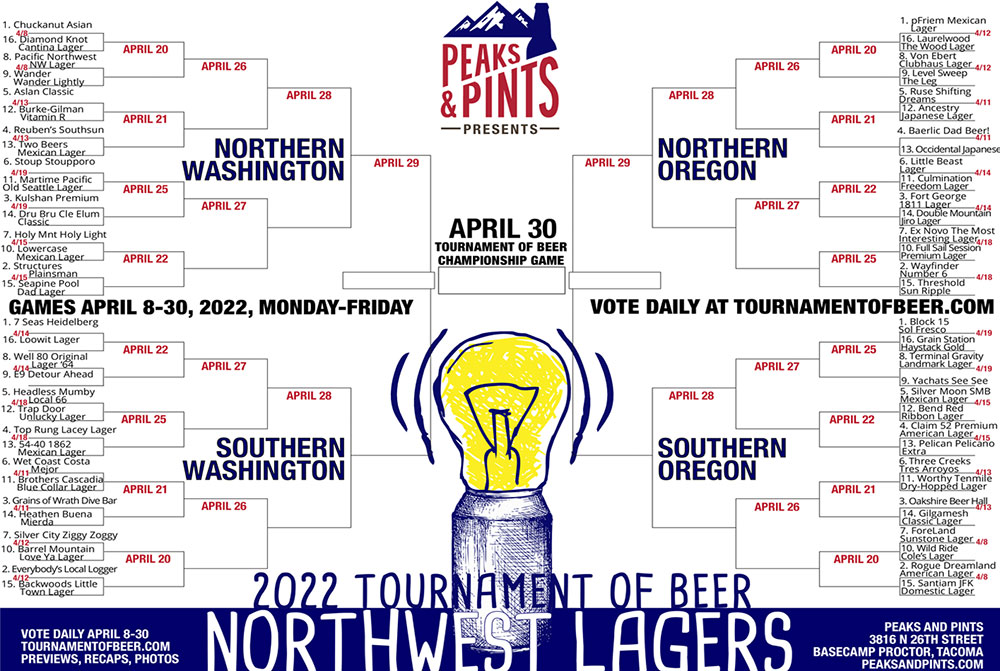 ---