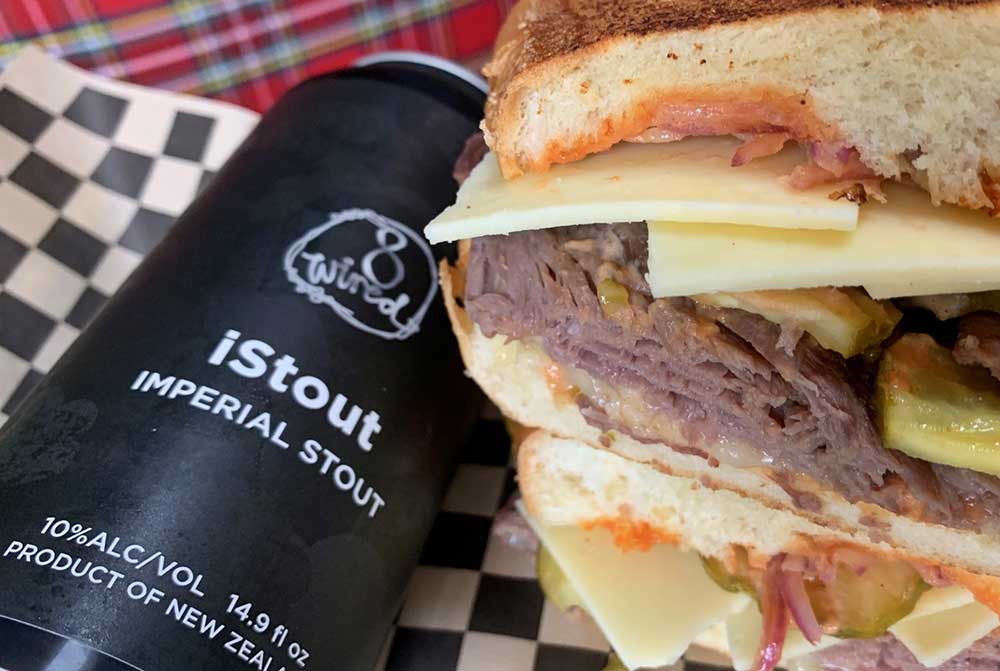 Tacoma Sandwich Special of the Day: iBurgerwich
FRIDAY, FEB. 11 2022: With one eye on Peaks & Pints February Stout Month, and the other eye on the prize, the Peaks & Pints Kitchen fires up our popular Burgerwich sandwich special — roast beef, special sauce, Beecher's White Cheddar, pickles, red onions on French — which deserves a big stout dessert.
PAIRING: 8 Wired Brewing iStout
8 Wired's iStout is a BIG beer. Brimming with luscious roasted coffee and chocolate malt flavors, which are balanced by a brisk bitterness and bold freshness from the hops, this Russian imperial stout is more of a dessert than a sidekick with the Burgerwich.
THING TO DO: Because of COVID, Peaks & Pints isn't fully staffed and has postponed table service. Please you're the QR codes at the tables and order from the bartenders behind the bar. Call ahead at (253) 328-5621 for pick-ups. Cheers!
LINK: Peaks & Pints full menu
LINK: Grab the iStout and 850+ other beers and ciders are in the Peaks and Pints cooler
Safety Is Priority Number One
Face masks must be worn when not eating and drinking — especially ordering from the bar or on trips to the restrooms.
One of the most fulfilling aspects of our craft beer and cider bar, bottle shop and restaurant is being a gathering place for the community. It's a role we do not take for granted, and there are many responsibilities that come along with it — the health and safety of our guests and staff being at the top of the list. As a neighborhood restaurant, we take pride in our commitment to providing a clean, safe, and vibrant environment. Please rest assured that Peaks & Pints has built upon these best practices to follow the COVID-19 protocol provided by the CDC.
We're open 11 a.m. to 10 p.m. Sunday-Thursday, 11 a.m. to 10 p.m. Friday and Saturday, but we hope to return to "before times" hours when we're able to seat at full capacity.
Hope to see you soon.
1

Argyle

Pinot Noir

Sonoma, CA

13.5%

Just Tapped

2

Proletariat

Sangiovese

USA

Walla Walla, WA

14%

Just Tapped

3

Joel Gott

Sauvignon Blanc

California

Napa

13.5%

Just Tapped

4

Belching Beaver

Passionfruit & Guava Hard Seltzer

Gluten Free Hard Seltzer with Passionfruit & Guava

Vista, CA

6%

IBU

Just Tapped

5

Bluebeard Coffee Roasters

Nitro Cold Brew Coffee

Cold Brew Coffee

Tacoma, WA

Just Tapped

6

Rainier

Mountain Fresh Rainier Beer

Lager

Seattle, WA

4.73%

IBU

Just Tapped

7

Yonder

House of Yonder

Cider

Seattle, WA

6.7%

Just Tapped

8

Locust

Imperial Oak Aged Vanilla

Oak-Aged Cider Vanilla

Gig Harbor, WA

9%

Just Tapped

9

Seattle Cider

Pumpkin Spice

Semi-Sweet Cider w/ pumpkin & baking spices

Seattle, WA

6.9%

Just Tapped

10

Thunder Island Brewing Co

Dark Berry Sour

Sour Fruit Marionberries, Blackberries

Cascade Locks, OR

6.7%

IBU

Just Tapped

11

Stillwater

Stateside Saison

Saison

Baltimore, MD

6.8%

IBU

Just Tapped

12

Stillwater

Red Sauce

Italian Style Pilsner

Grand Mound, WA

4.6%

IBU

Just Tapped

13

Top Rung

Doppelbock

Doppelbock

Lacey, WA

7%

IBU

Just Tapped

14

Paulaner

HefeWeizen

Weissbier

Munich, Germany

5.5%

14 IBU

Just Tapped

15

Sierra Nevada

Pale Ale

American Pale Ale

Chico, CA

5.6%

38 IBU

Just Tapped

16

Everybody's

Clearly Phantastic

IPA w/Phantasm Powder

White Salmon, WA

7.2%

IBU

Just Tapped

17

Bale Breaker

Frenzgiving

Hazy IPA

Yakima, WA

7.1%

45 IBU

Just Tapped

18

Skookum

Airplane Mode

IPA

Arlington, WA

6.7%

IBU

Just Tapped

19

YaYa

Fluffy Puffy Sunshine

New England IPA

Spokane Valley, WA

6.5%

50 IBU

Just Tapped

20

Mirage

Scrapbooking

Hazy IPA

Seattle, WA

6.2%

IBU

Just Tapped

21

Steeplejack

Alewife

English Dark Mild

Portland, OR

3.8%

IBU

Just Tapped

22

Sullivans

Black Marble Nitro Stout

Irish Dry Stout

Kilkenny, Ireland

5.1%

IBU

Just Tapped

23

Kulshan

Kitten Mittens

Winter Warmer

Bellingham, WA

7.9%

35 IBU

Just Tapped

24

Dubuisson

Scaldis Noel

Belgian Strong Dark Ale

Pipaix, Belgium

12%

IBU

Just Tapped

25

Black Raven

Splinters

Bourbon Barrel Aged Strong Scotch Ale

Redmond, WA

10.8%

24 IBU

Just Tapped

26

Icicle

DARKER Persuasion

German Chocolate Cake Imperial Stout

Leavenworth, WA

8.5%

22 IBU

Just Tapped

27

Fremont

B-Bomb 2022

Winter Ale - Barrel Aged (Bourbon)

Seattle, WA

14%

IBU

Just Tapped

28

Goose Island

BCBS 2022

Stout

Chicago, IL

%

IBU

Just Tapped
---