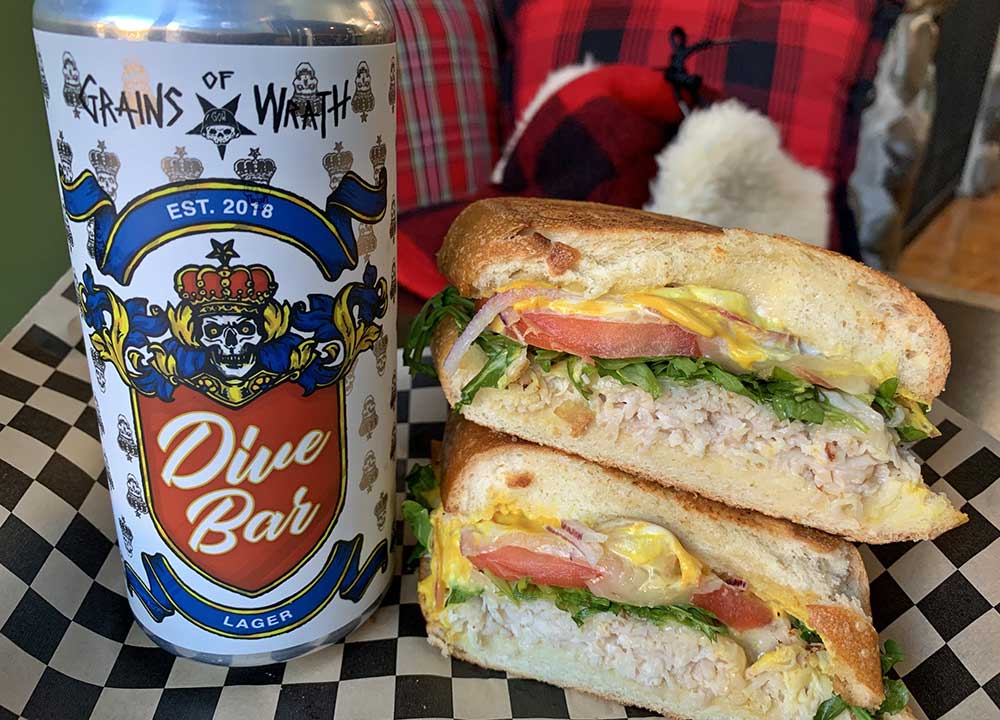 Tacoma Sandwich Special of the Day: Cuts The Mustard
DAY OF THE WEEK MONTH DATE 2022: The Peaks & Pints Kitchen has the squeeze bottle they all grew up with on their brains. Yellow mustard leads the flavors in today's sandwich special, which includes turkey, provolone, mayo, onion, tomato, and arugula on French. We suggest pairing it with Grains of Wrath Dive Bar lager because the pairing cuts the mustard.
PAIRING: Grains of Wrath Brewery Dive Bar
Not surprisingly, yellow mustard a great bridge to a nice cold lager.
THING TO DO: Because of COVID, Peaks & Pints isn't fully staffed and has postponed table service. Please you're the QR codes at the tables and order from the bartenders behind the bar. Call ahead at (253) 328-5621 for pick-ups. Cheers!
LINK: Peaks & Pints full menu
LINK: The Drive Bar and 850+ other beers and ciders are in the Peaks and Pints cooler
Safety Is Priority Number One
Face masks must be worn when not eating and drinking — especially ordering from the bar or on trips to the restrooms.
One of the most fulfilling aspects of our craft beer and cider bar, bottle shop and restaurant is being a gathering place for the community. It's a role we do not take for granted, and there are many responsibilities that come along with it — the health and safety of our guests and staff being at the top of the list. As a neighborhood restaurant, we take pride in our commitment to providing a clean, safe, and vibrant environment. Please rest assured that Peaks & Pints has built upon these best practices to follow the COVID-19 protocol provided by the CDC.
We're open 11 a.m. to 10 p.m. Sunday-Thursday, 11 a.m. to 10 p.m. Friday and Saturday, but we hope to return to "before times" hours when we're able to seat at full capacity.
Hope to see you soon.
1

Maison Noir Wines

O.P.P PINOT NOIR

UNITED STATES

Oregon

Willamette Valley

%

Just Tapped

2

Alexandria Nicole

Jet Black Syrah

Woodinville, WA

12%

Just Tapped

3

Milbrandt

Simply Chardonnay

USA

Washington

Columbia Valley

%

Just Tapped

4

San Juan

Spiked Seltzer Fruit Punch

Hard Seltzer

San Juan Islands, WA

%

IBU

Just Tapped

5

Bluebeard Coffee Roasters

Nitro Cold Brew Coffee

Cold Brew Coffee

Tacoma, WA

Just Tapped

6

Rainier

Mountain Fresh Rainier Beer

Lager

Seattle, WA

4.73%

IBU

Just Tapped

7

Double Mountain

Tossed Apples

Heritage

Hood River, OR

7.3%

Just Tapped

8

Tieton

Sour Watermelon

Cider

Yakima, WA

6.9%

Just Tapped

9

Yonder

Perry

Perry

Seattle, WA

6.9%

Just Tapped

10

E9/Best of Hands

Corpse Pose

Sour - Wild Ale

Tacoma, Washington

7%

IBU

Just Tapped

11

pFriem

Pêche

Lambic-Inspired Peach Sour Ale

Hood River, OR

5.8%

6 IBU

Just Tapped

12

pFriem

Pilsner

Pilsner

Hood River, OR

4.9%

35 IBU

Just Tapped

13

Bombastic

Chatter

Mexican Lager Lime, Salt

Hayden ID

4.7%

16 IBU

Just Tapped

14

Ayinger

Bräuweisse

German Hefeweizen

Aying, Germany

5.1%

13 IBU

Just Tapped

15

Wayfinder

Shamanic Whip

Pale Ale

Portland, OR

4.7%

41 IBU

Just Tapped

16

Old Schoolhouse

Between Peaks IPA

IPA

Winthrop, WA

7%

IBU

Just Tapped

17

Radiant

For Real Life

Hazy Double IPA

Anaheim, CA

8.4%

65 IBU

Just Tapped

18

Block 15

Science!

IPA

Corvallis, OR

6.3%

IBU

Just Tapped

19

Fort George/KEX

Atomic Jukebox

Milkshake IPA w/ Passion Fruit, Cara Cara Orange, Guava & Lactose

Astoria, OR

8.4%

IBU

Just Tapped

20

Aslan/Georgetown

Offshore IPA

IPA West Coast IPA

Bellingham, WA

6.5%

75 IBU

Just Tapped

21

Cigar City

Aruba Red

Red Ale

Tampa, FL

5.5%

IBU

Just Tapped

22

Level

Gimli

Dry Irish Stout

Portland, OR

4.6%

IBU

Just Tapped

23

Rogue

Hazelnut Brown Nectar

Brown Ale With Hazelnut extract

Newport, OR

5.6%

33 IBU

Just Tapped

24

Hair of the Dog

Alan

Strong Ale Hoppy

Portland, OR

8.5%

IBU

Just Tapped

25

Nogne O

Ghost Ship

Smoky Barrel-Aged Barleywine - Barrel Aged (Bourbon & Whiskey blend)

Grimstad, Norway

13%

50 IBU

Just Tapped

26

Stemma

Pluit Porter

Porter

Bellingham, WA

5.5%

30 IBU

Just Tapped

27

Ridgefield Craft

Stari Night

Milk Stout Caramel Espresso

Ridgefield, WA

6.8%

24 IBU

Just Tapped

28

Bombastic

Shiver

Imperial Coffee Stout Thomas Hammer

Hayden ID

10.5%

47 IBU

Just Tapped
---