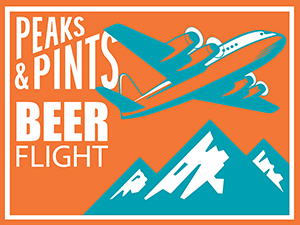 Learn it. Know it. Live it. (See, kids, that line is from the 1982 film classic Fast Times at Ridgemont High, a coming-of-age tale about … high school. We're not being graded on today's Peaks & Pints to-go beer flight.) Tacoma School District turns on the computers today. Typically, back-to-school is a glorious time of new beginnings and excitement, seeing friends again, wearing your week's worth of new clothing and getting to learn a whole year of new stuff. Obviously, it's different this year. It's going to be awful. For everyone. Drinking delicious craft beer won't solve scheduling issues, added costs, algebra, and cranky kids, but it could help you when things get dicey. Peaks & Pints presents a back-to-school to-go beer flight featuring all Old Schoolhouse Brewery beers straight outta Winthrop, Washington. Please enjoy Slow Times at The Ridgemont Highrise: Peaks and Pints' Home School Beers, and remember: No shirt, no shoes, no dice. (Again, not graded.)
Slow Times at The Ridgemont Highrise: Peaks and Pints' Home School Beers
Old Schoolhouse Betty Mopper
6.9% ABV, 35 IBU
Casey and Laura Ruud purchased the floundering Winthrop brewery in 2008, changed the name to Old Schoolhouse Brewery, cleaned it up, and quickly turned it into an award-winning gem of a brewpub. Life happens, and the Ruud's sold the brewery to three gentlemen who grew up in New Hampshire together, brothers Nathan and Jacob Young and Troy Anderson. All three enjoy the outdoors, which is almost mandatory since the riverside brewery and gastropub is in Winthrop, which sits east of Mazama and north of Twisp in Okanogan County. Brewed with Mosaic, Azacca Cryo, Loral Cryo and Idaho 7 hops, Betty Mopper is a light bodied hazy IPA with notes of mango, orange, and other tropical fruit. Drink this IPA when the second bag of goldfish crackers disappears because of "mandatory snack times."
Old Schoolhouse Stowaway Pale
5.8% ABV, 47 IBU
This Northwest-style pale is light and crisp with a pleasant, citrus lemon hop character from Citra, Simcoe, and Mosaic. "Mom, if Amanda has a new box of dishwasher soap that holds 30 percent more than the old box. The new box holds 2 kg. How much dishwashing soap did the old box hold?" You tell your son to just look on the label and crack open a Stowaway and go away.
Old Schoolhouse Crystal Visions
7% ABV, 55 IBU
Old Schoolhouse Head Brewer Kyle Koger brewed this IPA in honor of his running the Crystal rapid on the Colorado River. This hazy IPA features Citra cryo, Loral cryo, HBC630, Mosaic cryo, and Simcoe hops for notes of pineapple, tangerine, and mango. Drink this IPA if you hear your child burping the alphabet on Zoom.
Old Schoolhouse Melipona
8.5% ABV, 40 IBU
Lesson: The stingless Melipona bee is the famous vanilla pollinator cultivated by the Mayans more than 3000 years ago. Old Schoolhouse honors its namesake with copious amounts of Mexican vanilla pods, Ceylon cinnamon and Blue Star Coffee Roasters cold brew for a rich and creamy imperial stout with complex notes of chocolate, licorice, vanilla, and a finish that hints of spicy cinnamon. Drink this stout while arguing that Mel Gibson's barbaric Mayan civilization film Apocalypto isn't required for history class.
Old Schoolhouse Kief Box IPA
8.5% ABV, 70 IBU
A collaborative brew between Old Schoolhouse Brewery and Yakima Chief-Hop Union, this dank West Coast style IPA is brewed with massive amounts of Simcoe, Citra, and Mosaic cryo hops. The nose is floral; the taste is hoppy, spicy and bitter. Drink this freakin' delicious beer because you can do whatever you damned well please.
---