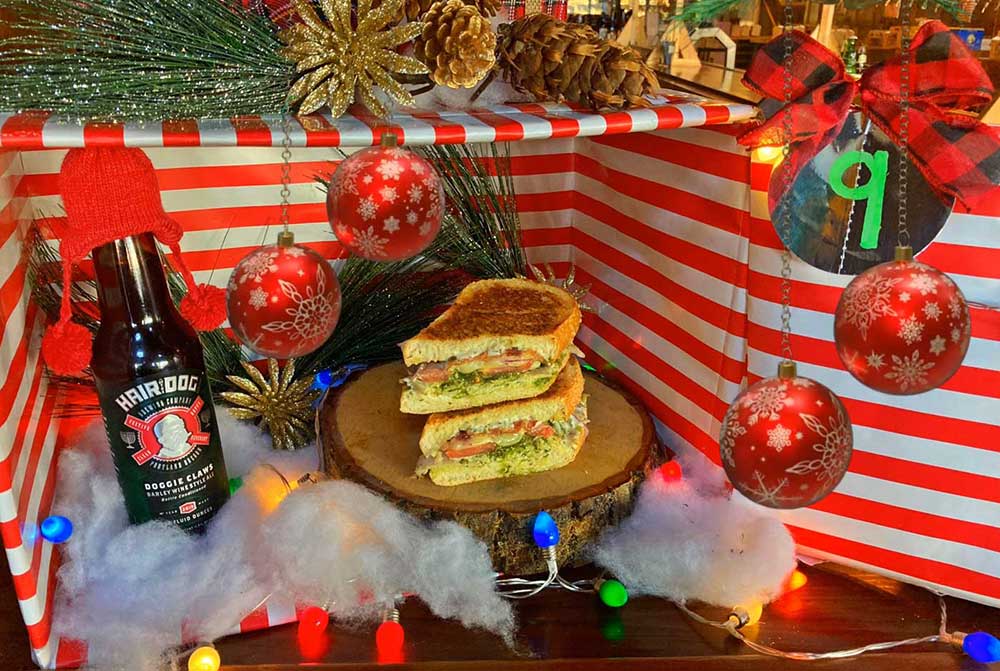 Peaks & Pints presents Adventwiches Beeralendar Day 9: Lemon Garlic Is Coming To Town
No matter where you live, some Christmastime traditions remain the same. Sure, you might have gone to the beach on the first weekend in December or substituted your Douglas fir with a sabal palmetto, but you have your holiday rituals. Peaks & Pints ritual is our Adventwiches Beeralendar — a daily advent calendar featuring a sandwich special and a winter beer behind a festival door. Today we open the Day Nine window revealing Lemon Garlic Is Coming To Town and Hair of the Dog Brewing Doggie Claus 2020 barleywine.
You better watch out,
You better not cry;
You better not pout,
I'm telling you why;
Lemon Garlic is coming to town.
Kitchen Kylee's Lemon Garlic Is Coming To Town sandwich special arrives with turkey, bacon, lemon garlic aioli, pesto, onion, Havarti, and tomato on sourdough. Leading the way is Hair of the Dog Brewing's Doggie Claus 2020, a West Coast-style barleywine with big malt and all the hops. Bow wow wow yippie ho yippie yay!
Order the sandwich special ahead at 253.328.5621, and we'll have it ready for you when you grab Doggie Claus, or any of our 800-plus other craft beers, cider and wine.
Holiday and Winter Beers in the Peaks & Pints Cooler
Anchor Christmas Ale
Aslan King Moonracer Winter Ale
Bosk Krampus Bock
Brasserie d'Achouffe N'Ice Chouffe
Deschutes 2020 Jubelale
Double Mountain Fa La La La La
Dupont Avec Les Bons Voeux
Fremont Bourbon Barrel Aged Dark Star: Spice Wars 2020
Hair of the Dog Doggie Claws Barleywine
Huyghe Delirium Noel
Maritime Pacific Jolly Roger Christmas Ale
Port Brewing Santa's Little Helper
Reuben's 3 Ryes Men
Reuben's Holiday Gose
Reuben's Reuben Claus Peppermint Porter
Rogue Yellow Snow
Saint Bernardus Christmas Ale
Shmaltz Hanukkah Beer
Silver City Old Scrooge Christmas Ale
StormBreaker Barrel-Aged Winter Coat
Wingman Noel Winter Belgian Ale
---