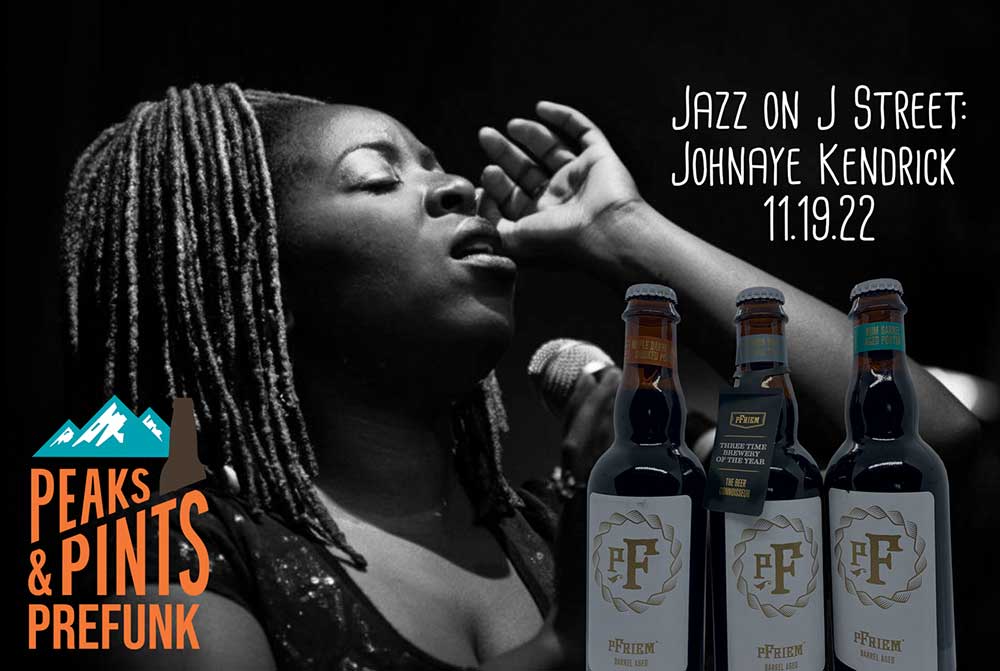 Peaks & Pints Prefunk: Streetwise 11.19.22
Jazz on J Street, pFriem on 26th Street

Stop by Peaks & Pints for a three-bottle flight of pFriem Family Brewers' barrel-aged beauties before or after the Jazz on J Street concert with Tacoman Johnaye Kendrick at Immanuel Presbyterian Church tonight. Kendrick — a Grammy-nominated vocalist, multi-instrumentalist, composer, arranger, and educator with multiple music degrees including an Artist Diploma from the prestigious Thelonious Monk Institute of Jazz and professor of Music at the Cornish College of the Arts in Seattle — founded johnygirl record label in efforts to release honest music representative of her world.
Peaks & Pints Prefunk
Grab these three pFriem big beers from the Peaks & Pints cooler to enjoy inside our craft beer and cider bar, bottle shop and restaurant in Tacoma's Proctor District, or take home to enjoy before and after Kendrick's Jazz on J Street show.
pFriem Bourbon Barrel Aged Imperial Stout: Aged a year absorbing tannins of bourbon barrels for huge roasted malt, chocolate mousse, coconut, and ripe cherry flavors, 11%
pFriem Maple Barrel Aged Smoked Porter: Expect flavors of pecan pie baking atop a wood burning stove, plus rich toffee and dark chocolate giving way to a warming, decadent finish, 9.1%
pFriem Rum Barrel Aged Porter: Aged a year in barrels kissed by the Caribbean, this imperial porter offers notes of chocolate truffles, ripe cherries, and vanilla beans, 9.5%
JAZZ ON J STREET: JOHNAYE KENDRICK, 7-9 p.m. Saturday, Nov. 19, Immanuel Presbyterian Church, 901 N. J St., Tacoma
PEAKS & PINTS, 11 a.m. to midnight, 3816 N. 26th St., Basecamp Proctor, Tacoma
Discover five more things to do in the greater Tacoma area this weekend in our 6-Pack of Things To Do.
LINK: Peaks & Pints cooler inventory
---