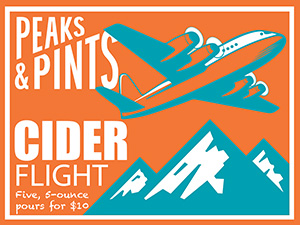 Cider vanished from the American landscape during Prohibition, when many cider orchards were burned to the ground by die-hard temperance advocates. Even after the repeal of the Volstead Act in 1933, cider never recovered. The nation, by the early 20th century, had turned to beer, and the apple crop reverted to eating apples — the kind used by hopeful kids to woo their teachers. Many heirloom cider apple varieties — the acidic, high-tannin bittersweets and bittersharps — simply vanished. Post-Prohibition, cider—when it was produced at all — was often made from eating apples such as the ubiquitous Red Delicious, which, most cider aficionados agree, makes lousy cider. Today, four percent of legal drinkers cite cider as their boozy beverage of choice, compared to 1 percent a decade ago. Cider controls .4 percent of the alcoholic beverage category — a small but mighty number when you consider that it started at .06 percent a decade-and-a-half ago. Eight hundred cideries operate in the United States, more than double the number three years ago. It's Monday, which means Peaks and Pints offers another flight of cider: Peaks and Pints Monday Cider Flight 6.18.18: Pacific Northwest.
2 Towns The BrightCider
6% ABV
In late 2010, Corvallis homebrewers Aaron Sarnoff-Wood and Lee Larsen filled a gap in the college town's drinking scene — cider. The duo opened 2 Towns Ciderhouse crafting unique ciders brewed with the traditional English and French-style's tannic apples, Oregon grown, of course. Discovered on Long Island in 1759, the Pippin Newtown is one of the oldest original US varieties of apples. Thomas Jefferson grew it and Benjamin Franklin took samples to the English royal court, causing it to become one of the first US apple exports to the UK. 2 Towns Ciderhouse takes advantage of the apple's sweet, rich flavor in its BrightCider, which shines a spotlight on Newtown Pippin with a little help from other Northwest Varieties. The BrightCider is fermented cold to slow the fermentation process, retaining the aromatics of this heirloom fruit. The result is balanced flavor — partly sweet and partly dry.
Elemental Platinum Peach
6% ABV
In December 2014, husband-and-wife team Brian and Christina Callahan, the Woodinville, Washington couple behind the Callahan Cellars winery, launched Elemental Hard Cider, focused on hard ciders made with Northwest apples, cold-fermented with minimal filtering and devoted to expressing the atmospheric components. "Platinum" Peach, a semi-sweet "infused" cider infused with peach, hits the tongue with slight bites of peach underlying a crisp apple cider.
Finnriver Solstice Saffron
6.5% ABV
When one of Washington's earliest cidermakers, Drew Zimmerman, retired, Finnriver Farm & Cidery owners Keith and Crystie Kisler transplanted 1,000 of his trees from Mount Vernon to Chimacum, a heartwarming, if labor-intensive transition from old guard to new. Finnriver Sostice Saffron is created with locally produced saffron, anise and fennel seeds for aroma of dry apples with subdued saffron. Flavor is medium sweet with green apples, with only subdued saffron notes. It's an unusual adjunct for a cider, but it works really well.
Alter Ego The Guardian Angel
6.5% ABV
Friends and winemakers Anne Hubatch, Nate Wall and Kris Wall decided to partner to craft artisanal ciders utilizing winemaking techniques at an urban ciderhouse, and Alter Ego Cider was born. Anne has been at the forefront of urban winemaking with Helioterra Wines, Whoa Nelly Wines and Guild Winemakers. Nate also has several years of winemaking experience, but additionally has been making cider for the past three years for one of the Northwest's largest cider producers. Anne and Nate bring a winemakers focus on nuance, delicacy, and depth to their Portland-based small batch production cider. Their blueberry and pomegranate cider. The Guardian Angel, celebrates Northwest summer berries. It offers deep garnet purple color, brambly berry notes and fresh fruit characteristics of both the apple and blueberry, with hints of pomegranate added for a zippy kick. This cider is semi sweet, and perfectly balanced and refreshing.
Reverend Nat's Sacrilege Sour Cherry
6.5% ABV
The generally agreed-upon cidermaking process says to add white wine yeast to apple juice, wait a couple months, then enjoy. Reverend Nat's Hard Cider broke the rules with this cider. Starting with a tart blend of heritage dessert apples, they pressed out their juice, then add a couple hundred pounds of tart pie cherries. Then, they added lactobacillus. When the dust settled, they added more flavor with some tart cherry juice to make it a bit off-dry with flavors of cherry skin, pear, apple, oak and nice tartness.
---