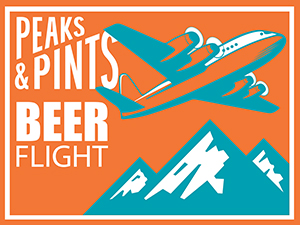 Every December — while the bartenders close down our Proctor District craft beer bar, bottle shop and restaurant for the night — Peaks & Pints co-owner Pappi Swarner grabs three holiday beers, heads upstairs to his office, cranks his computer speaks to an 11 and watches holiday Youtube videos. Obviously, he can't perform his holiday tradition this year … at Peaks & Pints. No, his holiday glee now takes place inside his home, much to the chagrin of his wife and daughter. In the spirit of giving, we offer you the chance to share his joy. Today, he pairs the three English beers below with A Christmas Carol: The Musical. There are hundreds upon hundreds of remakes of the Dickens classic over the years, but Pappi has his eyes on the 2004 NBC musical version starring Frasier as Scrooge, George Costanza are Marley, and Jennifer Love Hewitt as Scrooge's lost love, Emily. It's horrible cheesy, shiny and polished, not really befitting 19th century London, which is why Peaks and Pints To-Go Christmas Beer Flight: Silly Christmas Carol offers English beers. We need to keep it real. Cheers!
Peaks and Pints To-Go Christmas Beer Flight: Silly Christmas Carol
Samuel Smith Winter Welcome Ale
6% ABV, 32 IBU
The Old Brewery at Tadcaster was founded in 1758 and is Yorkshire's oldest brewery. Samuel Smith Brewery is one of the few remaining independent breweries in England, and further is the last to utilize the classic Yorkshire Square system of fermentation solely in stone squares. The rich Samuel Smith strain of yeast at The Old Brewery dates from the early 1900s. Hops are hand-weighed by the master hop blender, and the brewing water is drawn from the original well, sunk over 250 years ago. Samuel Smith's Winter Welcome Ale is a limited edition sporting big, malty caramel drop with sweet toffee with just a touch of banana and cloves balanced against whole-dried Fuggle and Golding hops leading to a dry, bitter finish.
Fuller's ESB
5.5% ABV, 35 IBU
ESB was launched into the Fuller's Brewery's family in 1971, as a winter brew to replace a beer named Old Burton Extra. Twice named World Champion Beer, Fuller's ESB is one of the most decorated ales of its time. It starts with a strong aroma that is both malty and hoppy, accompanied by some fruity, apple aromas. It's is a strong, full-bodied, mahogany-colored ale with a mellow bitterness, a slight hint of earthiness, and soft floral notes as well.
Samuel Smith Yorkshire Stingo
8% ABV, 35 IBU
Some of the oak casks at Samuel Smith's date back more than a century with the individual oak staves being replaced by the Old Brewery coopers over the years. Gradually the casks soak in more and more of the character of Yorkshire Stingo strong ale fermented in stone Yorkshire squares. Yorkshire Stingo is aged for at least a year, matured in these well-used oak casks in the brewery's underground cellars deriving fruit, raisin, treacle toffee, Christmas pudding and slight oaky flavors, before being further naturally conditioned in bottle.
---