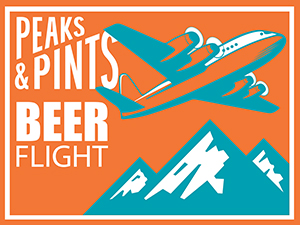 Every December — while the bartenders close down our Proctor District craft beer bar, bottle shop and restaurant for the night — Peaks & Pints co-owner Pappi Swarner grabs three holiday beers, heads upstairs to his office, cranks his computer speaks to an 11 and watches holiday Youtube videos. Obviously, he can't perform his holiday tradition this year … at Peaks & Pints. No, his holiday glee now takes place inside his home, much to the chagrin of his wife and daughter. In the spirit of giving, we offer you the chance to share his joy. Today, he pairs the three Christmas season beers below with Geffen's 1996 compilation, Just Say Noel. Holiday tunes by Gene Autry and the über-wholesome, sweater-clad Johnny Mathis aren't working for Pappi this year. The original songs from that 1996 compilation does: The Roots told how "Millie Pulled a Pistol on Santa," Sonic Youth asserted that "Santa Doesn't Cop Out on Dope," Beck sang of "The Little Drum Machine Boy," Southern Culture on the Skids' renewal of Chuck Berry's "Merry Christmas, Baby," counts for sheer spirit, and The Posies not-so-sentimental "Christmas" song noted, "It's colder in this house than anywhere in Boston, that's OK … Christmas means little to me. …" It's true. Check out The Posies' amazing rendition at the Kirkland Performance Center on Dec. 20, 2019 below as you enjoy today's holiday beer flight, Peaks and Pints To-Go Christmas Beer Flight: Just Say Noel.
Peaks and Pints To-Go Christmas Beer Flight: Just Say Noel
Rainy Daze Frosty Chairlift
6.9% ABV, 60 IBU
Flick, acting on a triple-dog dare, stuck his tongue on a frosted school flagpole. Years later, Harry Dunne's tongue met the same fate when he went for a refreshing ski-chairlift pole. No, doubt there are thousands of other cases when frost foiled fun, but Peaks & Pints be damned if we didn't warn you to put that frosted pint glass back in the freezer. Pouring Rainy Daze Brewing's Frosty Chairlift winter warmer into said glass would definitely foil fun, watering down the hoppy, piney, brown sugar and cedar notes.
Kulshan Barrel-Aged Kitten Mittens
11% ABV, 32 IBU
Kulshan Brewing just release their barrel-aged version of their popular Kitten Mittens winter ale. The original Kitten cuddles with a nice mix of easy malty notes and medium sweet chocolate balanced by earthy hop notes finishing with a touch of chocolate liquor. After time in Stein Distillery barrels it's the cat's meow with a rich, medium body that rubs against the tongue with chocolate, dates and figs. Balanced bitterness and playful hop aroma fit like a mitten.
The Lost Abbey Gnoel De Abbey
8.5% ABV
The Lost Abbey Gnoel de Abbey is a winter warmer brewed to be lighter in body while maintaining nuanced notes of oak. Beginning with aromas of freshly brewed espresso, Gnoel has hints of cocoa, vanilla and holiday spice, finishing with a crisp coffee bitterness.
---