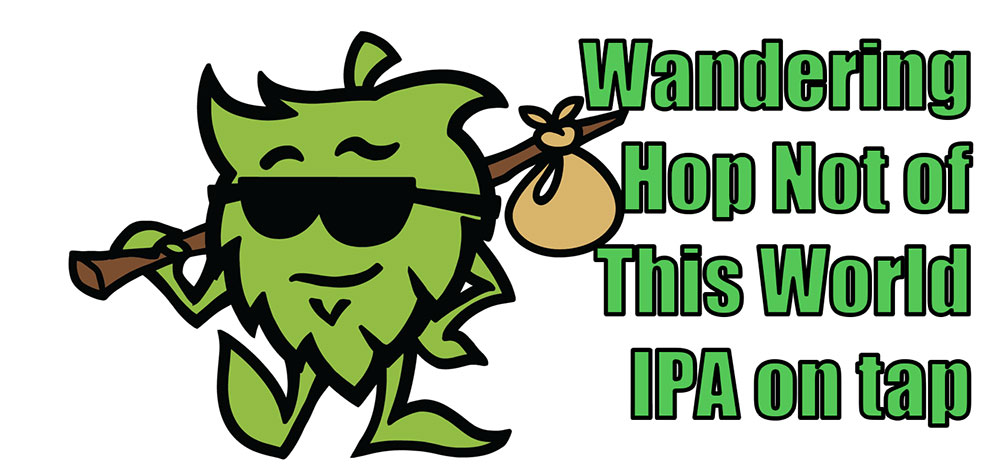 Peaks and Pints Tap List: Thursday, July 25 2019
Peaks and Pints houses a mind-boggling array of suds: some 650 or so bottled and canned in our cooler, with another 28 on tap, including nitro lines. While craft beer remains our foundation, you don't have to be embarrassed for ordering artisan craft cider, wine, cold brewed coffee and kombucha as those delights are on tap too at Peaks and Pints. To follow our tap list live from your phone, click here for iPhone and here for Android.
Today, Peaks and Pints has tapped Yakima brewery Wandering Hop Brewery's New-England style IPA, Not of This World (6.6%), which upholds Galaxy hop's notoriety as a real juice-bomb. Its inviting disposition is reminiscent of real fruit juice, eminent from late additions to the boil and generous dry-hopping.
1

Argyle

Pinot Noir, Willamette Valley

13.5%

Just Tapped

2

Proletariat

Sangiovese

USA

Walla Walla, WA

12%

Just Tapped

3

Proletariat

Sauvignon Blanc

USA

Walla Walla, WA

13%

Just Tapped

4

Culture Shock

Last Unicorn

Blueberry Ginger Kombucha

Seattle, WA

%

Just Tapped

5

Bluebeard Coffee Roasters

Nitro Cold Brew Coffee

Cold Brew Coffee

Tacoma, WA

Just Tapped

6

Rainier

Mountain Fresh Rainier Beer

Lager

Seattle, WA

4.73%

IBU

Just Tapped

7

Finnriver

Cranberry Rosehip

Cider

Chimacum, WA

6.5%

Just Tapped

8

Grit City Ciderworks

Mango Citra Hopped

Hopped Cider

Tacoma, Wash.

6.5%

Just Tapped

9

Little Beast

Ms. Marvelous

Sour Fruit Mango

Portland, OR

5.5%

IBU

Just Tapped

10

Sig

Imagine Dragon Fruit

Fruit Beer Dragon Fruit, Hibiscus

Tacoma, WA

6.2%

IBU

Just Tapped

11

Dwinell Country Ales

Guesswork

Saison Barrel-fermented peaches

Goldendale, WA

5%

IBU

Just Tapped

12

Chuckanut

Pilsner

Bohemian-Style Pilsner

Bellingham, WA

5%

36 IBU

Just Tapped

13

Wayfinder

Hell

Helles Lager

Portland, OR

4.7%

IBU

Just Tapped

14

Weihenstephan

Hefe Weissbier

Weissbier

Freising, Germany

5.4%

14 IBU

Just Tapped

15

Block 15

Joy

Pale Ale

Corvallis, OR

5.6%

IBU

Just Tapped

16

Everybody's

Pop-Up Park IPA

IPA

White Salmon, WA

6.9%

75 IBU

Just Tapped

17

Fort George

Magnetic Fields

Hazy IPA

Astoria, OR

7.2%

IBU

Just Tapped

18

Reuben's Brews

Bits & Bobs

IPA

Seattle, WA

7%

50 IBU

Just Tapped

19

Wayfinder

Chronokinetic

IPA

Portland, OR

6.2%

IBU

Just Tapped

20

Reuben's Brews

Grunge Crush

Hazy IPA

Seattle, WA

6%

47 IBU

Just Tapped

21

Western Red

Main Line

Red Ale

Poulsbo, WA

5.24%

IBU

Just Tapped

22

Deschutes

Jubelale (Nitro)

Winter Ale

Bend, OR

6.7%

65 IBU

Just Tapped

23

Structures

Forest King

English Brown

Bellingham, WA

5.2%

IBU

Just Tapped

24

E9

Holy Diver

Belgian Strong Dark Ale - Barrel Aged (Syrah)

Tacoma, Washington

9.9%

IBU

Just Tapped

25

Black Raven

Splinters

Bourbon Barrel Aged Strong Scotch Ale

Redmond, WA

10.8%

24 IBU

Just Tapped

26

Georgetown

18 Pound Hammer

Imperial Porter - Barrel Aged (Bourbon)

Seattle, WA

10%

28 IBU

Just Tapped

27

Double Mountain

Chocolate Stout

Stout

Hood River, OR

6.8%

IBU

Just Tapped

28

Founders

KBS Espresso

Bourbon-Aged Imperial Stout w/ Espresso & Chocolate

Grand Rapids, MI

12%

70 IBU

Just Tapped
---