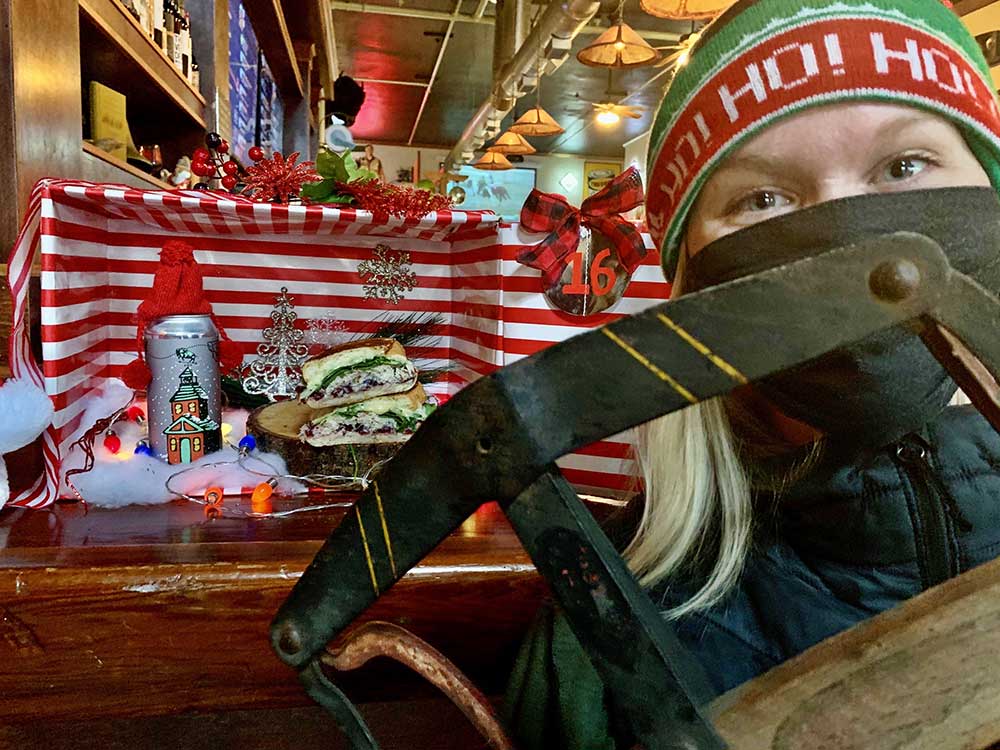 Peaks and Pints presents Adventwiches Beeralendar Day 16: Cranberry Christmas
Foodies know Christmas is the best time of year — there are so many mouth-watering treats to be had. Well, the bon vivants out there will be pleased to know you don't have to wait till the big day to indulge, thanks to the amazing range of decadent holiday sandwich specials and beers at Peaks & Pints. Our Adventwiches Beeralendar — a daily advent calendar featuring a holiday sandwich special and a winter beer behind a candy cane striped door. Bundled-up Bartender Bethany opened the Day 16 door to discover Cranberry Christmas sandwich special paired with Old Schoolhouse Snow Cause for Alarm.
Kitchen Kylee's Cranberry Christmas special arrives with turkey smothered in cranberry sauce, rosemary mayo, Havarti, and arugula on sourdough. It's paired with Old Schoolhouse Brewery's Snow Cause for Alarm (9.5%), a vanilla coffee stout brewed with Missoula's Imagine Nation Brewing. Brewed with lactose, coconut, vanilla, and Blue Star Cold Brew Coffee, this imperial stout will keep you warm.
Order the sandwich special ahead at 253.328.5621, and we'll have it ready for you when you grab the Snow Cause for Alarm, or any of our 800-plus other craft beers, cider and wine.
Holiday and Winter Beers in the Peaks & Pints Cooler
Anchor Christmas Ale
Aslan King Moonracer Winter Ale
Brasserie d'Achouffe N'Ice Chouffe
Brasserie Dieu du Ciel! Solstice d'Hiver
Buoy Strong Gale Winter Ale
Cordendonk Christmas Ale
Dupont Avec Les Bons Voeux
E9 Fuzzy Claus Christmas Blend
Fremont Bourbon Barrel Aged Dark Star: Spice Wars 2020
Hair of the Dog Doggie Claws Barleywine
Herb's Hopped-Cranberry
Huyghe Delirium Noel
Kulshan Kitten Mittens
Maritime Pacific Jolly Roger Christmas Ale
Old Schoolhouse No Cause for Alarm
Port Brewing Santa's Little Helper
Reuben's 3 Ryes Men
Reuben's Holiday Gose
Rogue Yellow Snow
Saint Bernardus Christmas Ale
Shmaltz Hanukkah Beer
Silver City Old Scrooge Christmas Ale
Stone Enjoy By 01.01.21 IIPA
LINK: Peaks & Pints Adventwiches Beeralendar archives
---