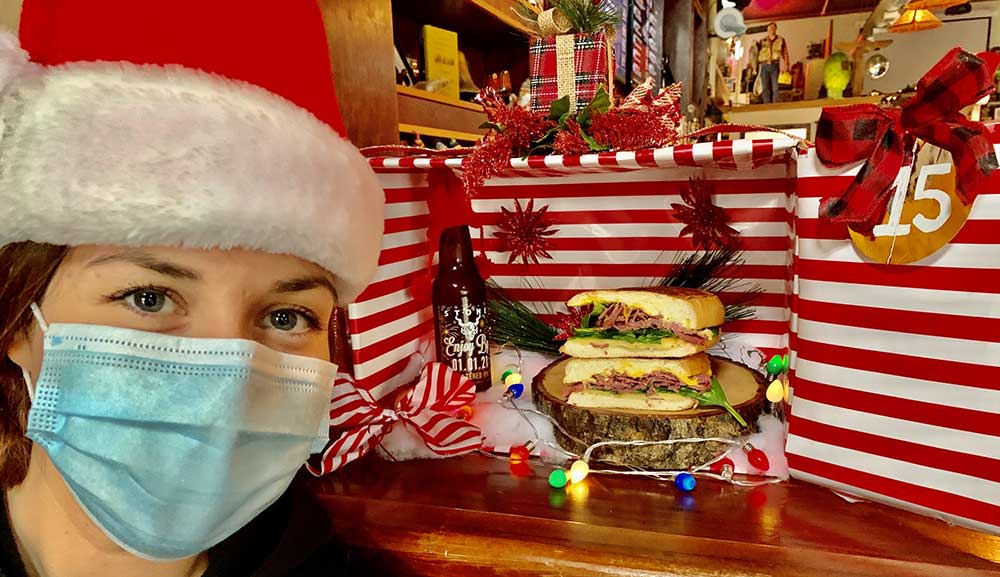 Peaks and Pints presents Adventwiches Beeralendar Day 15: Have Yourself A Pastrami Gouda Christmas
For generations, households of all shapes and sizes have celebrated Advent around dinner tables, lighting candles to help count down the weeks until Christmas morning.  With this tradition in mind, we are delighted to offer Peaks & Pints Adventwiches Beeralendar — a daily advent calendar featuring a holiday sandwich special and a winter beer behind a candy cane striped door. Adventwiches Beeralendar calendar tells no lies — Christmas is 10 days away as bartender Sarah Jane confirms by opening the Day 15 door to reveal Have Yourself A Pastrami Gouda Christmas paired with Stone Brewing Enjoy By 01.01.21 IIPA.
Kitchen Kylee's Have Yourself A Pastrami Gouda Christmas is pastrami, Gouda, yellow mustard, herb mayo, onions, and spinach on French bread. We're pairing this tasty holiday sandwich with Stone's holiday beer, Enjoy By 01.01.21 IIPA (9.4%). Stone skips the filtering process for hazy appearance and intensified sweet orange and pineapple hop aroma ala Campari. It's bitter and hoppy with ripe pineapple-like flavor. Bitter finish.
Order the sandwich special ahead at 253.328.5621, and we'll have it ready for you when you grab the Enjoy By IPA, or any of our 800-plus other craft beers, cider and wine.
Holiday and Winter Beers in the Peaks & Pints Cooler
Anchor Christmas Ale
Aslan King Moonracer Winter Ale
Brasserie d'Achouffe N'Ice Chouffe
Brasserie Dieu du Ciel! Solstice d'Hiver
Buoy Strong Gale Winter Ale
Cordendonk Christmas Ale
Dupont Avec Les Bons Voeux
Fremont Bourbon Barrel Aged Dark Star: Spice Wars 2020
Hair of the Dog Doggie Claws Barleywine
Huyghe Delirium Noel
Maritime Pacific Jolly Roger Christmas Ale
Port Brewing Santa's Little Helper
Reuben's 3 Ryes Men
Reuben's Holiday Gose
Rogue Yellow Snow
Saint Bernardus Christmas Ale
Shmaltz Hanukkah Beer
Silver City Old Scrooge Christmas Ale
Stone Enjoy By 01.01.21 IIPA
StormBreaker Barrel-Aged Winter Coat
LINK: Peaks & Pints cooler inventory
---