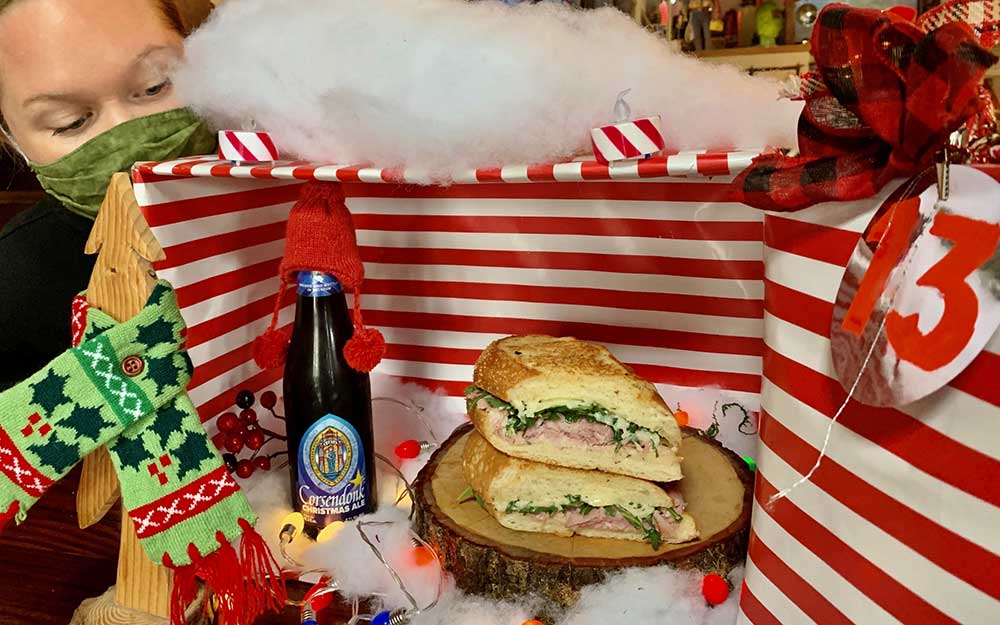 Peaks and Pints presents Adventwiches Beeralendar Day 13: O Holy Ham
It used to be that Advent calendars were mainly filled with family-friendly holiday goodies. The seasonal items were normally stocked with everything from chocolates to toys. But in the year of the pandemic, a new category is growing in popularity that may provide some holiday cheer for adults: Peaks & Pints Adventwiches Beeralendar — a daily advent calendar featuring a sandwich special and a winter beer behind a festival door. Today, you open the Day 13 door and discover O Holy Ham and Corsdendonk Christmas Ale.
Peaks and Pints presents Adventwiches Beeralendar Day 12: O Holy Ham and Cordendonk Christmas Ale
Kitchen Kylee's O Holy Ham is ham, honey mustard, rosemary mayo, Havarti, and arugula on sourdough. Rich malt, dark chocolate, and stone fruit flavors are complemented by coriander and perfectly balanced by fruity hops in Corsendonk Christmas Ale. It smells of dry cocoa and star anise, while the taste reveals coriander, bittersweet chocolate, plums, and dark roasted malts balanced by mandarin orange and a slight tartness in the finish.
Order the sandwich special ahead at 253.328.5621, and we'll have it ready for you when you grab the Christmas Ale, or any of our 800-plus other craft beers, cider and wine.
Holiday and Winter Beers in the Peaks & Pints Cooler
Anchor Christmas Ale
Aslan King Moonracer Winter Ale
Brasserie d'Achouffe N'Ice Chouffe
Buoy Strong Gale Winter Ale
Cordendonk Christmas Ale
Deschutes 2020 Jubelale
Double Mountain Fa La La La La
Dupont Avec Les Bons Voeux
Fremont Bourbon Barrel Aged Dark Star: Spice Wars 2020
Hair of the Dog Doggie Claws Barleywine
Huyghe Delirium Noel
Maritime Pacific Jolly Roger Christmas Ale
Port Brewing Santa's Little Helper
Reuben's 3 Ryes Men
Reuben's Holiday Gose
Reuben's Reuben Claus Peppermint Porter
Rogue Yellow Snow
Saint Bernardus Christmas Ale
Shmaltz Hanukkah Beer
Silver City Old Scrooge Christmas Ale
StormBreaker Barrel-Aged Winter Coat
---