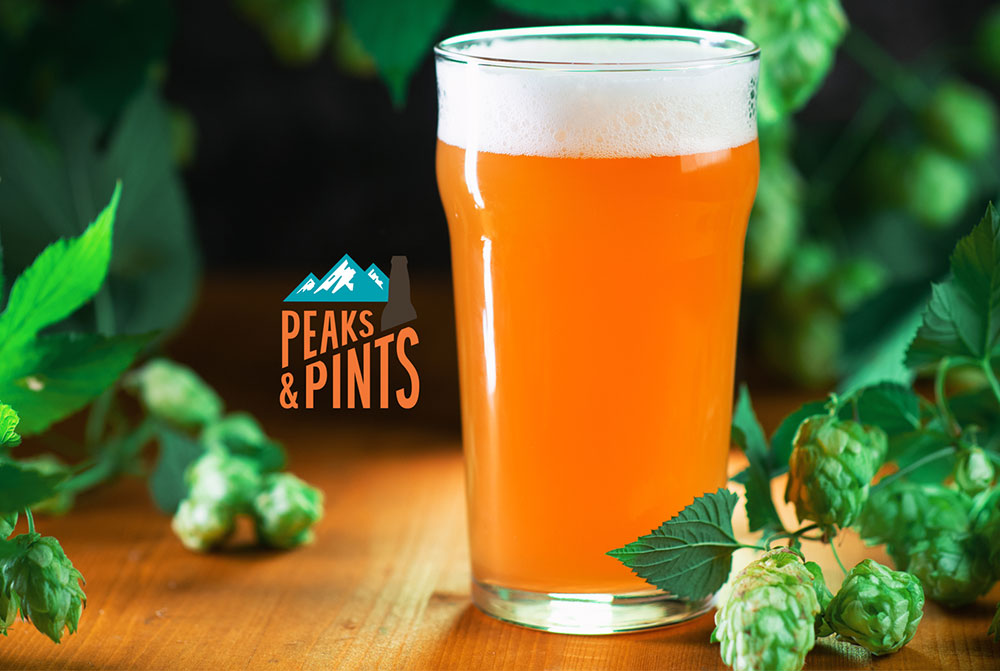 Peaks and Pints Pop-Up: IPA Day 2022
There is something you should know about beer: There is a holiday for virtually everything about beer that is celebrated somewhere, somehow, including today's IPA Day, which gives glory to hops, bittering units and IPAs. Founded in 2011, IPA Day is a global celebration of craft beer. It is a universal movement that was created to unite the voices of craft beer enthusiasts, bloggers, and brewers worldwide. IPA Day was originally developed as a social media-based holiday, but has since expanded into a worldwide party — OK, maybe not so much this year — but Peaks & Pints celebrates with 10 IPAs on tap for pints and Campfire Crowler fills for an event we like to call Peaks and Pints Pop-Up: IPA Day 2022.
India Pale Ale (IPA) is a style of beer that has soared in popularity over the last few years. Loaded with hops, IPAs have a distinct bitterness, with flavors derived from hops that can range from citrus to grass, to pine as well as many other flavors. The female flowering cones of hops plants (humulus lupulus) are used and do two things to beer: preserve the beer by warding off spoiling bacteria and stabilize the beer by filtering, adding head retention, and flavoring — which adds bitterness. Originally brewed in England as a beer that could withstand the long journey to India (hops act as a preservative in the beer), IPAs are now one of the most popular styles. Have a hoppy Day!
Drekker Sometime Around Midnight
8% ABV
Drekker Brewing's Sometime Around Midnight double IPA is brewed with oats and spelt for a light, fluffy body and hopped it with NZH107 and Vic Secret. Next, they fermented it hot with Nordic Kviek yeast to really crank up the citrusy flavor and aroma, followed by notes of citrus and tropical fruit such as guava, passionfruit, grapefruit, and lime.
Block 15 Dab Lab Hop Hash
7% ABV
Block 15 Brewing incorporates CO2 hop extract technology in its The DAB Lab series of beers — "DAB" is an acronym for dank-ass beer. The series showcases CO2 extracts and even newer concentrates like cryogenically harvested lupulin powder, a yellowish substance obtained from oil- and acid-rich glands on the hop flower. Their latest DAB, Hop Hash, is brewed with Mosaic CO2 extract, plus Simcoe and Citra lupulin powder — a cryogenic concentration of resin and oils from whole hop flowers. Together, this pungent hop addition produces a wildly aromatic burst of resinous, piney, and citrusy hop character, complementing subtle grist notes of bread crust and oats. Hop Hash finishes moderately dry, with a balanced bitter linger.
E9 Swords And Sorcery
7.3% AB
E9 Brewing's Swords And Sorcery showcases New Zealand grown hops, combining three of the best — Waimea, Motueka, and Rakau hops. Motueka is commonly referred to as the "Mojito" hop for its lime aromatics, while Rakau can tend to be all over the "orchard" in characteristics. Rakau exhibits apricot, to pear, to mango and plum aromatics, from these late edition hops.
Lagunitas Friends In Grow Places
6.5% ABV
Lagunitas Brewing's Seattle brewery in Ballard teamed up with Yakima Chief Hops to brew this special IPA on IPA Day. Friends in Grow Places IPA is a classic West Coast IPA with restrained bitterness, subtle specialty malt complexity that creates a base for the sweet, bold tropical fruit of the HBC-586 alongside Citra's bright citrus pith, melon, and crushed pine needle and a slight verdant earthiness from the Idaho 7.
Aslan Offshore IPA
6.5% ABV
A collaboration with Georgetown Brewing, this Aslan Brewing West Coast IPA admits strong piney aromas followed by lime and pineapple, giving a blend of Northwest and tropical. The slightest hint of brown bread mingles with flavors of pithy orange and cantaloupe. This clean IPA finishes with an assertive bitterness drying the palate just enough.
Fort George Mirrored Realities: Bract 102
6.7% ABV
"Mirrored Realities: Bract 102 is the touching tale of a wayward young brewer who could solve any hop equation, combine any number of ingredients, calculate the final gravity of a test batch with uncanny precision," states Fort George Brewery Mirrored Realities: Bract 102 hype. "The one thing he couldn't predict? How the beer would taste. Brewing beer is a science. But when you're working with new ingredients, it's also an art, and you must test your colors before you put them on the canvas. Which is why we made Mirrored Realities, this time, a single-hop exploration of an experimental new hop from NZ. So new it doesn't even have a name, just a number: 102."
Great Notion Ripe
7% ABV, 55 IBU
In 2016, Great Notion Brewing opened in Northeast Portland and opened the city's eyes. Owners James Dugan, Andy Miller, and Paul Reiter basically freaked out the city known as Beervana with their New England-style IPAs and boundary-pushing culinary-style beers. The awards followed: World Beer Cup, GABF, Best of Craft Beer Awards, and Oregon Beer Awards, as well as the 2018 #1 IPA in America from Paste Magazine, Ripe IPA, a 100-percent Citra hopped hazy IPA that brings flavors of fresh squeezed OJ, dank papaya, and tropical mango, slowly fading into pithy bitterness.
Great Notion Juice Invader
7% ABV
This Southern Hemisphere IPA is brewed with a massive amount of Galaxy and Vic Secret hops from Australia. On the nose, Juice Invader hits with passionfruit, citrus, peach, pineapple, and tangerine. The taste has fruity, woody Chardonnay notes with copious green tropical and bitterness.
Lumberbeard Flavor Nuggets #8
6.8% ABV
Flavor Nuggets is Lumberbeard Breewing's rotating hazy, fruity, and crushable IPA series. Version 8 is brewed with Azacca, Sabro and Idaho 7 hops for juicy pineapple, mango, and lime zest. ​​​​​​​​
Skookum Pulsewidth
8% ABV
Brewed with a base of 2-row and Pilsner malt with a little rolled oats Skookum Brewery strained the wort on the way to the kettle with whole leaf Amarillo hops and then hopped it with Mosaic and Strata in the whirlpool. Next, they dry hopped it with tons of Mosaic, Strata, Enigma, and Chinook. The result is notes of grapefruit juice, tropical fruits, cannabis, and passionfruit.
LINK: Peaks & Pints cooler inventory
---
Category:
Beer Line Blog
,
Craft Beer
,
Critical Drinking
,
Events and Festivals
,
New Releases
,
News and Updates
,
On Tap Today
,
Peaks and Pints Pilot Program
,
Proctor District
,
South Sound
,
Specials
,
Tacoma events
,
Taps Takeovers