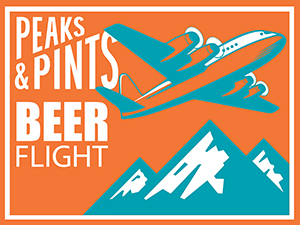 Today marks the last day of Peaks & Pints' annual Fresh Hoptoberfest — a monthlong celebration of Oktoberfest and fresh hop beers on tap, although both styles will still be found on Peaks' Western red cedar tap log for several more weeks. Since we received another shipment of fresh hop beers, we suggest you take home another round of freshies in our to-go flight, Peaks and Pints Pilot Program: Wet Hops On The Fly.
What are wet-hop beers? Simply put, they're brews made with hops that are pulled off the bine and go straight into the kettle. Most of the hops used by U.S. breweries are cultivated in Oregon and Washington. For the most part, these hops are dried and processed before being sold to professional and amateur brewers, which affects the flavor punch. With wet hops — or fresh hops as they're moist widely known — drinkers can expect more hoppiness, more aroma and more flavor — kind of like cooking with fresh herbs and spices instead of something that's been on the shelf for a while. Wet-hopped beers are best consumed ASAP; let's drink six today.
Peaks and Pints Pilot Program: Wet Hops On The Fly
Lumberbeard Fresh Dreams
5.5% ABV
Brewed with more than 300 pounds of freshly harvested Sabro hops, Lumberbeard Brewing's Fresh Dreams pale ale is full of tropical fruit flavors and finishes with a slight bitterness.
Wander Fresh Cassette IPA
6% ABV
A former "Best In Show" at the Fresh Hop Ale Fest in Yakima, Wander Brewing's Fresh Cassette IPA offers fresh wet Citra cones from Cornerstone Ranches. This is the year's most sought-after mixtape with 350 pounds of freshly picked wet hops popping off dense layers of candied tangerine, sweet grapefruit, and straight Tang powder. Loads of unmalted wheat provide a soft, round mouthfeel to this hazy IPA.
Heathen Fresh Hop of Couve-Air
6.4% ABV
Heathen Brewing made another batch of their semi-hazy Fresh Hop of Couve-Air IPA with fresh Citra hops from B&D Farms in Oregon's Willamette Valley. Fresh Citra hops impart delicate flavors of lemon, lime, and grapefruit along with earthy, spicy notes.
Wander Laserdisc Craze
6.5% ABV
Brewed with Varietal Beer in Sunnyside, Washington, this modern west Coast IPA is made with 400 pounds of fresh Simcoe hops from Carpenter Ranches in the Yakima Valley. Expect sweet strawberry notes up-front followed up by sticky pine and citrus.
Ruse Wolves In The Rain
7.3% ABV
Ruse Brewing brewed this West Coast style IPA with Mosaic, Nelson, and fresh Simcoe hops. In fact, Coleman Agriculture out of Gervais, Oregon, provides 300 pounds of fresh Simcoe for this fresh hop IPA. It's a crushable beer with a delicious, citrus hop finish.
Ruse Interpreter Fresh Hop
8% ABV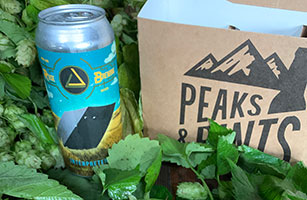 The public voted Ruse Brewing's Interpreter hazy double IPA into this year's Peaks & Pints Tournament of Beer: NW Double IPA because it was the Portland brewery's first hazy IPA and people adore its unassertive, but moderate z
hop bitterness and tropical, orange and pine notes. Ruse just made a fresh hop version of Interpreter with 300 pounds of fresh Citra hops from B&D Farms added to normal double dry hopped Citra and Mosaic recipe. Expect notes of juicy pineapple, mango, and dankness.
LINK: Peaks & Pints cooler inventory
---