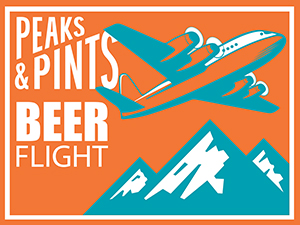 Much like Tacoma, people pushed out by stratospheric home prices in Seattle neighborhoods have snapped up houses in White Center, pushing up rents and making new mortgages harder to afford. Twenty years ago, people might not have considered the unincorporated King County neighborhood on the southwest edge of Seattle. But some 18,000 people who call White Center home did — either living through the neighborhood's "Rat City" days, or recently moved there after the rough edges of White Center's commercial core have been recently smoothed out by new businesses in the area's historic business district. Today, the area's hard drinking reputation is also being softened by craft beer — specifically Future Primitive Brewing and just north of White Center, Best of Hands Barrelhouse. For our to-go flight today, Peaks & Pints suggest you drop by and grab beers from each of the breweries — a flight we call Peaks and Pints Pilot Program: West of Seattle On The Fly.
Peaks and Pints Pilot Program: West of Seattle On The Fly
Future Primitive Machine Stout
4.8% ABV
Future Primitive opened in December 2018 in the former home of Big Al Brewing in White Center. The ownership group includes Mike Baker of Artisanal Imports, Dean Hudgins and Ian Roberts of The Pine Box, former Elysian brewer Kevin Watson and Larry Soloman. Machine Stout, brewed in collaboration with Machine House Brewing, is a dry stout made with Machine House's yeast and English malts for an easy-drinking, chocolaty beer.
Best of Hands 2021: A Spruce Odyssey
6.5% ABV, 30 IBU
Technically opening north of White Center in the Delridge district of West Seattle, level II Certified Cicerones Gregory Marlor and Nicholas Marianetti, along with their partner Chris Richardson, opened Best of Hands Barrelhouse in March 8, 2019 in the iconic "cow building" of West Seattle. The brewery's focus is on farmhouse and sour ales inspired by those of Belgium and France but with an emphasis on Washington state ingredients, mixed-culture fermentation, and some spontaneous fermentation. They also brew delicious other styles, such as 2021: A Spruce Odyssey. This IPA is brewed with Sitka spruce tips, Citra, and Azacca hops showcasing floral and lime-like flavors melding with those of mango, peach, subtle herbal-spiciness, and cherry skins from the hops.
Best of Hands Buckets of Metrics
9% ABV, 43 IBU
HBC 586 is an experimental hop variety from the Hop Breeding Company, which is a joint venture between John I. Haas and Yakima Chief Ranches. It is the result of a hybrid pollination of the mother YCR 21 and male #01239-2. The aroma of HBC 586 has been described as "a large medley of fruit flavors … Mango, guava, lychee, citrus, with slight sulfur and herbal notes." Best of Hands got their hands on HBC 586 and brewed a hazy double IPA adding Citra hops too for flavors of mango salsa, guava, herbal-woodiness, citrus pith, and pine tar with a long resinous finish.
Future Primitive EDM Cowboy
6.9% ABV
Before the 2020 pandemic, electronic dance music, or EDM, was already gaining huge popularity around the world. Unfortunately, clubs closed and the growth of EDM slowed dramatically. While most people were locked up in their homes, DJs and music producers went to work making more mellow EDM music to drink with craft beer in the backyard — beer such as Future Primitive EDM Cowboy, a hazy-ish IPA with overflowing citrus, plus notes of melon, peach and passion fruit. There is a solid dank bitterness that rounds out the citrus nose and gives the beer a superb clean hoppy finish.
LINK: Peaks & Pints cooler inventory
---