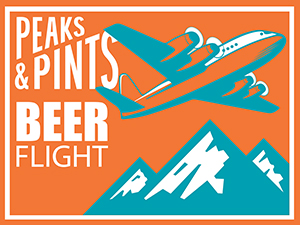 Did you hear it? This morning, as Peaks & Pints tapped six triple IPAs and one hoppy double IPA, a dog whistle like screech called hopheads from far and wide to our craft beer lodge in Tacoma's Proctor District. Once again, we joined the Washington Hop Mob Roadshow across Western Washington showcasing the holy grail for American beer drinkers. Crafted specifically for Kendall Jones and his Washington Beer Blog's Washington Hop Mob event last night at Reuben's Brews, and the subsequent roadshow, which Peaks kicks off, Washington state brewers brewed double and triple IPAs showcasing complete expression of hop character with a minimum of 50 International Bitterness Units. Hopheads exit your hidden, subterranean lairs and head to Peaks and Pints for these ultra-hopped numbers on tap: Postdoc Hogus Maximus IIIPA, Varietal TPK 3IPA, Ladd & Lass Holographic memory IIIPA, Urban Family Wizard Party IIIPA, Reuben's Brews Blimey That's Bitter IIIPA, Bale Breaker Mt. St. Humulus, and Burke Gilman's hoppy Yada Yada Yada … Hops Double IPA. In addition, we suggest you take home the following Washington brewed canned triple IPAs in a to-go flight we're calling Peaks and Pints Pilot Program: Washington Hop Mob Flight.
Peaks and Pints Pilot Program: Washington Hop Mob Flight
Urban Family Wizard Party
9.5% ABV
Wands at the ready, Tacoma. Urban Family Brewing's Wizard Party doesn't quite hit the 10 percent level, but this "triple IPA' brewed with more than 4.5 pounds per barrel of El Dorado, Azacca, Sabro, and Mosaic hops is magical. Witches and wizards can expect to lose themselves in a magical elixir that bursts with flavors of ripe mango, strawberries, papaya, and orange juice.
Trap Door Blown Up
10% ABV
A continuation of Trap Door Brewing's Glowed Up hazy IPA and Juiced Up hazy double IPA, Blown Up takes the haze to triple level alcohol by volume, thick and juicy hops backed up by a big body with 30 percent wheat and oats, plus a double dry hop of Citra, Mosaic, Simcoe, and Strata. Expect ripe mango, fresh pineapple, strong presence of clementines, and big juicy navel oranges on the nose, followed by bags and bags of over ripe orange, more pineapple, and some sweet, sweet winter alcohol
Ladd & Lass Holographic Memory
10% ABV
In December 2021, after 300 batches of homebrew, and countless building egress drawings, Nick Ladd and Jessie Quan, husband and wife, opened Ladd & Lass Brewing in Seattle's U-District. Housed in the former Floating Bridge Brewery spot on 45th Street near Interstate 5, which was also the former Rainbow Tavern, they brewed Holographic Memory with an absurd amount of Centennial, Citra Cryo, Sabro Cryo, and Ekuanot Lupomax hops for an herbal, minty hop aroma with a rather sweet malt base. On the tongue, expect a big malt sweetness for big hop flavors with the minty and herbal notes from the nose. It's smooth, with a medium body and big creaminess.
Postdoc Hogus Maximus
10.5% ABV
Postdoc Brewing's Hogus Maximus triple IPA is brewed with CTZ, Centennial, and Simcoe for lightly caramel malt, citrus and piney hops, mild mixed tropical fruit, orange, light pine, and a little dankness on the nose, followed by notes of pale and caramel malt, grapefruit, pine and citrus hops, light stone fruit, and dankness with a resinous fruit and pine finish with less caramel malt body than most triple IPA.
Sig Quattuordecuple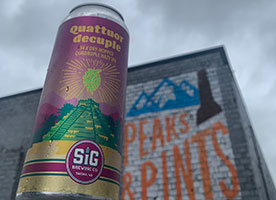 12.3% ABV
Sig Brewing calls their 14x dry hopped Quattuordecuple hazy a quadruple IPA. Maybe because they dump 14 different additions of El Dorado, Citra, Strata, and Mosaic hops, and use the most malt on a single beer. The result is an extremely boozy but smooth and juicy IPA.
LINK: Peaks & Pints cooler inventory
---
Category:
Beer Flight
,
Beer Line Blog
,
Craft Beer
,
Critical Drinking
,
Events and Festivals
,
In The Cooler
,
News and Updates
,
Peaks and Pints Pilot Program
,
Shop
,
Specials
,
Tacoma events
,
Taps Takeovers