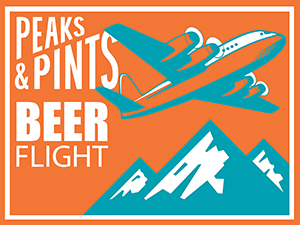 There are so many worthy breweries in Washington state that you could never dream of covering them all in a day, but you can get a taste of several if you plan right. The Washington Beer Commission invites you to visit some of our state's many innovative, esteemed, and downright friendly craft brewers noon to 5 p.m. Saturday, March 5. The WBC calls their annual event the Washington Beer Open House. We call it an excellent theme for our daily to-go beer flight. We suggest you pick a region and make a day of it. May we suggest you pick the South Sound region, grab friends, tour the breweries, chat with the brewers, sample the beer, fill some growers, snap a photo with the hashtag #WabeerOH, then swing by Peaks & Pints and grab Peaks and Pints Pilot Program: Washington Beer Open House On The Fly featuring a participating Washington brewery in each region because visiting the 105-plus Open House breweries in a day is an impossible task.
Peaks and Pints Pilot Program: Washington Beer Open House On The Fly
54°40′ Käscadia Kölsch
4.8% ABV, 20 IBU
54°40′ Brewing uses a traditional imported Pilsner malt and a classic German yeast strain to create a true to style Kölsch beer in the States. It pours pale yellow with high, frothy head atop a fine, lively carbonation. The nose is all grain and bread. Käscadia brings a hint of lemon zest with some minor sweetness, light maltiness and biscuit. Expect a small hops snap at the finish.
7 Seas Heidelberg Premium Lager
4% ABV, 18 IBU
In August 2016, Mike Runion and Travis Guterson open their 80,000-square-foot new 7 Seas brewery and taproom in a downtown Tacoma building where Heidelberg Brewery previously bottled and shipped its beer. Last month, the duo relaunched the Heidelberg brand canning their version premium lager similar and canning it like the original Heidelberg brewery — although not tin cans like the original brewery in 1936, three years after tin cans were invented. Brewed with mostly malted barley, with some rice and corn, and Old-World hops, Heidelberg Premium Lager is crisp, clean, and quaffable.
Bosk Empress of Russia
6.8% ABV
Bosk Brew Works' Empress of Russia is a Baltic porter, a style evolved in the 18th and 19th centuries from the British porter but was strongly influenced by the robust Russian imperial stout. The Baltic porter reflects the strong beers designed to withstand being shipped across the North Sea to the lands of the Baltic Sea. While the porter style is an ale, the Baltic variant is brewed using lager yeast and fermented at colder temperatures. Bosk's version is rich and smooth with subtle dark chocolate and dried fruit notes such as dates, plums, and fig.
Kulshan Echoes In Time
9.9% ABV, 75 IBU
Kulshan Brewing's Echoes In Time is an imperial stout brewed with dark roasted malts and crystal malts imparting layers of sweet, bready, and roasty malt notes. Apollo and Willamette hops provide the bitter to balance out the sweet, along with slight earthy and floral hop notes.
Matchless Hop Phantasy
6.8% ABV
"The greatest adventure is what lies ahead.
Today and tomorrow are yet to be said.
Azacca & Rakau and Nelson Sauvin
With Idaho 7 and more Phantasm
The chances, the changes are all yours to make.
The mold of your life is in your hands to break.
With golden hue of body and frothy white head
The greatest adventure is what lies ahead." — Matchless Hop Phantasy hype
Varietal Cuvee du Citra MMXXI
6.8% ABV
Varietal Beer brewed a "Best Coast IPA" collaboration with Single Hill Brewing featuring only Citra from hop bale cores, known as "Brewer Cuts" in the hop industry. Expect incredible Citra aroma like cutting into a bale of fresh hop cones, but the flavor of bright orange and lemon zest powered by dank energy.
Silver City The Mighty Oak Scotch Ale
9.2% ABV
A rich, complex scotch ale aged on American white oak, Silver City Brewery's The Mighty Oak features smooth vanilla notes intertwined with subtle smokiness and bold malt character.
LINK: Peaks & Pints cooler inventory
---