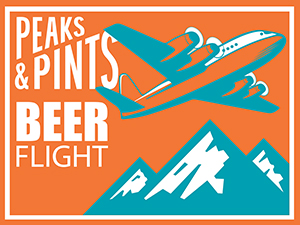 The triple IPA is a palate-smashing beast of an ale designed for those times when a hazy IPA simply won't cut it. Yet, the style still isn't recognized — and debate rages among the pimpliest of beer nerds over whether it's a style at all. Peaks & Pints believes the triple IPA is a massively hoppy beer of 10 percent ABV and greater with outrageous amounts of dry hops, hop flavor, malt flavor, alcohol and bitterness. The triple IPA may be similar to a double IPA in hop character, but is differentiated from the style by a thick, syrupy body accented by intense hop resins that make it a heavy sipping beer. Great triples harness an artful assortment of hops and propping them up with a suitable quantity of the proper malts. Still not sold? Here are six examples that recently arrived in our cooler. Stop by and grab the to-go beer flight, Peaks and Pints Pilot Program: Triple IPAs On The Fly.
Peaks and Pints Pilot Program: Triple IPAs On The Fly
Bale Breaker Mount Saint Humulus
10% ABV, 80 IBU
Bale Breaker's Mount Saint Humulus triple IPA is a longtime fan-favorite triple IPA and winner of the Washington Hop Mob in 2020. Originally brewed in 2015 as part of the Washington Hop Mob, it has become a spring-time staple for the Yakima Valley brewery, and for the first time this year will be put in cans to be enjoyed at home – the ideal setting for this robust beer. This year's batch smells like a fresh bag of the finest Yakima Valley hops: citrus, tropical, blueberry, apricot, floral, and grassy aromas with smooth bitterness.
Nightmare Drawn And Quartered
10% ABV
Nightmare Brewing's Drawn And Quartered quadruple dry hopped imperial New England-style IPA is brewed with Nelson Sauvin, Galaxy, Enigma and Citra hops tossed into the mash tun, kettle, fermenter (four times) and brite for nectarine, mango, and underlying white wine aromatics, followed by tropical notes, mango, ripe pineapple, tangerine, and lychee flavors, finishing with a dank bite and alcohol warmth.
Omnipollo Theoricus Jawbreaker
10% ABV
A continuation of Omnipollo's candy inspired collaborative series with fellow Swedish breweries Dugges, Morgondagens, and Duckpond Brewing. Boxes of jawbreaker candy are crushed and swirled with the breweries' favorite hops into this triple IPA for grapefruit, pineapple, guava, orange, and sweet caramel on the nose, followed by a tropical fruit taste with toasted caramel and a sharp bitterness.
Sierra Nevada Hoptimum
11% ABV, 75 IBU
Sierra Nevada Brewing has been running a "beer camp" at its Chico, California brewery for quite some time — before COVID, obviously. After arguing over who gets top bunk, Sierra Nevada brewers and beer industry folks concoct experimental batches using the brewery's pilot system. One of these collaborative efforts was released as Sierra Nevada Hoptimum Double IPA. Thanks to tweaks that involve mixing things up in the hop department to achieve a bit more balance, the 2021 incarnation of Hoptimum is brewed with Chinook, Magnum, and Idaho 7 hops for sweet resinous hop goodness.
Mother Earth Big Mother
10.5% ABV, 100 IBU
Big Mother has been Mother Earth Brewing's anniversary ale since it opened 11 years ago. Its everything you expect from a triple IPA: Big but not too boozy, massively hopped, and just enough caramel malt character to balance the higher alcohol and lingering bitterness. A whirlpool and dry hop assault lends aromas and flavors of apricot, orange, red grapefruit, and papaya.
Hoof Hearted $120 Nachos
12% ABV
Hoof Hearted, a brewery based in Marengo, Ohio, with a second taphouse in Columbus, took their 100 percent Citra hopped $60 Nachos hazy imperial IPA and quadruple dry hopped it into a triple IPA, leading to a flavor that tows the line between intense citrus and "dank, greener qualities."
LINK: Peaks & Pints cooler inventory
---