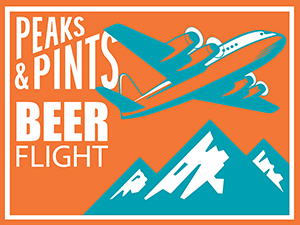 A small cadre of Belgian iconoclasts go on quietly stirring the imagination of brewers around the world, showcasing deliciously dry, hop-forward beers, rustic farmhouse offerings, bold and complexly balanced strong ales, and all manner of tart and funky brews, including the unparalleled sensory experience that is authentic lambic. Gueuzerie Tilquin is one of those iconoclasts. Pierre Tilquin founded the small family brewery based in Bierghes, Brussels, in 2009. He exclusively blends lambic beers, such as today's Peaks and Pints to-beer flight, Peaks and Pints Pilot Program: Tilquin On The Fly. Tilquin purchases worts from Boon, Lindemans, Cantillon and Girardin, then ferments them in their own oak barrels. This allows for the blending — typically 50 percent one-year old lambic, 30 percent two-year old lambic and 20 percent three-year old lambic.
Peaks and Pints Pilot Program: Tilquin On The Fly
Tilquin Oude Gueuze Tilquin á l'Ancienne (2018-2019)
7% ABV
Tilquin Oude Gueuze á l'Ancienne was first made commercially available in May of 2011. The first round of bottles were released with a 2010-2011 neck label and subsequent batches have followed a similar pattern, including the 2018-2019 bottle of Tilquin Oude Gueuze á l'Ancienne that rests in Peaks & Pints cooler today. It pours a golden deep-orange with a slight haze leaning more toward translucent. Sour yeast, and earthy oak hit the nose with faint lemon and lavender, some basil and rosemary as it warms. Bitter grapefruit and mellow oak hit the tongue first followed by lemon and grapefruit rind. It's a beautiful beer
Tilquin Mûre-Rullquin
6% ABV
Dark meets sour, meets blackberry as seven-eights of Rulles Brune (Stout de Gaume) and an eighth of a blend of one-year-old lambics, which has matured for 8 months on oak barrels, are blended. La Rulle's sour brown ale and Tiquin's young Lambic blend provides an intertwine of tastes that's quite the melange a trois for the tastebuds. Sour plum, black cherry, blackberry and red grape carry faint balsamic, berry, cider and lime acidity through the nose and then resonating with taste. Even with the subtle candied sweetness and dry toast undertow, it is no matched for the fruit and sour balance. With such juicy dryness spreading across the middle, its berry and stone fruit are rife with crabapple, dry cider, citrus and red wine — just shy of vinegar, yet carrying a piquant sourness that's front and center thereafter. Weaving in the musken tone of wine rot, damp burlap and sod, the beer's rich balance toward fruity acidity comes on strong in finish and aftertaste.
Tilquin Oude Quetsche Tilquin à l'ancienne (2019-2020)
6.4% ABV
Oude Quetsche Tilquin is a spontaneous fermentation beer obtained from the fermentation of destoned fresh purple plums in a blend of 1- and 2-year-old lambics for a period of 4 months. Unfiltered and unpasteurized, it is re-fermented in the bottle for a minimum period of 3 months. Plum brandy perfume hits the nose, followed by slight tartness, but also fruity and round. It also has a slight dryness from the skin of the plums.
Tilquin Oude Pinot Noir Tilquin à l'ancienne (2019-2020)
8.1% ABV
Oude Pinot Noir Tilquin à l'Ancienne was first blended for and released at Moeder Lambic Original's 10th year anniversary celebration in December 2016. It contains 350 grams of organic Pinot Noir grapes per liter of lambic from Domaine Valentin Zusslin in Alsace. The blend is 1-, 2-, and 3-year old lambics with Pinot Noir grapes. It hits the nose with all the yeast, followed by wet hay, mustiness, damp earth notes and a strong oaky barrel. The flavor follows the nose, with added leather, lemon, and some earthy hop bitterness.
---