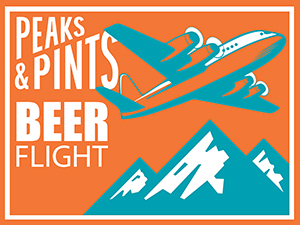 March and April 2020 weren't great months for breweries, even in the South Sound. "I had full tanks of lager when the shutdown hit," says Three Magnets Brewing Head Brewer Aaron Blonden. Blonden had only held the position for a couple months, moving on from Matchless Brewing via Chainline Brewing. He had no idea Three Mags owners, Sara and Nathan Reilly, are exceptional at pivoting. They quickly rallied around the family, moving to a "Garden Movement Meal Delivery" operation offering a local, ready-to-heat meal delivery service that includes eggs, coffee beans, housemade condiments and Blonden's beers, along with other alcoholic beverages. It worked. It helped the Reillys have deep roots in Thurston County, including 21 years owning the now closed Darby's Café in downtown Olympia. It also helped that Blonden knows his way around a fermenter, with the awards to prove it. Today, Peaks & Pints is happy to announce Three Magnets has returned to our craft beer bar, bottle shop and restaurant in Tacoma's Proctor District. In celebration, we suggest you grab today's to-go flight, Peaks and Pints Pilot Program: Three Magnets On the Fly.
Peaks and Pints Pilot Program: Three Magnets On the Fly
Three Magnets Little Larch
5.2% ABV
Blonden's awards we mentioned in the introductory paragraph include his Polaris Pilsner he brewed at Chainline — 2016 GABF Silver and 2017 Best of Craft Beer Awards Gold. He knows pilsner. His Three Magnets Little Larch is an authentic imported Czech Pilsner malted lager brewed with only Saaz hops, tossed in throughout the boil, like a traditionalist would — letting them shine in both bittering and aroma. Peaks & Pints can't wait to bring this on a hike.
Three Magnets Chinwag
6% ABV
Blonden wrote the description for his Londonesque pilsner: "I was recently interviewed about the most under-appreciated styles, and English styles was my answer. They weren't asking me really; they were asking a trendier brewery. But I barged in to share my opinion. I do that. But, hot gossip on the brewer street is hazy milkshake and slushy beer is on the way out. You say you want a lager but don't know know where to start? Let's have a lager with London Pilsner malt. Let's ferment it with a Bohemian yeast. Toss in some German hops. No? K. Scratch that. Let's use Slovenian hops. Quite the cheeky combo! I'm feeling verklempt. Discuss amongst yourselves."
Three Magnets NZSB
5.7% ABV
With all the attention hoppy beers get, styles such as the ESB sometimes get lost in the fray over who has the loudest, most audacious brew. That's led to the ESB being underappreciated or, worse, forgotten. However, a good one can be memorable, a pleasant blend of malts and hops, flavorful and balanced. It's an easy-drinking amber ale that's versatile with food. Enter N.Z.S.B. This New Zealand style special bitter is brewed with English malts, and Pacific Gem and Southern Cross hops — English-based varieties that spent their formative years in New Zealand, "gaining more lupulin, fruit character and spice," according to Blonden.
LINK: Peaks & Pints cooler inventory
---