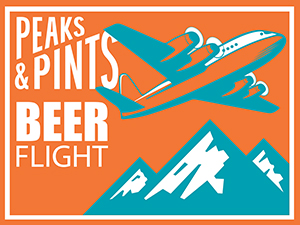 Still dreaming of those idyllic high school days of talent shows, math problems, and after-school strawberry shakes? Yeah, we're not either, but it's National Strawberry Day and the berry is on our minds. Grown all over the world (except in the northern and southern artic hemispheres) with more than 600 known varieties, the strawberry is a sign of summer, peaking in the U.S. from April to August. Why honor on Feb. 27? We guess it makes sense that a month filled with heart-shaped food and bright red colors would dedicate a day to the strawberry. Peaks & Pints has a few tips to make this day better. Look for a strawberry with as little green around the stem as possible. The deeper the red coloring, the riper the berry.  Drink strawberry beer. Avoid washing the strawberry until you're ready to consume. Water can damage this fragile berry. Peaks & Pints carries strawberry beer. For longer life, store strawberries in your refrigerator in an air-tight container lined with a paper towel to absorb any moisture. Peaks & Pints has a strawberry beer flight with your name on it. Strawberries perish easily so be sure to consume them in a few days. Take home Peaks and Pints Pilot Program: Strawberry Beer On The Fly.
Peaks and Pints Pilot Program: Strawberry Beer On The Fly
450 North SLUSHY XL Strawberry Cough
5.5% ABV
450 North Brewing Company is a small craft brewery situated on the Simmons family farm in beautiful Columbus, Indiana. Since 2012, the Simmons family has been crafting beer, reaching notoriety outside Indiana with their smoothie sours. Their SLUSHY XL Strawberry Cough is a fruited Berliner weisse conditioned on strawberry, raspberry, and apricot.
Wild Barrel Vice Mixed Berries
5.6% ABV
Wild Barrel Brewing Company has become known around the county for the San Diego brewery's multiple IPAs and fruit-bursting variations on the Vice sour. San Diego Vice is a clever twist on the name, Berliner weisse, which is a style of sour that was most popular in the city of Berlin, Germany, during the late 19th century. Vice Mixed Berries is made with strawberries and blackberries. It pours magenta with a pink head followed by aromas and flavors of juicy said fruit. It's a luscious beer that has a big burst of tart berries in both the aroma and flavor. Equally satisfying for a sour beer aficionado, someone who has never had a sour beer, or even a connoisseur of red wines.
Tox Ink (Red Stuff)
6% ABV
Tox Brewing's Ink is the fully pulped sour slushy cousin to their popular Lily of the Valley series. For Ink (Red Stuff) they upped the ABV a little while keeping the signature lactose and vanilla twist. Red Stuff features a selection of red fruit also intentionally chosen for their flavor harmony: strawberry, raspberry, cranberry, pomegranate, and cherry. Expect a blast of stone fruit and berry yogurt goodness.
Belching Beaver SD Besties
8.5% ABV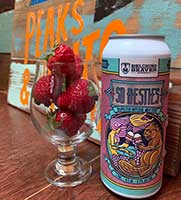 Ward Cleaver: I'm going to change my clothes and finish painting those trashcans myself; the boys ran out on the job.
June Cleaver: Well dear you can't blame them too much; they went over to grab Belching Beaver Brewery's SD Besties — a Neapolitan imperial milk stout with notes of strawberry, chocolate, and vanilla, brewed with fellow San Diego brewery, Coronado Brewing.
Ward Cleaver: Belching Beaver?
June Cleaver: Yes, the brewery that offers a dam good time, Ward.
LINK: Peaks & Pints cooler inventory
---