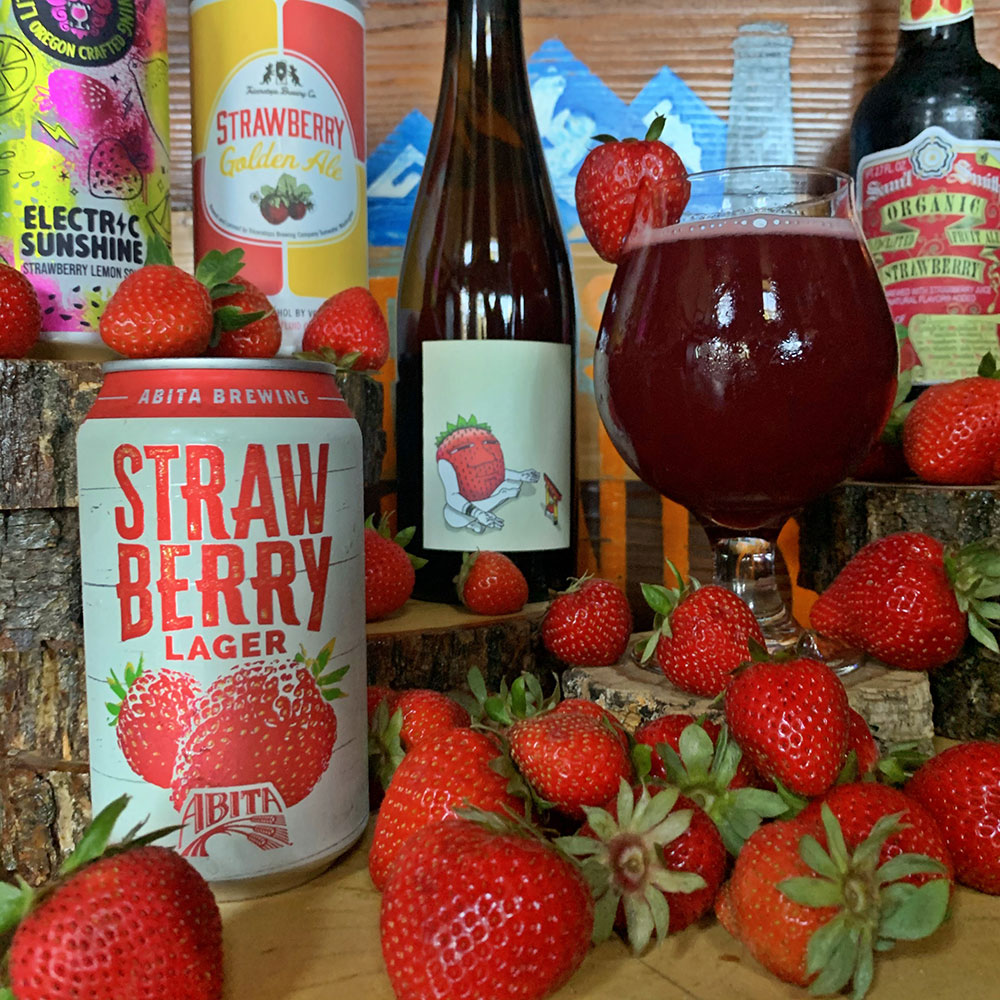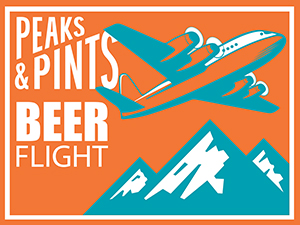 We know, we know, you're thinking, "Is there really a food holiday for every day of the week?" The answer: Yes, yes there is. Today, July 25, is National Strawberry Parfait Day, so we'd encourage you on this 81-degree heat to head to Peaks & Pints for … strawberry beer. Strawberries have become more and more popular as a flavor component in malted barley brewed beverages. Though it has been pointed out that some hop varietals impart flavor characteristics likened to strawberries, there are in fact actual brews that use the scrumptious fruit to add their own deliciousness. Stop by our Proctor District Tacoma craft beer bar, bottle shop and restaurant for our to-go strawberry beer flight, Peaks and Pints Pilot Program: Strawberries On the Fly.
Peaks and Pints Pilot Program: Strawberries On the Fly
Little Beast Electric Sunshine
4.8% ABV
Luscious, tart, and refreshing, Little Beast Brewing's Electric Sunshine is a naturally soured beer with real strawberry and lemon. It's not super sweet, with big strawberry on the nose, and spritzy strawberry lemonade vibes.
Samuel Smith Organic Strawberry Fruit Beer
5.1% ABV, 16 IBU
One of the oldest operating breweries in the world, Samuel Smith's Old Brewery has been brewing with the same derivative yeast strain in the same stone vats for the last 255 years. They even keep a small team of Shire horses — a breed that traditionally pulled brewery wagons — to deliver beer around its hometown of Tadcaster. But for all this tradition, Samuel Smith is remarkably modern. All but one of its beers is vegan and the brewery has an entire line of organic ales, including its Strawberry Fruit Beer. According to Samuel Smith's, it's brewed at All Saints Brewery in Stamford, England using all manually operated equipment. Barley and wheat are combined to make an ale, fermented, and aged for an extended period, then taken to Samuel Smith's brewery in Tadcaster, England. It is at this stage where they blend in pure strawberry juice to create a fruit-forward ale with malt and some bittering hops on the back.
Abita Strawberry Lager
4.2% ABV
The only beer brewed with Louisiana strawberries, Abita Brewing's Strawberry Lager is brewed with Pilsner and Wheat malts and Vanguard hops. The berries are noticeable on the nose, but not overpowering upon tasting. The relatively high carbonation levels also perk up the flavors quite a bit and make this a very refreshing treat. If you're a fan of Abita's Purple Haze, which is their raspberry wheat product, you'll probably really like this one.
Triceratops Strawberry Golden
5% ABV
Homebrewer Rob Horn left New Jersey to become a firefighter at Joint Base Lewis-McChord. He and his wife, Kelly, opened Triceratops Brewing in August of 2014. With the last name Horn and three awesome kids, is there really any other name? At first, they brewed out of their home garage. After thriving there for three years they opened a tasting room next to Matchless Brewing in Tumwater. Their Strawberry Golden is a classic blonde ale brewed with 20 pounds of Thurston County strawberries per barrel. Horn added strawberries three days before the end of fermentation to leave a slightly dry strawberry finish, but without losing that delicious strawberry flavor.
Aslan Strawberry Dojo
6.2% ABV
Aslan Brewing's Strawberry Dojo begins like the others in the Bellingham brewery's Dojo series — with the same saison base. Aslan grabbed a ton of strawberries from Hedlin Family Farms in La Conner, Washington, and macerated the fruit for 8 months in French oak. The barrels were blended and bottled, sat for 3 months for a moderately sour saison with neutral acid, waves of Brett complexity, lively carbonation and, well, strawberry.
LINK: Peaks & Pints cooler inventory
---