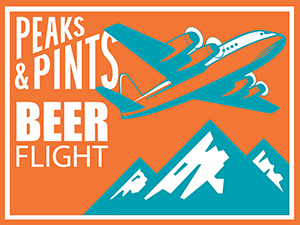 Originating in 2005 and held every year during January, Strange Brewfest Port Townsend is a showcase in deviance from any archetypical extreme beer festival. Where most thematic beer fests involve high alcohol and barrel-aged brews, Strange Brew delineates itself with a truly outré mélange of beers that simultaneously capture the imagination and leave you scratching your head — pho beer, old fashion beer, pickle beer, baked beans beer and on and on. Sadly, Strange Brewfest has been canceled for obvious reasons the last two years. Strange Brewfest #17, though, is on the books for Feb. 3-4, 2023. Today, Peaks & Pints offers a placeholder — a to-go flight of beers that would fit in at Strange Brewfest, although with the onset of smoothie sours and pastry stouts craft beer has become naturally a little strange. Stop by our craft beer lodge, bottle shop and restaurant and grab Peaks and Pints Pilot Program: Strange Brew On The Fly.
Peaks and Pints Pilot Program: Strange Brew On The Fly
450 North Slushy Let's A-Go! Cup
NA ABV
Lets-a-go, Mario is a game developed by Mega Studios for the Nintendo 3DS. The game is a 2D platformer — the first original Mario platformer since Super Mario Land 2: 6 Golden Coins to use sprites — that takes heavy influence from the earlier games in the series. Part of 450 North Brewing's Collector Cup Series, Slushy Let's A-Go! Cup is a smoothie sour conditioned on pineapple, peach, granola, green apple, vanilla cream, and vanilla soft serve ice cream.
Claim 52 Stuffed Raspberry Gingerbread Cheesecake
6.5% ABV
In 2012, Mercy McDonald, Jeannine Parisi and Trevor Ross opened Claim 52 Brewing in West Eugene. Today, under the guidance of head brewer Bryce Fisher, they specialize in European-style, super-small batch beers made in the Northwest tradition, as well as exceptional hazy IPAs, and crazy dessert sours. Their latest dessert sour, Raspberry Gingerbread Cheesecake, is brewed with milk sugar, then conditioned on raspberry puree, gingerbread cookie crumbs, and cheesecake.
Triceratops Little Critics Sour Pennsyltucky on Cherries
4.8% ABV
Triceratops Brewing joins the rest of the American brewers rewriting the rules on sour beers. They use traditional sour styles as a jumping off point to experiment with techniques such as hops additions for bittering and aroma, racking sour beers into freshly used wine or spirit barrels, blending batches, adding adjuncts, or, in the case of Triceratops, sour a lager on cherries then barrel age it. Little Critics is soured with Triceratops' house culture and conditioned on 30 pounds of Washington-grown cherries for a pleasing tartness, a restrained level of acidity, and an approachable 4.8 percent. Extended aging in Heaven Hill whiskey barrels further enhances the beer's complexity.
Dogfish Head SeaQuench Ale
4.9% ABV, 10 IBU
SeaQuench Ale is a session sour mash-up of a crisp Kolsch with lots of wheat and Munich malt, a salty gose with black limes, coriander and sea salt, and a citrusy-tart Berliner weiss made with lime juice and lime peel, blended in the fermentation tank to create this German hybrid. Dogfish Head's experimentation focuses on three thirst-quenching styles with German roots, but no single style quite hit the mark and mood the brewery was going for — so it blended them for a cloudy gold brew with a savory and citrusy smell. It has a fair amount of tart wheat and coriander character, but the salt and lime are extremely strong. There are many goses brewed in the same vein, but not many are this dry, bright and thirst quenching.
The Ale Apothecary Ralph
7.75% ABV, 20 IBU
A more tree-laden beer than Ralph you're not likely to find; white fir is added for powerful, herbaceous hits of pine and sage. Made of Oregon barley and crystal malts, The Ale Apothecary's wild ale receives aged Cascade hops and white fir needles during the boil copper. Then, it's aged in fresh wine barrels with another dose of white fir needles prior to bottle conditioning with honey, the signature characteristics of this beer come from the white fir, wild ale's green apple acidity, the fresh wine barrels, and the Bend, Oregon brewery's yeast culture.
Pelican Bird-Day Vol. III
10% ABV, 45 IBU
For more than 25 years, Pelican Brewing Company has been brewing award-winning and innovative craft beer. It all started at a rundown old building on the edge of the Oregon Coast, where three enthusiastic individuals found themselves embarking on an adventure to make great beer. Today, with four locations along the Oregon Coast and piles of medals, Pelican honors the people that have helped shape them with Bird-Day collaborations with former Pelican. Jason Schoneman, now with Steel Toe Brewing, helped brew this new style of beer that marries the strength of a barleywine with fruity hop character, crisp finish, and low bitterness. Like a dry white wine, this beer is lighter in body with hints of pineapple and passionfruit, plus intense hop character.
LINK: Peaks & Pints cooler inventory
---