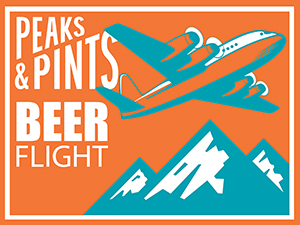 As much as we love Tacoma sometimes, especially during the pandemic, you want to hop in the car and motor it somewhere else. And while the road trip might not be the inexpensive vacation it once was (cheap gas = oxymoron), it's still a damn fine way to see some of the more fascinating bits and pieces of places near, far and about eight hours in between. What you are reading here is a to-go flight of road trip themed craft beers. They're beer to sip while you plan your trip. They're beers to drink at your destinations. But, sadly, they're most likely beers to drink while you cancel reservations. Whatever the circumstance, enjoy Peaks and Pints Pilot Program: Road Trip Beers.
Peaks and Pints Pilot Program: Road Trip Beers
Mother Earth Cali Creamin' Creamsicle
5% ABV, 20 IBU
In 2010, Daniel Love opened Mother Earth Brewing Co. in Vista, California, just north of San Diego. After an expansion in Vista, he then set his sights on a larger expansion that saw the opening of its second location, one a fair distance away from San Diego County to Nampa, Idaho, a suburb of Boise. Whether you're road tripping to Vista or Boise, bring along Cali Creamin' Creamsicle. For the past few years, Mother Earth's best selling beer in San Diego has been its Cali Creamin' Madagascar vanilla cream ale. It became a Creamsicle after Mother added Valencia orange. Cali Creamsicle features hints of vanilla and a distinct citrus cream flavor that finishes slightly sweeter than it's Cream Ale counterpart.
Narrows Checklist IPA
6.7% ABV
Face mask, squished peanut butter sandwiches, hand sanitizer, download Microphones' album Mount Eerie, dusty encyclopedia set, ham to draw the nation's glorious array of native birds, Narrows Brewing Checklist hazy West Coast IPA, swimsuit, poncho, We're Opening During Phase 3 T-shirt, spare tire for swimming holes, Fat Freddy Drop Inspired Playlist, Smuckers.
Offshoot Escape [It's Your Everyday West Coast IPA]
7.1% ABV
Offshoot Brewing's Escape [It's Your Everyday West Coast IPA] more lawn chair at San Diego Pine Tree Park than Bellingham Big Rock Garden Park — brewed with Mosaic, Strata, Simcoe, and Amarillo for tropical passionfruit, grapefruit zest, and hints of pine.
Matchless Suburban IPA
7.2% ABV
Matchless Brewing filled up the Wagon Queen Family Truckster with tons of Yakima hops for an old-school nod to West Coast IPA. Simcoe, Mosaic, Centennial and a touch of El Dorado are road tripping on a malty bed of Simpsons Malt Best Pale and Caramalt for highlights of pink and dankness.
---